Alan Dershowitz Mocked For Apparently Forgetting to 'Attach Email' to Tweet Criticizing Julie Brown: 'Attach Ratio'
Alan Dershowitz has been mocked on Twitter after apparently forgetting to attach an email he claimed would "prove" he is correct in a dispute with a journalist who has reported on sex crime allegations against the famed lawyer.
The Monday tweet was related to a dispute between Dershowitz and Miami Herald investigative journalist Julie K. Brown. Brown has reported extensively on serial sex offender Jeffrey Epstein, including an allegation that Dershowitz had been one of several men to abuse Virginia Giuffre, who claims to have been used as an underage "sex slave" by Epstein. Dershowitz denies the allegation. Giuffre sued Dershowitz for defamation in April and the lawyer filed a countersuit in November.
"J'acuse: Julie Brown is not a real journalist," tweeted Dershowitz. "She is essentially an investigator for Virginia Giuffre's legal team. Whenever I sent evidence of Giuffre's mendacity or my innocence, Brown turned it over to Giuffre's legal team and refused to publish it."
"The attached email from me to her proves my point. (attach email). More to come," added Dershowitz, apparently forgetting to attach an email he says "proves" his claim.
Reaction on the platform saw many users mocking Dershowitz's apparent lack of social media skills, while noting the 81-year-old's supposed status as a "boomer."
"Typing (attach email) doesn't actually attach an email. FYI Boomer," tweeted user @freeloosedirt, before adding "(attach ratio)."
"Typing 'attach email' doesn't actually attach an email," tweeted @BrienneOfSnark.
Journalist Brown has disputed Dershowitz's claims, saying that he "never disproved the allegations" and has only claimed to have evidence supposedly proving his innocence, but has failed to release it. She also says Dershowitz has been accused of sex abuse by more than one woman related to the Epstein case. The lawyer served as defense attorney in the initial 2008 trial of Epstein, who was sentenced to 18 months in a plea deal.
Some of the responses to Monday's tweet referenced the allegations against Dershowitz.
"Did you mean to attach this email that says 'I committed sex crimes,'" tweeted @LydiaBurrell.
One tweet suggested that Dershowitz had been "blackmailed" over the accusations.
"Alan's gonna accidentally post the video they blackmailed him with before this is all over," said @comets_shadows.
Dershowitz, a well-known supporter of Democrats in the past, has recently become a noted defender of President Donald Trump. In 2018, he wrote a book titled The Case Against Impeaching Trump. He has claimed that he would have been called to the recent Senate Judiciary Committee impeachment hearings as a witness in favor of Trump, if not for the allegations.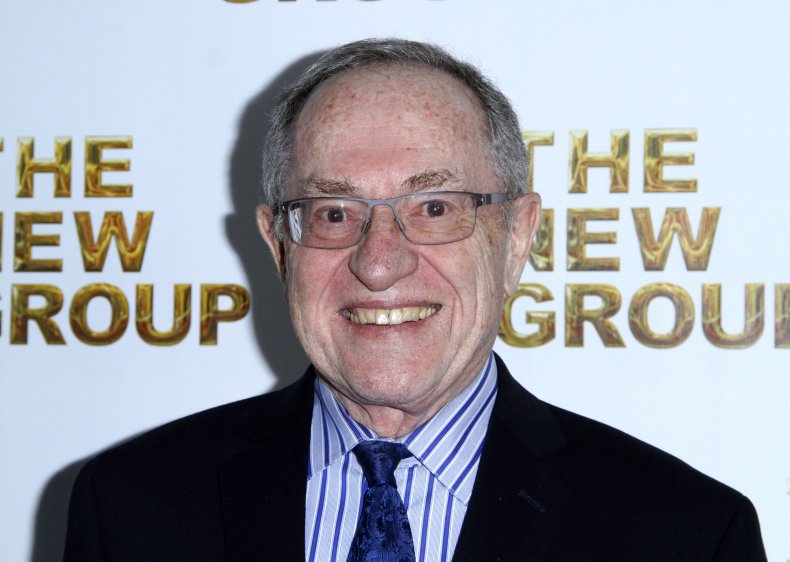 In a Sunday tweet by the former Harvard Law School professor, Dershowitz apparently quoted himself about the case.
"Some Democrats pursuing the impeachment of President Trump are trying their hardest to pin an impeachable crime on the commander-in-chief, according to law Professor Alan Dershowitz," wrote Dershowitz.
A number of Twitter users also took Monday's tweet as an opportunity to mock the prominent lawyer for his support of Trump.
"That's nothing! I attached proof Trump is completely innocent (attach proof)," tweet @TheToddWilliams.