Alan Dershowitz Says Perjury Will Be Committed at Jeffrey Epstein Libel Trial
Alan Dershowitz has called for the FBI to come to his defamation trial with Jeffrey Epstein accuser Virginia Giuffre "because they will hear perjury committed."
The attorney is being sued by Giuffre for calling her a "certified, complete, total liar" and lodged his own counterclaim against her last year.
Giuffre first claimed she was abused by him in a 2014 Florida court filing, while Dershowitz has repeatedly protested his innocence.
As progress towards the case continues, he has now given an interview to U.K. newspaper the Daily Telegraph.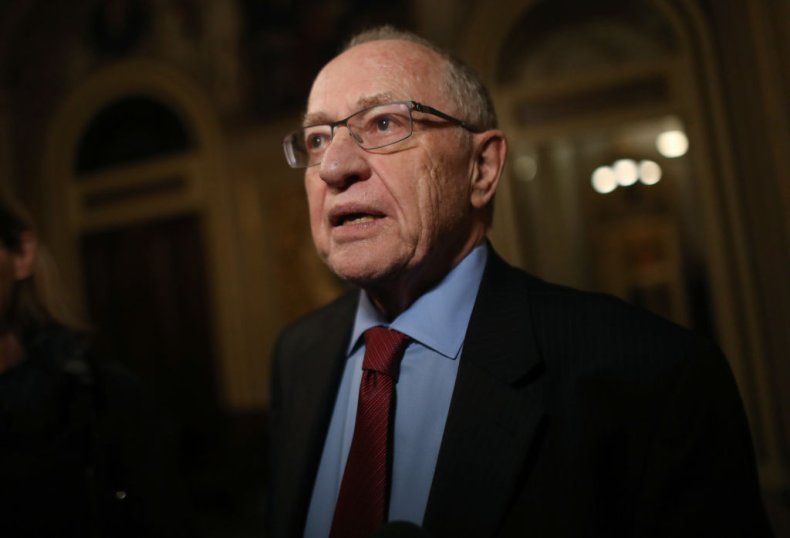 Dershowitz said: "The FBI should come to the trial, because they will hear perjury committed in the federal courthouse.
"Either I will be committing perjury because I will swear under oath that I never met this woman, or she will be committing perjury because she will be swearing her oath that she had sex with me on multiple occasions.
"Only one of us can be telling the truth."
Dershowitz claims he met Epstein for the first time in 1996 and in October 2005 agreed to represent him in relation to a criminal investigation in Florida.
Epstein was then jailed for 18 months in 2008 after a heavily criticized plea bargain.
The New York financier was charged with new allegations but died in an apparent suicide in his jail cell in August 2019.
Giuffre previously sued Epstein's former lover Ghislaine Maxwell, who is currently awaiting trial for trafficking offenses, and won an out-of-court settlement in 2017.
She today told her social media followers of the pain she still feels in relation to her ongoing battle for justice.
She wrote on Twitter: "I am reaching out to my supporters for some love.
"My life isn't just a story, this is real life pain & I can't stop crying. It hurts.
"I'm supposed to be strong all the time but I am human and I am suffering. Any tools to help me deal is appreciated. Love to you all. #Help #LoveButterfly."
Dershowitz previously told Newsweek: "I never saw Epstein do anything improper. If I had, I would have reported him. I have sworn to that. When Guiffre said that to her lawyers, she did not say she had sex with me.
"Her story changed. None of it is true. I never met her. I never saw Epstein in the presence of anyone underage."
Ghislaine Maxwell's lawyers have lodged a new application for $28 million bail through the Manhattan Federal Court.
She denies trafficking underage girls for Epstein to abuse and perjury and is due to stand trial in July.
Disclaimer: Alan Dershowitz is a current contributor to Newsweek.