Alan Dershowitz Says He Is 'Correct Today' on Trump Impeachment, 'I Didn't Research' During Clinton Trial
Attorney Alan Dershowitz explained his changing view of impeachment on Twitter Tuesday, defending President Donald Trump while stating that he "didn't research" his position when the impeachment of former President Bill Clinton happened two decades earlier.
"To the extent there are inconsistencies between my current position and what I said 22 years ago, I am correct today," tweeted Dershowitz. "During the Clinton impeachment, the issue was not whether a technical crime was required, because he was charged with perjury."
Dershowitz's recent claims that the Trump impeachment is invalid because the president's behavior does not constitute a "crime" seemingly clash with an earlier statement where the attorney said a crime was not required for impeachment. He claimed that his earlier position was bolstered by a lack of research and argued that the allegations against Trump are not criminal in nature.
"Therefore, I didn't research the issue; I relied on the academic consensus that a crime was not required," Dershowitz tweeted. "In Trump impeachment, on the other hand, that is the critical issue, because abuse of power and obstruction of congress are neither crimes nor criminal- like behavior."
Dershowitz, once considered a liberal firebrand, has surprised many by becoming one of Trump's most vociferous defenders in recent years. His former colleague, Harvard law professor Laurence Tribe, said that he believes Dershowitz has "really lost it" in an MSNBC appearance on Sunday.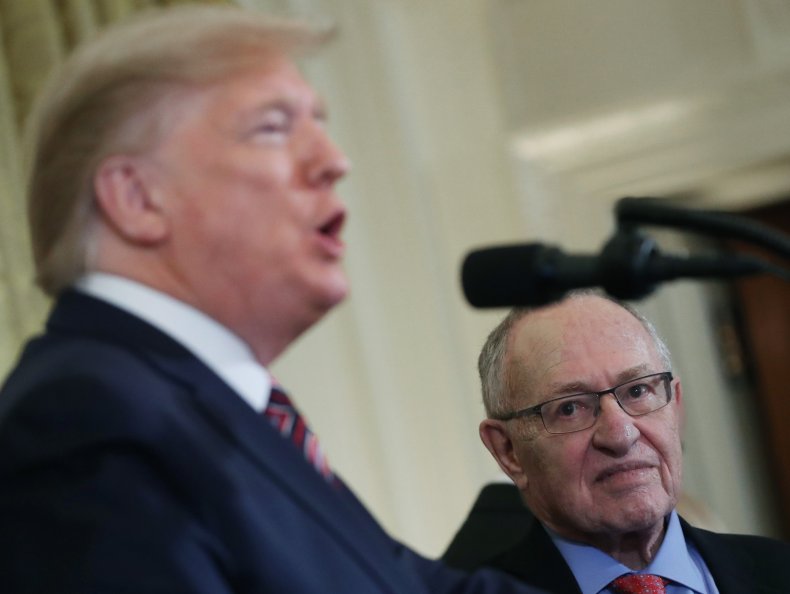 During a Monday appearance on CNN, Dershowitz clashed heads over his changing views with the network's legal analyst Jeffrey Toobin. A clip from a 1998 interview on the network showed Dershowitz explaining that a "technical crime" is not necessary to impeach a president who is "somebody who completely corrupts the office of president and who abuses trust and who poses great danger to our liberty."
Dershowitz refused to accept suggestions that the statement represented a clash with his current view, instead arguing that his current position is "much more correct." Toobin, a former Harvard law student of Dershowitz's, disagreed with the idea that the views were compatible.
"What is clear is that Alan was right in 1998 and he is wrong now," said Toobin. "The two statements cannot be reconciled. One is right and one is wrong. And the one in 1998 was right... Every single law professor that has looked at this issue except you seems to think that [a crime is not needed to impeach]."
Dershowitz responded by claiming Toobin "lied" about every law professor disagreeing with him, citing the opinion of a single professor who agreed. Toobin then modified his statement to say that "virtually every" law professor disagreed. Dershowitz later accused Toobin and CNN host Anderson Cooper of "bullying" him during the interview. The Tuesday tweets from Dershowitz included a "retraction" of his statement during the 1998 interview.
Although Dershowitz joined the Trump legal team on Friday, he has said he is "not a full-fledged member." However, he is expected to assist in the president's legal defense during the Senate trial, which began Tuesday.