Video: Alan Dershowitz Slams Robert Mueller 'Cop-Out'—'It Sounds Like a Law School Exam'
Alan Dershowitz, a Harvard Law School professor, condemned special counsel Robert Mueller for not reaching a conclusion on whether President Donald Trump had obstructed justice.
A summary of Mueller's report, according to a letter by Attorney-General William Barr, found no evidence that Trump and his campaign "conspired or coordinated" with Russia during the 2016 presidential campaign but reached no conclusion on whether the president had obstructed justice.
"This report does not conclude that the President committed a crime, it also does not exonerate him," Barr said in the letter, quoting Mueller directly.
Dershowitz told Fox News that this amounted to sitting on the fence, and it had been up to Mueller to make a definitive finding on that claim.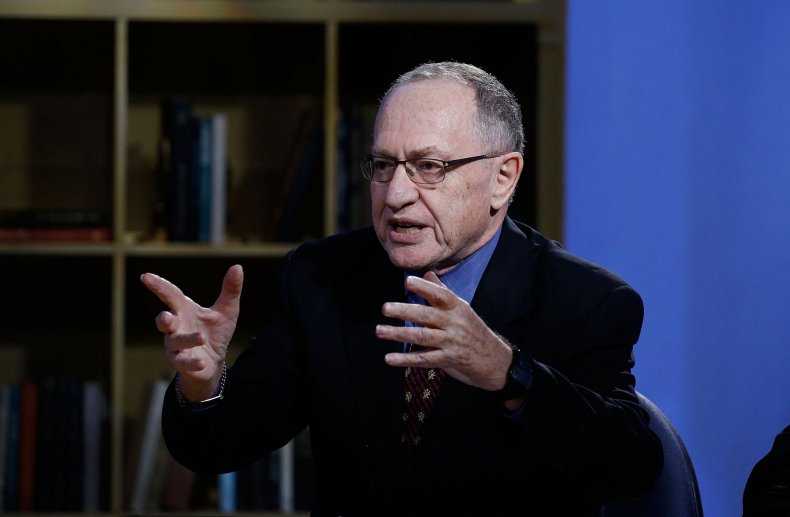 "I thought it was a cop-out. For him to say that there was not enough evidence to indict, but it's not an exoneration (on obstruction)…it sounds like a law school exam.
"That's not the job of prosecutor. The job of the prosecutor is to decide 'yes' or 'no.' Make a decision. And then if you say 'yes,' you indict, if you say 'no,' you shut up.
"You don't go on and say, 'no we're not going to indict, but let tell me you all the evidence that might have led us to indict.' That's exactly what prosecutors shouldn't do,'" he said, via Mediaite.
He compared Mueller's action to former FBI Director James Comey's criticism of Hillary Clinton during her presidential campaign for her use of a private email server after deciding not to press charges against her.
"How is this different than Comey? Comey says, 'I am not going to indict Hillary Clinton but…it was a close case…. She did terrible things, but we are not going to indict her,'" Dershowitz said.
"That's not what prosecutors do. I challenge defenders of Mueller to distinguish what Mueller did in relation to obstruction of justice to what Comey did in relation to [Clinton's] email and why she wasn't indicted on that. I don't see a big difference."
Dershowitz said that the doubt about obstruction should have been kept confidential because the claim was impossible to defend. If there were an indictment, there would be an opportunity to challenge it in court, he pointed out.
"Shame on Mueller for not having the guts to come to a decision, one way or the other," Dershowitz said.
Leading Democrats also called for more clarity. Speaker of the House Nancy Pelosi and Senate Minority Leader Chuck Schumer called on Barr to make the full Mueller report public because the attorney general's letter "raises as many questions as it answers."
Representative Jerry Nadler of New York, chair of the House Judiciary Committee, wanted to know why Mueller didn't exonerate the president on obstruction.
He called for "full transparency" in what Mueller uncovered, tweeting that the Department of Justice "owes the public more than just a brief synopsis and decision not to go any further in their work."
Trump has repeatedly called the investigation a "witch hunt," although the 22-month long Mueller investigation led to the indictment of six of Trump's former associates on an array of charges not related to alleged Russian collusion.
Following the release of Mueller's findings, the president claimed victory, despite the fact the report did not exonerate him. "It was a shame that the country had to go through this," he said, calling the investigation an "illegal takedown that failed."
The graphic below, provided by Statista, highlights the ongoing investigations and lawsuits that Donald Trump or his organizations are involved in.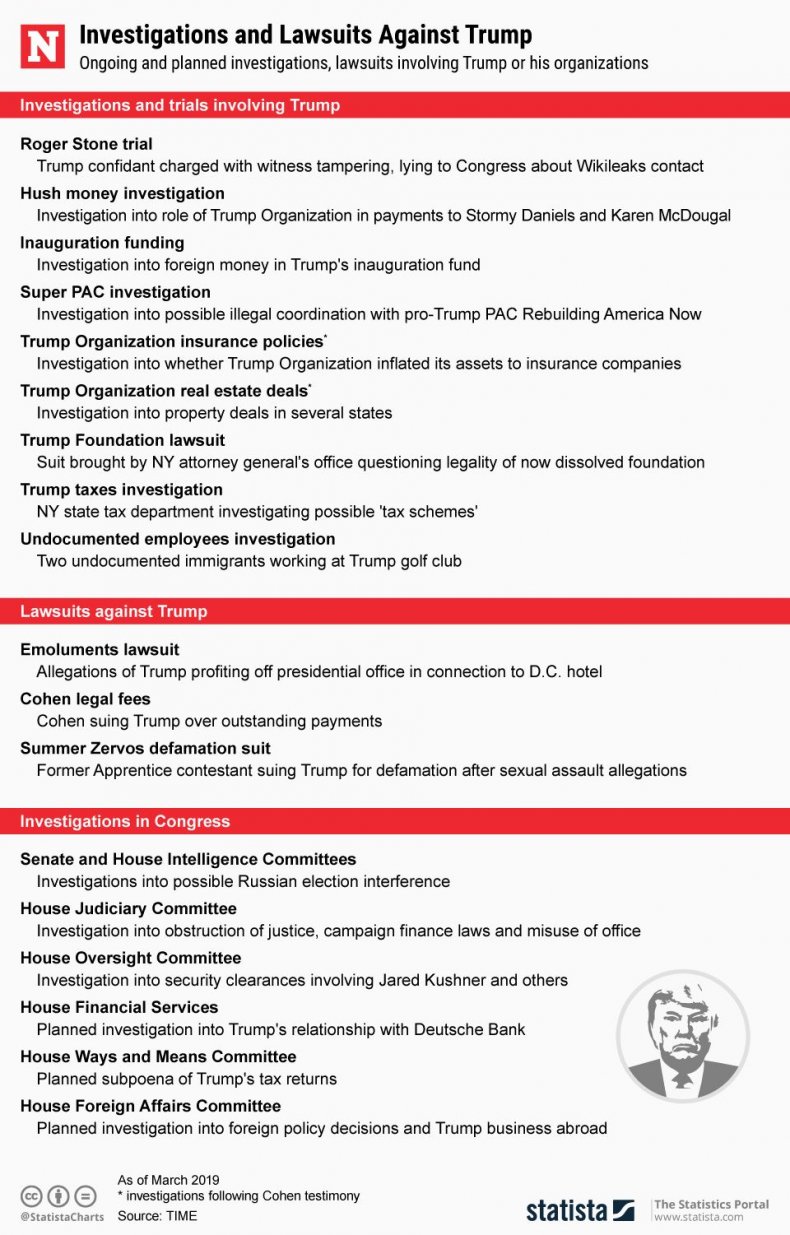 This article was updated to include an infographic.