Alan Gross's Mission in Cuba: How Much Did the White House Know?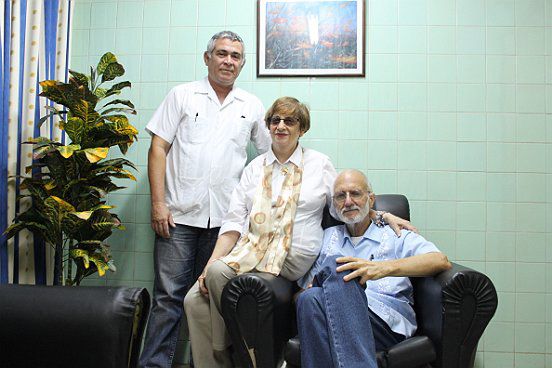 Updated | Everyone can rejoice at the release of Alan Gross from five years imprisonment. The reality, however, whether or not he realized it, is that Gross had gone to Cuba as a part of a questionable, far-fetched plan hatched in Washington that ultimately had the goal of toppling the Castro regime.
Anti-Castro politicians and talking heads, such as senators Marco Rubio, a Republican, and Robert Menendez, a Democrat, pretend that Gross had gone to Cuba in 2009 to donate communications gear to the country's small Jewish community. That claim has been broadly shown to be false, in excellent reporting by the Associated Press among others.
A little-noticed report by the Government Accountability Office in 2013 recognized that Gross had gone to Havana under the Cuba Democracy Assistance program at the U.S. Agency for International Development.
That report and its milquetoast conclusion—that the State Department "could better monitor its implementing partners"—obscure a much larger reality—that USAID had been running an illegal covert intelligence operation in Cuba. Well-informed sources backed by documentary evidence detail a brazen scheme well-known to the Cuban government that also was mocked and shunned by U.S. intelligence officers. The subcontractors at the heart of the operation and their protectors in the U.S. government included Alan Gross.
Gross was arrested in Cuba on December 2, 2009 for delivering cell phones and satellite communication equipment to Cuba on a series of trips there. Gross claimed he was on a humanitarian mission to give the cell phones and unfettered Internet access to the Cuban Jewish community. That often-repeated contention is belied by the fact that Cuba's 1,500 Jews generally support the government, their leaders claimed they didn't know Gross until he was arrested, and they had not sought the equipment.
Disclosure of his own documentation filed with the subcontractor he worked for shows that Gross actually was setting up a clandestine network in Cuba, a first step to establish communications for dissidents and U.S. funded operatives in Cuba.
The larger USAID plan involved illegal transmission of funds to front companies that had spent millions of dollars to subvert Cuba, covert action in Cuba and third countries and the illegal licensing and export of sensitive telecommunications material—special shield SIM cards only available to intelligence agencies.
Gross's equipment would eventually create wireless hot spots for a several block radius wherever deployed. Anyone with the access code outside of the Jewish community could use the hot spot to communicate via satellite (and without disclosure to Cuban surveillance) to a person at another hot spot Gross had established, or to control officers in the United States.
It is illegal under U.S. law for the State Department to run a covert intelligence operation. Authorized intelligence agencies, including the CIA, steered clear of the Cuba program, which intelligence sources said was misguided, amateurish, compromised by Cuban intelligence, embarrassing to U.S. officials and all the while ineffective.
Two key players were Menendez, who works closely with anti-Castro Cubans in the United States as protector of the program from his perch as head of the Senate Foreign Relations Committee, and Mark Feierstein, who had been in charge of the Cuba USAID program. According to a well-placed U.S. intelligence source, their efforts intimidated middle-range bureaucrats and forced employees of USAID to comply and participate in the program. The source added that congressional oversight committee staffers and other government employees long were unable to establish oversight on the illegal program, because USAID officials refused to disclose what they are doing.
Besides the illegality of engaging in covert action, one intelligence source said the participants in the "democracy promotion–regime change programs had special access to licensing officials, expedited procedures and extraordinary freedom. No other license applicant, for example, would be able to bring DOD/IC-quality encryption technology into Cuba. The licensing agencies or Gross himself had to violate the law to do that except if the president had signed a finding authorizing the covert action and related permits."
Still to be determined in the investigation is how much Secretary of State John Kerry (Menendez's predecessor as chairman of the Senate Foreign Relations Committee) and the White House knew about the covert USAID operation.
Peter Eisner, former deputy foreign editor of The Washington Post, specializes in Cuba and Latin America affairs. He can be read at worlddesk.org
This article has been updated to clarify the source of information regarding the role played by USAID in Cuba.