5 Things to Know About Alanis Morissette, Billboard's Women in Music Icon Recipient
The powerhouse women of the music industry will be celebrated for all their work and creative contributions at Billboard's annual Women in Music event on Thursday. In its 14th year, leading ladies of the industry including Taylor Swift, Nicki Minaj, Alicia Keys, Brandi Carlise and several others are expected to receive honors throughout the night.
One of the most celebrated awards is slated to go to Alanis Morissette, who is gearing up for the 25th anniversary of the album that made her a household name, Jagged Little Pill. The 45-year-old is set to launch an anniversary tour for the album—joined by Garbage and Liz Phair—in 2020.
It's no surprise Morissette was chosen for this year's Icon Award. Last year's recipient, Cyndi Lauper, applauded women for "kicking down doors" of the music industry that aimed to keep them quiet and content, and Morissette has long been viewed as one of those outspoken women beating down the door. Her landmark album became an anthem for a generation of women who refused to shut up at the height of the 1990s, and even in today's climate, she continues to use her music to motivate and inspire change and progression.
Read on to learn a little bit more about this year's Women in Music Icon Award winner, Alanis Morissette, below.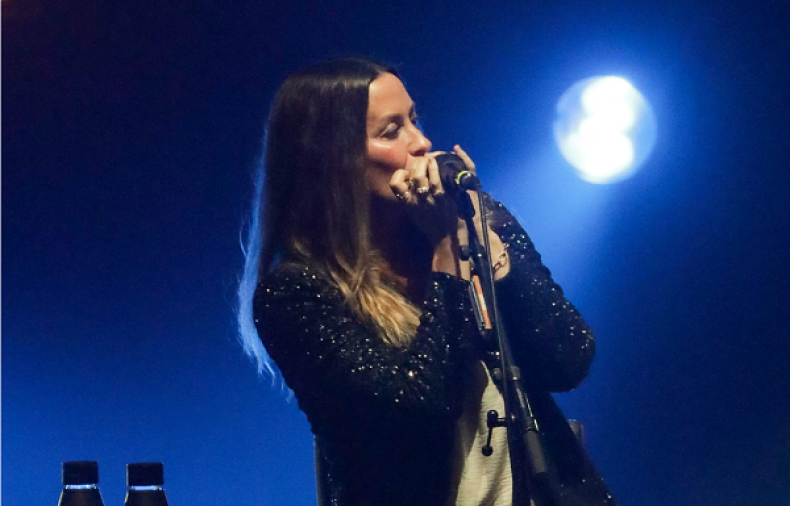 She released her first album at 16
It would be years before the entire world became acquainted with Morisette, but in her home country of Canada, she was already quite known from her teen years. She released her first album, Alanis, when she was just 16 years old. The album only sold in Canada, as did her second, 1992's Now Is the Time.
She was the youngest person to win a Grammy for Album of the Year until Taylor Swift
Morisette was 21 when her highly acclaimed third studio album, Jagged Little Pill, released in 1995. It launched the rocker to superstardom and landed the musician her first Grammy. She was the youngest artist to ever receive the honor of Album of the Year and would hold the title for the next 15 years. Swift, who won Album of the Year for Fearless in 2010 when she was just 20, is now the youngest person to achieve the award.
She was once engaged to Ryan Reynolds
In her heyday, Morisette had her fair share of Hollywood hookups with stars like comedian Dave Coulier and actor Ryan Reynolds, who she almost married. Long before Reynolds wed actor Blake Lively, he was engaged to Morisette. However, their relationship went awry and they called off their wedding in 2007. Morissette even wrote an album inspired by their breakup, 2008's Flavors of Entanglement, and revealed to Access Hollywood that one particular song, "Torch," was directly about her heartbreak from the split.
"Yea, it's really about my grief," Morisette said at the time. "I think the most painful, sort of suffering-oriented moments in my life [are] when I'm resisting something...If I just say, 'It's true. I'm unbelievably insecure, really broken, devastated,' then I can move through it toward the next place. But if I keep resisting it, I'll stay there forever."
She is happily married now
Years after calling it quits with Reynolds, Morissette met the love of her life, Souleye, whom she married in 2010 and shares three children with. Speaking on Oprah Winfrey's Super Soul Sunday in 2014, Morissette said she knew the American rapper, whose real name is Mario Treadway, was her soulmate almost instantly.
"I would date people, and there would be something about me that would hit a brick wall with whomever I was sitting across from. And with Souleye, when I first met him, I could see that there was this limitlessness to where we could go," she said.
Music is her source of activism
The proud feminist has backed a number of humanitarian and social causes. She has a penchant for environmental activism, even being honored with the Energy Global Award by the European Parliament in 2008 for protesting against energy policy and drilling. However, her music has always been her first act of service.
"I came to see, after singing 'You Oughta Know' and other songs for many years, that it was cathartic. It moved energy to sing these songs," Morissette wrote in an op-ed for The Hollywood Reporter, released Tuesday.
"I saw that my songs were helping. They were validating, comforting and empathizing with people. I'd get letters telling me that it helped them through their divorce or the death of a loved one or to decide not to commit suicide," she continued. "For me, fame was never enough, so when I saw that there was some service in writing and sharing these songs, I wanted to keep going. And the activist in me got really excited — that's what I looked to. When I write the songs, they're for me. But when I share them, it's an offering."