Alarm Raised Over NATO Airpower Weaknesses: 'Real Threats Were Ignored'
The NATO defense community has known about shortcomings in its European air forces for years, according to military experts, as a report warned that "urgent" changes are needed in the face of aggression from Moscow and Beijing.
On February 22 a report released by the London-based Royal United Services Institute (RUSI) think tank, which specializes in military and defense analysis, suggested that "almost all European air forces" did not have many of the "critical capabilities" to win out against Russian forces in the air.
"Almost all European air forces, including the RAF [British Royal Air Force], currently lack many of the critical capabilities required to credibly be able to gain and exploit air superiority against Russian forces, or indeed any state opponent with modern ground-based air defence systems and long-range strike capabilities," the report's author Professor Justin Bronk wrote.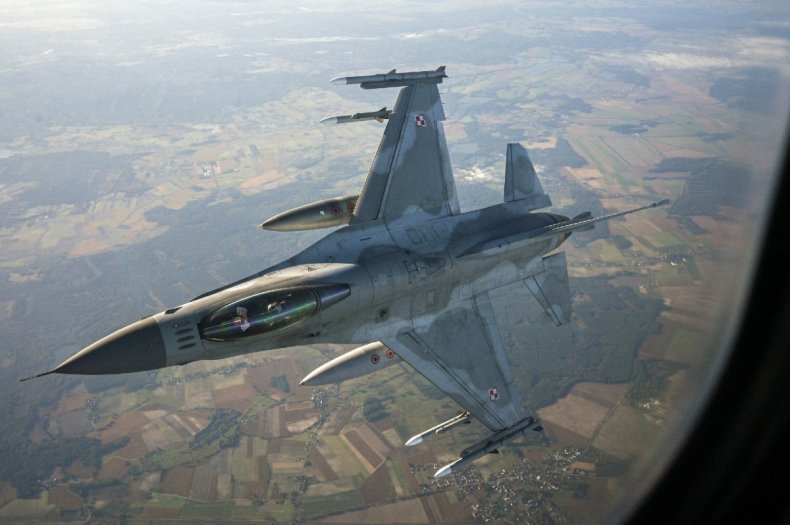 "European NATO members must urgently regenerate the warfighting credibility
of their armed forces," the report argued.
Airpower is "where the bulk of NATO's conventional firepower and lethality" is, according to the report, and maintaining that is key to deterring Russian forces from attacks on NATO states.
NATO air forces have been allowed to "atrophy" over the last three decades, Bronk wrote. The detailed analysis looked at several aspects of NATO's European air forces, including vulnerable air bases, lack of maintenance and training, and having enough munitions to destroy enemy air defenses.
Jens Stoltenberg, the alliance's Secretary-General, said on February 17 that NATO must "continue to invest in our security" adding that a win for Russia in Ukraine would be "dangerous" for NATO states.
"Putin's invasion demonstrates the West can no longer afford to be complacent about defence," retired Vice-Air Marshall Sean Bell wrote for Britain's Sky News on Saturday. An easing of defense spending at the end of the Cold War "has left significant gaps in our collective military capability," he added.
But although the RUSI report may be new the information about waning NATO airpower capabilities is not, military experts have told Newsweek.
The report is hardly surprising, former British military officer Frank Ledwidge commented. Air power has been "focused on irrelevant threats" meaning the "real threats to our security were ignored," he said.
He suggested to Newsweek that the "war on terror" had drained NATO airpower resources, and Bronk also argued NATO air forces in Europe "must reduce discretionary commitments such as counterterrorism."
"Unfortunately, it doesn't surprise me at all," retired Air Commodore Andrew Curtis, of Britain's Royal Air Force, told Newsweek. "This isn't a surprise. This is stuff that people have known about for a while."
But Britain's air force and the military in general have been "really pressured," Curtis said. Funds are unlikely to spread across all aspects of spending that could be deemed necessary, from the number of aircraft, to hardening shelters or increasing aircraft survivability, he said. Priorities have changed as circumstances evolved, he added.
"At the end of the day, it's all about priorities, because there's never enough money to go around."
The RUSI report also warned that NATO's European forces need to be prepared for U.S. forces to be distracted by China. "The Chinese military threat means fewer U.S. military assets are available to reinforce Europe in a crisis," Bronk wrote, meaning Russia could make the most of U.S. forces being occupied in the Indo-Pacific to target NATO members in Europe.
This is "absolutely" a possibility, Ledwidge said. China is "where the U.S.'s decisions are focused," Curtis added.
"Certainly, anything that Russia does that takes the U.S.'s focus away from the Chinese military build up, China will be happy with," Curtis argued. "But in the same way anything that reduces Russian military capability, so that the U.S. can concentrate more on China, is helpful to the U.S."
"We know that Beijing is watching closely the war in Ukraine," Stoltenberg said earlier this month.
"If President Putin wins there, it will impact the calculations and decisions they will make in Beijing," he continued. "So when authoritarian powers are coming closer, working more closely together, it's even more important that all of us that believe in democracy and freedom, that we stand together in NATO and with our partners throughout the world."
Newsweek has contacted NATO and Britain's defense ministry for comment.