Department of Transportation Secretary Elaine Chao attempted to schedule meetings between members of her family's shipping business and Chinese government officials during a planned trip to China that was ultimately cancelled amid ethics concerns.
According to an investigation by The New York Times, Chao requested in October 2017 that federal officials make travel arrangements for at least one of her relatives to China. She also asked for her family members to be included in meetings with government officials.
David Rank, an official in the State Department, told the Times that Chao's request was "alarmingly inappropriate." Rank was previously the acting U.S. ambassador to China but resigned in 2017 after President Donald Trump decided to withdraw from the Paris climate agreement.
Another department official, who remained anonymous, told the newspaper that Chao's family and their business interests were "potentially affected by meetings."
Her family's business, the Foremost Group, is a shipping, trading and finance company. Chao has no formal affiliation with the company but she has been gifted millions of dollars from her father, who ran the company until last year, according to the Times. Chao is married to Republican Senator Mitch McConnell, whose re-election campaigns have also benefited from large monetary donations from the Chao family.
The requested trip was eventually dropped by the Transportation Department, though the agency did not state a reason for the cancellation. Before the trip was cancelled, department officials sent hundreds of emails planning the visit.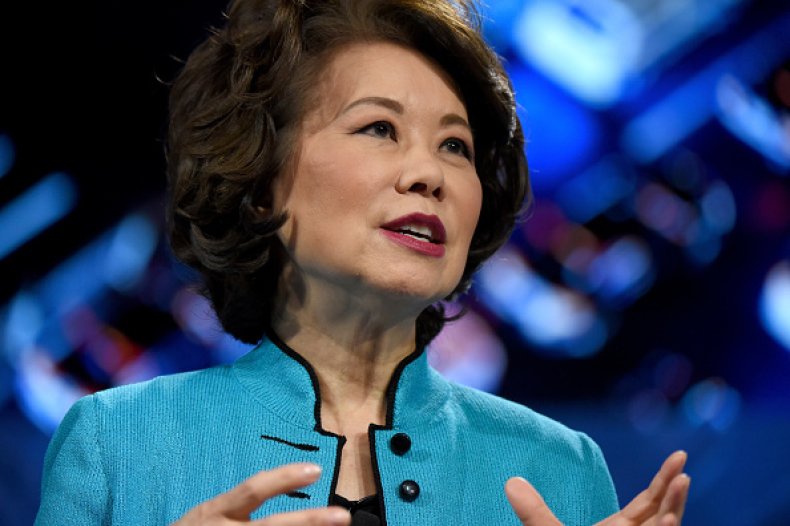 Marilyn Glynn, a former acting chief at the Office of Government Ethics, told the Times that Chao should recuse herself.

Chao declined to be interviewed, but the Transportation Department provided a written statement from the secretary that read: "My family are patriotic Americans who have led purpose-driven lives and contributed much to this country. They embody the American dream, and my parents inspired all their daughters to give back to this country we love."
Freshman Democrat Representative Alexandria Ocasio-Cortez tweeted about the Times investigation on Monday, writing that it seems like Chao "has been caught trying to use her position to enrich her family's shipping company. Her husband has lots of sway in US laws, too: Mitch McConnell. At this point it might be easier to ask where in this admin there *isn't* corruption."
The Times investigation comes just a week after the Wall Street Journal reported that Chao still owned shares in a construction company that she vowed to divest from when she joined the Trump administration. According to the report, her holdings in the company have gained more than $40,000 in value over the past year.
A top ethics official at the DOT reportedly determined that Chao's share ownership does not present a conflict of interest. But Walter Shaub, a former director at the Office of Government Ethics, told the Journal that Chao's breach of the agreement is "not sending a message to the employees of DOT that she is making ethics a priority."
A DOT spokesperson told Newsweek in a statement that the Times story "demonstrates deep misunderstanding of the work of Department of Transportation and the U. S. maritime industry. Important context is intentionally missing and it implies conflicts of interest where none exist. The Secretary has been one of this country's greatest advocates for the U.S. flag ship industry and today, the Maritime Administration has the largest operating budget in its history in no small part due to her advocacy."
Update (6/3/2019, 2:00 p.m.): This article has been updated to include a statement from the Department of Transportation.