Plane Passenger Dies While Traveling From Seattle to Kansas City
A passenger on an Alaska Airlines flight died Tuesday after suffering a medical emergency while en route to her destination. Alaska Airlines flight 478 left Seattle-Tacoma International Airport at 9:52 a.m. PDT and arrived at Kansas City International Airport at 3:50 p.m. CDT, according to the airline's flight checker.
Alaska Airlines confirmed the medical emergency and told Newsweek that it would not comment further in accordance with the airline's privacy practices.
The Kansas City Fire Department responded to a call about the medical emergency on the plane. Upon landing, the airport found a passenger who appeared to be in cardiac arrest, the Kansas City Police Department confirmed to Newsweek. The female passenger died shortly after the officers arrived at the scene.
No foul play is expected to have contributed to the woman's death and officials said an autopsy will reveal the exact cause of death, KCPD told Newsweek. The woman's identity and details about when the medical emergency occurred during the flight were unclear as of writing.
Other passengers on the flight said they were held for two hours after the flight landed, WDAF reported.
As of Wednesday morning, Alaska Airlines had not released a statement on the medical emergency or posted about it on any of the company's social media channels.
Wednesday also marked the full merger between Alaska Airlines and Virgin America. Traces of Virgin America disappeared from airports across the country seemingly overnight. "Starting this Wednesday, you'll turn to Alaska for every step of your flight," said a tweet from Alaska on Monday.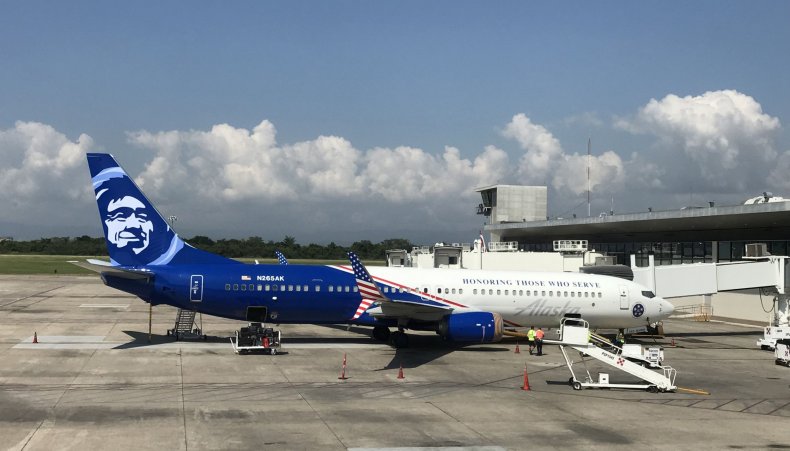 Plane Passenger Dies While Traveling From Seattle to Kansas City | U.S.