Updated | Megan Mullings was understandably despondent. A freshman at South Mountain Community College in Phoenix, she had just taken part in her first intercollegiate scrimmage, a whupping that was so one-sided it may as well have been a crime scene. "I was thinking, This is our first game; is our entire season going to be this bad?" recalls Mullings.
It was the autumn of 2012. Mullings, 6-foot-1 forward from nearby Glendale, Arizona, made her way through the postgame handshake line. The last person she encountered was a young man who looked to be the age of a grad student. He clasped her hand. "I want to recruit you to come play for me," said Ryan McCarthy, who had just coached his first game for the University of Alaska-Anchorage (UAA).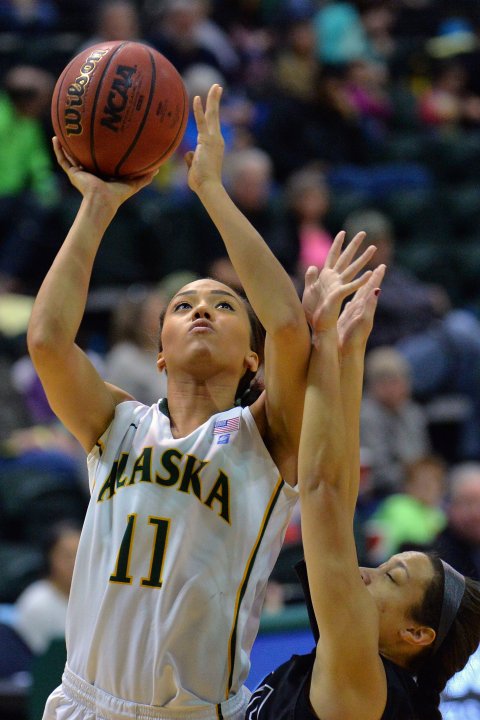 A little more than three years later and 3,600 miles north of that initial encounter, Mullings and McCarthy have become quite a tandem. She is the leading scorer and rebounder for the Seawolves, the top-ranked women's college basketball team in Division II, and he helms a 29-1 program that is improving on the 29-2 benchmark that last year's UAA team set.
"My first year here, we had seven scholarship players," says McCarthy, 33, who is in his fourth season as head coach. "I had to recruit three girls from intramurals just so we'd have enough people to scrimmage. It could've gone the opposite way: We could be 1-29."
There may be no better women's college basketball team in the United States than UConn (the University of Connecticut, winners of 61 straight), but there is no better women's college hoops squad west of the Yukon than UAA. The Seawolves are 58-3 over the past two seasons and McCarthy has improved his win total (from 17 to 19 to 29 to 29 and counting) in each of his first four years. How exactly has he done it?
"I'm probably the world's biggest Shaka Smart fan in the world whom he doesn't know exists," says McCarthy, alluding to the precocious University of Texas men's coach who five years ago guided number 11 seed Virginia Commonwealth to the Final Four. "He runs a defense called 'Havoc.' I stole that and renamed it 'Mayhem.'"
The Seawolves led the nation in steals per game last year and are doing so again this season at a thievery rate of 14.2 per game. At least 11 players see 10 minutes of action per outing and no one, not even Mullings, a senior, plays more than 25 minutes. "We press full-court after each made basket and after every whistle," says McCarthy. "We tell our players, 'There's a difference between playing hard and playing really hard.' If they're playing the way we want them to—mayhem—they can't go more than three minutes without needing a break."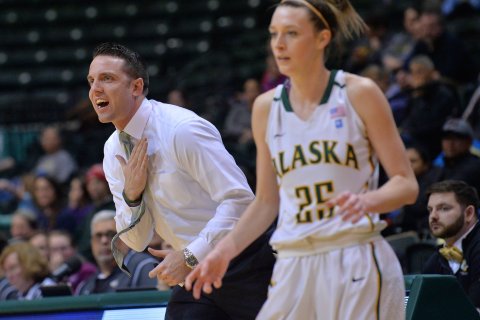 In August 2012, McCarthy inherited a Seawolves program that was in more disarray than any hapless team his defense harasses. Successive head coaches quit in a six-month period and four players left the team. First, Tim Moser resigned that May after it was discovered he had made payments to two players. Moser had been the most successful coach in Division II, with a 165-32 record in six seasons, including a pair of Final Four berths.
The Seawolves replaced Moser with Nathan Altenhofen, an assistant coach from Indiana. Altenhofen resigned less than three months later as the university investigated him for charges of "professional misconduct." McCarthy, who at the time was the associate head coach at his alma mater, Northwest Nazarene in Nampa, Idaho, was summoned home a few days later.
"I wasn't just born in Anchorage," says McCarthy. "I was born in the hospital [Providence Alaska Medical Center] that is located directly across the street from our basketball arena. My wife, who also played basketball at Northwest Nazarene, was not too keen on moving to Alaska. She was my toughest recruit."
McCarthy's homecoming that August was not widely heralded. A local newspaper sardonically proclaimed, "UAA Hires Yet Another Head Coach." He was 29 years old and foraging the school's rec leagues for available players. "There was no time," says McCarthy. "We just needed enough bodies on the floor to hold practice."
The Seawolves remarkably finished 17-10 in McCarthy's inaugural season. His toughest recruit, Jenny McCarthy (his wife, not the former MTV bombshell-turned-vaccine truther), is now a nurse at the hospital where he was born. McCarthy has since filled out his roster with both natives of The Last Frontier and émigrés from Sun Belt cities. Jenna Buchanan, the team's second-leading scorer, hails from Galena, Alaska, which is located on the Yukon River and is completely inaccessible by vehicle ("We had to fly in, and then they picked us up in a boat," says McCarthy. "When we got to shore, we took ATVs to the school.") Kiki Robertson, the reigning defensive player of the year in UAA's conference, is from Honolulu.
"The parents of kids like Megan and Kiki are always freaked out by those Discovery Channel shows," says McCarthy, alluding to programs such as Deadliest Catch and Alaskan Bush People. "As if we all live in some remote cabin or are out shooting moose. Although I will say that you can still see a moose in downtown Anchorage. If you came to visit and did not see a moose, I'd be embarrassed as an Alaskan."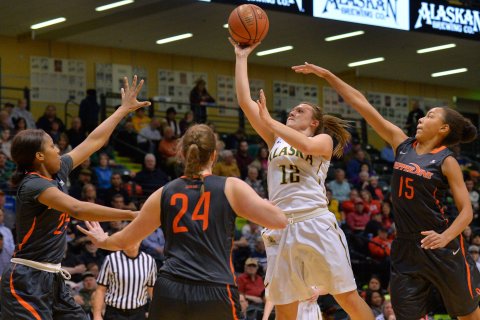 Speaking of which, a certain former governor was once a high school basketball player of some renown. Mama Bear is not known to attend UAA games, but in 2009 she did offer them shelter. "We were flying home from a road trip and our flight was rerouted to Juneau because Mount Redoubt was threatening to blow," says UAA media relations director Nathan Sagan. "Governor Palin heard about it and invited us over to the governor's mansion for snacks and a brief tour. She's…quite a trip."
Anchorage, located in the shadow of the Chugach mountain range and along the Cook Inlet, is Alaska's largest city (population: 390,000) and one of America's most scenic. The winter temperatures (averaging between 5 and 30 degrees Fahrenheit) are not as fierce as one would find inland, in a city such as Fairbanks, but the darkness can be mood-altering. "It was definitely culture shock coming here," says Mullings, who went from triple-digit temperatures in Arizona to occasional below-zero days in Alaska. "I'm the oldest of six kids, and it's just my mom and us. Why did I move 3,500 miles from my family to be in the cold? We had a lot of come-to-Jesus meetings, me and my coach, that first year."
On the other hand there are advantages to being the most successful team in a state that is both the largest in the Union and also has no professional competition. The Seawolves play in a magnificent state-of-the-art arena, the Alaskan Airlines Center, which opened last year. All of their home games are televised locally, which is a rarity in women's intercollegiate athletics. In the land of Northern Lights, the Seawolves are stars. "When we go out, we're kind of celebrities," says Mullings. "The only downside is that you can't find decent Mexican food here. Coach insists that they do have good Mexican food in Anchorage, but he is so wrong."
Mullings is likely right. Anchorage is not known for its Mexican cuisine. Increasingly, though, it is gaining renown for its basketball team.
Correction: An earlier version of this article incorrectly referred to the team from the University of Alaska-Anchorage as the Sea Wolves. The team is the Seawolves.