Brown Bear Mauls Alaska Hunter Before Father Shoots at It to Rescue Him: 'I Saw This Brown Thing Chasing Him'
An Alaska father saved his son from a brown bear attack during a hunting trip last week after shooting in the direction of the aggressive animal, wildlife officials say.
Alaska Wildlife Troopers said they were notified about the bear attack last Thursday at about 8 p.m. The incident took place along the Chilkat River, close to the town of Haines.
Scott Bradford, 55, and his son Casey Bradford, 21, were returning to their boat after a moose hunting trip when a brown bear emerged from the brush without warning and attacked the son from behind, authorities revealed in an official dispatch published online.
The father said he fired a shot from a firearm over the top of the bear, which was on his son's back.
The animal then released Casey and fled back into the brush. The dad said he tried to shoot the bear as it ran off, but it was not known if his bullets made contact.
According to the Alaska Wildlife Troopers, it was not immediately clear what motivated the attack. The animal responsible has not been located, but the agency said it will post signs in the remote region warning others about the close encounter with the brown bear.
The father said he became aware something was wrong when he heard his son yelling. They were approximately 30 yards apart at the time, he noted. "I saw this brown thing chasing him," Bradford told The Associated Press. "My first thought was that it was a moose."
The pair made their way back to a vehicle and drove about 25 miles to a clinic in Haines. The son was flown by the Coast Guard to Bartlett Regional Hospital in Juneau, AP reported. The son suffered bites on his arm and leg, but his injuries were not life-threatening.
As the 21-year-old recovered, the dad said he had a restless night that was spent reflecting on the situation. "There were a lot of things going through my mind all night," he explained. "If that bear would have attacked him a few minutes before, this would be a different story."
Brown bears are found "nearly everywhere" in the state, according to the Alaska Department of Fish and Wildlife, which says the majority of attacks are a defensive response.
It adds: "Bears are naturally shy animals and prefer to avoid people. Conflicts arise when they are attracted to human food or garbage or when we surprise them while out on the trail."
"If you have to shoot a bear, be sure you shoot to kill—wounded bears are potentially more dangerous than healthy bears. Also be very careful of what lies beyond your intended target—stray bullets can travel over a mile and still be deadly," it warns in a fact sheet. It states anyone who is properly attacked by a bear likely has two main choices: play dead or fight back.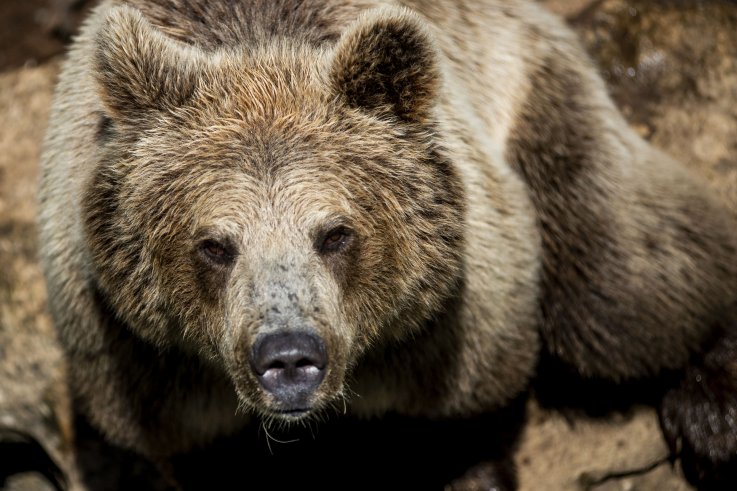 Brown Bear Mauls Alaska Hunter Before Father Shoots at It to Rescue Him: 'I Saw This Brown Thing Chasing Him' | News