'Alaska Daily''s Grace Dove on Real Cases That Inspired Show: 'Not News to Me'
ABC show Alaska Daily examines the real-life crisis of missing and murdered indigenous women, girls and two-spirited people through a fictional lens, bringing the issue into the public eye. But, for actor Grace Dove, the subject was not new, she told Newsweek.
Dove, 31, portrays investigative reporter Rosalind "Roz" Friendly in the drama opposite Hilary Swank's Eileen Fitzgerald. Together, they begin to look into the cases of missing and murdered indigenous people in Alaska that were brushed under the carpet and ignored for years.
While the cases shown in the program are not real, they are based on the investigative work of Anchorage Daily News and ProPublica, collectively titled "Lawless," which earned them a Pulitzer Prize in 2020 for public service.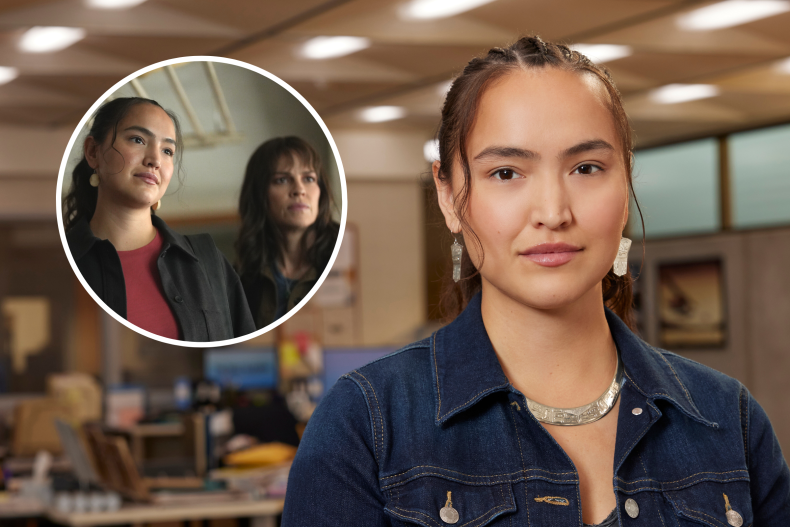 'Alaska Daily''s Grace Dove on Real Cases That Inspired Show: 'Not News to Me'
Dove said she was very familiar with the issues that were being brought to light in Alaska Daily, sharing how it was a subject she has often discussed within her community but that she felt probably wasn't something the general public might be aware of.
"When it comes to MMIW, missing and murdered indigenous women, girls, and two spirit, this is not new news to me," Dove said. "This is very prevalent within my life and within my family and my community. So, to see it on network television is incredible. It's surprising, and it shouldn't be.
"You know, these conversations happen a lot within my indigenous circles, but to see such an important topic being showcased to the televisions of North America—and a lot of people that probably have never heard of it—it's healing, and I think that, in whatever platform we need to be talking about this, we need to be talking about the hard thing."
Dove added that she appreciated how Alaska Daily was able to balance its focus on this difficult subject matter with other, lighter topics such as when the communities come together for events like the state fair.
When reflecting on how the show could help change things, Dove said that she felt it was up to the viewers to become better informed on the issue and call for justice.
"I think the only thing that we can do as storytellers is bring awareness, and then it's up to the audience," Dove said. "It's up to our viewers to educate themselves on the realities of the history of the United States, the history of what is now called Canada, the treatment of indigenous peoples and the last 500 years of colonization.
"If you don't know what all those things are, then the audience needs to start researching, because there's only so much we can do, and there's only so much indigenous peoples can do, because we're still fighting today.
"It's very much up to non-indigenous folks to learn what territory they are on and to look up the MMIW crisis. I just hope that people will start having compassion for the first peoples of this land, and truly see for the resilient and beautiful and present people that we are," Dove added.
On Playing Roz in 'Alaska Daily'
For Dove, portraying Roz felt like a personal journey as she believes that if "you don't bring a piece of you, the character is not real, the character is not deep," and it was important for the actor to let her own experiences inform her characterization of Roz, and her pursuit of the truth.
"As an indigenous person, especially, when it comes to our stories, if I don't bring my generations of experience, my ancestors into my work, then it's just shallow," Dove said. "And that's why representation is so important as well, because if you don't hire someone who has indigenous roots, they won't have a deep spirit and that deep purpose of someone who is bringing their ancestors to the screen."
Dove describes the character with pride, calling Roz an "incredibly fierce, powerful and smart," and she added that it was a role she was particularly keen to sink her teeth into because she felt like such a well-rounded character.
"For a long time, I didn't want to do period pieces. I didn't want to play indigenous characters, which sounds really negative, but I felt that we weren't there yet when it came to representation in Hollywood," Dove said. "And I wanted to play a real character that is also indigenous, you know? My identity isn't everything."
She added: "I don't want to just do trauma, I don't just want do drama, I don't just want to do comedy. I want to do it all because that's who we are, right? We live all of those different parts in our life.
"And I think that's what the show does so nicely, so when we take [episode 4] you see Roz [enjoying herself outside of work], and some people asked 'is that first time you smiled?' and [...] it's funny because people notice right, and if they didn't have the episode where I smile, they'd think I just frown all the time, and that's not true either.
"We can be very serious people, but we can also be [full of] indigenous love, indigenous abundance and indigenous joy," she added.
Dove also talked about what she feels the show, and creator Tom McCarthy, has in store for Roz in the 10-episode season, saying that she believed the only place her character could go was up.
"I think that we will just keep seeing her rise and grow and, even if she doesn't want to, learn from Eileen," Dove said. "I think, as Grace myself, and Roz, the biggest thing we can do is just continue learning from our mentors and know that it's not always about us, and to keep our eyes on the bigger picture.
"So I see Roz really listening and finding her own [place] by the end of the season, and I have hopes. I can see where it's going but I don't know personally, but I feel like Roz is going to be such a force to be reckoned with."
Alaska Daily's midseason finale airs Thursday, November 17, at 10 p.m. ET on ABC.