Alaska Earthquake: Anchorage Hit By 4.8 Quake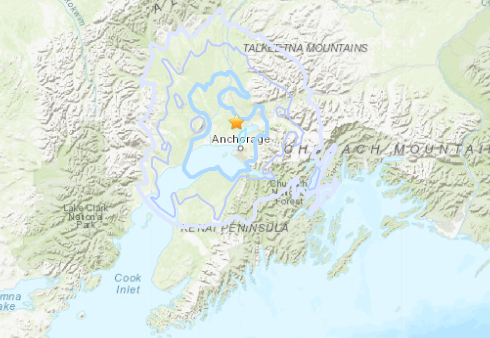 A magnitude 4.8 earthquake hit near Anchorage, Alaska, on Thursday, the United States Geological Survey confirmed. The quake struck about nine miles away from the largest city in the state, at a depth of about 40.3 kilometers.
It was not immediately clear whether there was any significant damage, though the USGS estimated there would not be any severe losses.
The National Weather Center said a tsunami was not expected following the earthquake. Magnitude 5 earthquakes are described on the Richter Scale as moderate quakes characterized by strong, sudden movements.
A number of earthquakes have struck the region in recent days, following a magnitude 7.0 earthquake that hit on Friday. A tsunami warning was issued after the large earthquake. Reports indicated "major infrastructure damage," and Former Alaska Governor Sarah Palin wrote on Facebook that while her "family is intact, [our] house is not."
Photos showed roads crumbled by the tremor. It was not clear whether there were any significant injuries or fatalities from the earthquake.
The ensuing aftershocks have been rumbling the region for the past week. Meanwhile, a 7.6 earthquake struck in the South Pacific Ocean on Wednesday, prompting a tsunami warning to be issued for the island of New Caledonia.
This is a developing story and will be updated as more information becomes available.