Alaska GOP Party's Ex-Chairman Says Group Wants Lisa Murkowski to Stop Running as a Republican
An ex-chairman for the Alaska Republican Party, Tuckerman Babcock, said Tuesday that the party no longer wants Senator Lisa Murkowski to run as a GOP candidate in the state.
"The party does not want Lisa Murkowski to be a Republican candidate," said Babcock, who also works on the GOP State Central Committee, according to the Associated Press.
Babcock's statements came after the Alaska GOP voted to censure Murkowski in a 53-17 vote on Saturday, the outlet reported. The censure followed Murkowski's vote to convict former President Donald Trump during his second impeachment trial last month.
"It went further than censure, which was strong," Babcock added on Tuesday. "But it also directed the party officials to recruit an opponent in the election and to the extent legally permissible, prevent Lisa Murkowski from running as a Republican in any election," he said.
Saturday's censure resolution identified multiple instances in which it said Murkowski's decisions were "contrary" to the state Republican Party's platform.
Those incidents ranged from her vote to convict Trump, to her decision to support President Joe Biden's nomination of New Mexico Rep. Deb Haaland to lead the Department of the Interior.
The censure also cited Murkowski's opposition to limiting abortion, voting against the repeal of the Affordable Care Act, opposing the appointment of Supreme Court Justice Brett Kavanaugh, and for speaking critically of Trump and demanding his resignation after the Capitol riot on January 6, the Associated Press reported.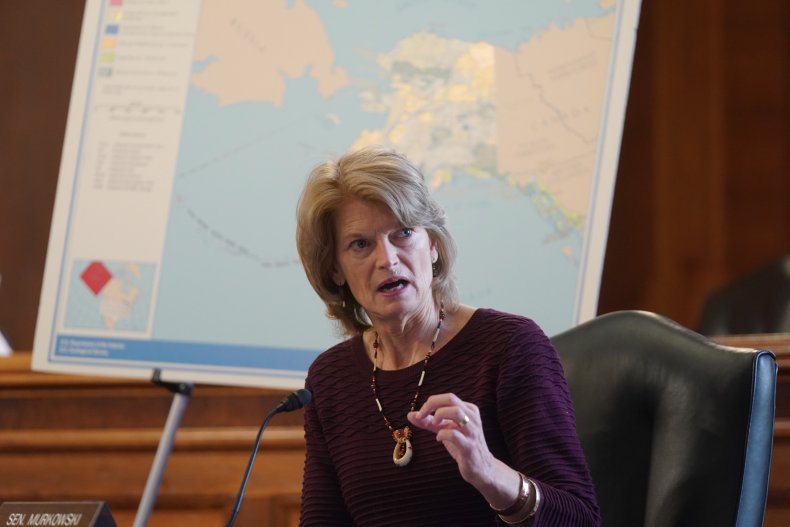 Since then, members of the state's GOP have said that they will seek to support a primary challenger against Murkowski, who is up for election in 2022. Kris Warren, a party chairman in Alaska's 23rd District, told the Anchorage Daily News on Monday that the party will seek a candidate who is "more in line" with its platform.
"We're looking for somebody else to be our U.S. Senator in 2022, and somebody who will be more in line with the Republican philosophy," Warren told the paper.
Murkowski was first appointed to represent Alaska in 2002 and was most recently re-elected in 2016 with roughly 44.5 percent of the votes cast in her state. Throughout Trump's presidency, the Alaska senator became known as one of few Republican lawmakers to publicly oppose the former president.
Last month, she joined just six other Republican senators in voting to convict Trump for inciting an insurrection.
Since then, five of them have faced formal censures or rebukes from GOP groups in the states they represent – highlighting an increasing divide between Republicans who do and do not support the former president's claims of election fraud.
Murkowski previously told reporters that she was aware her vote to convict Trump would likely meet pushback among members of her party in Alaska, but has since defended her decision.
"My obligation is to support the Constitution that I have pledged to uphold, and I will do that, even if it means that I have to oppose the direction of my state party," Murkowski said in Washington, D.C. last month, according to the Associated Press.
On Tuesday, Babcock said that the Alaska GOP decided to meet early in order to "encourage" another Republican candidate to run against Murkowski.
Though no specific contender has come forward, possible names that have floated around for primary challengers include Governor Mike Dunleavy and former Alaska Governor Sarah Palin, the Associated Press reported.
However, a new Alaska voting system that was approved last fall could help Murkowski make it onto the midterm election ballot even if she is not her party's top candidate.
Following the state's primary elections, the top four candidates will now advance to the statewide ballot, and a winner will be selected using a ranked-choice system. Murkowski has not yet announced if she will run for re-election, but she told Alaska Public Media earlier this year that she believes the new system may help her in the event that she does.
Newsweek contacted Murkowski and the Alaska GOP for additional comment, but did not hear back in time for publication.