Alaska Legislators Fail to Override Budget Cuts, University Students' Ability to Graduate Could Be At Risk
Alaska legislators failed to override Governor Mike Dunleavy's budget item vetoes, potentially leading to complications for students who haven't graduated from the University of Alaska system.
Legislators convened on Wednesday for a special session to consider the governor's vetoes, including a significant cut in funding for the university. The cuts, according to the University of Alaska President Jim Johnsen, would result in the Board of Regents declaring financial exigency, which allows for the rapid downsizing of units, programs, services and personnel.
Cuts in courses and programs could result in students being unable to graduate, news that came at a time in America's history when more than 40 million people have student loan debt equaling an estimated $1.6 trillion.
Legislators have proposed multiple plans to solve the student debt crisis, including having students graduate in a timely fashion. In March, President Donald Trump's administration suggested reforming the Higher Education Act to accelerate students' ability to complete a program. Having to repeat courses that were taken at another institution increased costs and loan amount a student must take on.
To overturn the vetoes, three-fourths of legislators needed to vote in favor, equal to 45 members out of the 60 total. Republicans hold the majority in both the Senate and the House, and Democrats required the support of 23 state legislators outside their party to successfully override Dunleavy's veto.
Although all congressional members who were present and not excused, except for one, voted in favor, it wasn't enough to override the governor's budget votes.
During a joint floor session on Wednesday, legislators who were in opposition to the vetoes said it would be detrimental to both the education of Alaskans and the state's economy. Consequences Yan Matusevich, who created a petition opposing the vetoes, told Newsweek his family will feel directly, given that his mother is a professor at the University of Alaska-Fairbanks.
"A feeling of powerlessness and despair pushed me to launch the petition as soon as I was informed about the governor's vetoes," Matusevich said. "Just like for thousands of other Alaskans, these budget cuts will most likely cost both of [my parents] their jobs and force my family to leave their home state."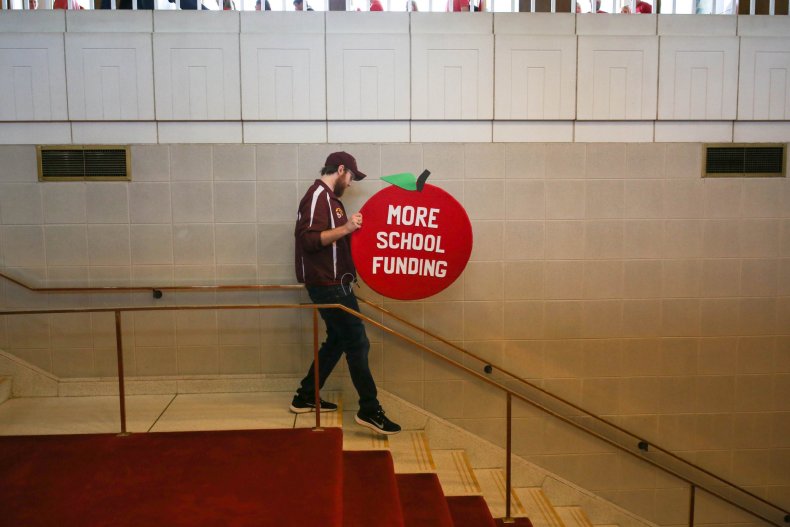 Johnsen called the cuts "devastating" and urged people to contact their legislators in favor of overriding the vetoes. He said a strong university and strong higher education system builds a strong state, country and world.
Following news of Dunleavy's vetoes, House Minority Leader Lance Pruitt said in a statement that Republican legislators would analyze the details of each reduction. If the caucus decided to revisit any of the items, Pruitt said they would do it through the capital or supplemental budget and not through a veto override.
Matusevich said when he created the petition he was afraid people wouldn't pay attention to what was happening in "a place as remote as Alaska." In about a week, the petition gathered over 16,000 signatures of its 25,000-signature goal and he called it "absolutely tremendous."
Just as he wasn't sure what to expect, Matusevich told Newsweek he didn't think Dunleavy and the legislators that supported him expected people to mobilize in opposition to the cuts to the extent they did.
"I think [President Donald] Trump's presidency has emboldened radical fiscal conservatives to pursue policies that would have been unthinkable just a few years ago," Dunleavy said.
In an announcement about the budget, Dunleavy acknowledged difficult decisions had to be made. He defended the budget, however, for putting Alaska in a position to balance the budget without new taxes.