Lora Reinbold, Anti-Mask Lawmaker, Says She Can't Fly to Senate After Airline Ban
A GOP Alaskan lawmaker said her ban from an airline for refusing to wear a mask would stop her from conducting her political duties, and has asked to be excused from attending Senate floor sessions.
State senator Lora Reinbold, a Republican from Eagle River, said that her ban from Alaska Airlines made it impossible for her to fly into the state capital Juneau to carry out her legislative duties.
In April, the airline banned Reinbold because she refused to follow the company's COVID-19 rules on mask wearing which cited federal law requiring all passengers "to wear a mask over their nose and mouth at all times during travel."
On Thursday, she asked to be excused from votes in the Capitol from Saturday, from September 11 to January 15, which is three days before the next regular session.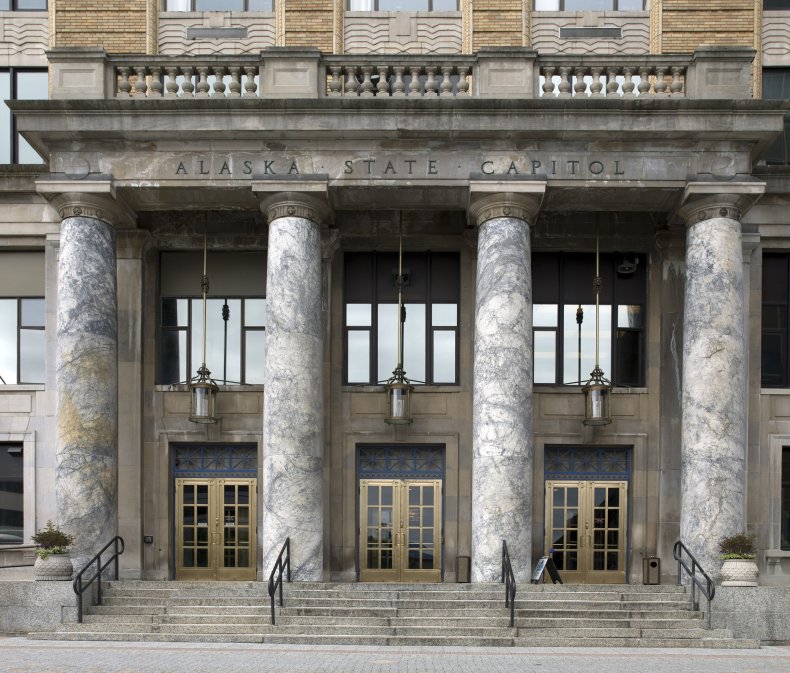 She said she needed the dispensation because "there's no airline that flies into Juneau other than Alaska Airlines that I'm aware of," the Anchorage Daily News reported.
"I believe what Alaska Airlines has done by my political ban, restricting my movement from the state capital as a senator, is unconstitutional," she said, according to the publication.
Delta Airlines is the only other large carrier that flies into Juneau but it is seasonal and ends in September, the outlet reported.
Currently in the capital after flying from Anchorage via Seattle, she said, the political ban is still in place as long "as Biden's illegitimate mask mandate is in place."
Lawmakers usually only ask to be excused from floor sessions if they have another commitment that stops them from attending, Alaska Public Media reported.
The outlet said her refusal to wear a mask or get tested for COVID-19 led to her being banned from most parts of the Capitol during the regular session.
Reinbold has previously detailed epic journeys to get to Juneau for votes, including when she drove through Canada and took an Alaska Marine Highway System ferry to Juneau in time to vote against a key bill extending pandemic state of emergency.
She said going through Canada to the state capital is "a long haul and complicated and restrictive process."
Newsweek has contacted the Alaska legislature for comment. A spokesperson for Alaska Airlines said that, "Reinbold's case was reviewed earlier this year and she was notified of the outcome.
"Nothing has changed with her status from earlier this year," the statement added.
Alaska is experiencing a spike in COVID-19 cases, which is among the top five states in the country for the rate of positive cases per 100,000 people, according to The New York Times.
Thursday saw 846 new virus cases, 809 of them Alaskans and the rest nonresidents who tested positive in the state, which is one of the highest daily case totals since the start of the pandemic, Alaska Public Media reported.
It comes as President Joe Biden faces criticism from some Republican governors after he announced a vaccine mandate for businesses with more than 100 workers, as well as other COVID-mitigating measures.
Update 09/11/2021 12:12 p.m. ET: This story has been updated to include a statement to Newsweek from Alaska Airlines.