Alaska Man Finds 50-Year-Old Message In A Bottle Sent By a Soviet Sailor
An Alaska man found a message in a bottle that had been tossed into the water by a Russian sailor 50 years earlier.
Tyler Ivanoff said he was just north of the Bering Strait—the northernmost point of the Pacific Ocean that separates North America from Asia—when he found a bottle that contained a letter dated June 20, 1969, according to UPI and The Moscow Times.
Ivanoff posted a photo of the letter on Facebook and asked friends for help translating the letter, which was written in Russian by a sailor aboard the Sulak, a fishing boat that reports say belonged to the Soviet Far East fishing fleet.
Judging from the photo Ivanoff posted, the letter was well-preserved—despite being carried thousands of miles east through the Strait in half a century.
"A heartfelt hello," the letter said in cursive Russian.
What followed was a request for the message recipient to report to the city of Vladivostok in eastern Russia.
"We wish you good health, many years of life and happy sailing," the sailor added.
One man encouraged Ivanoff to locate and contact the letter's author, though Ivanoff said he would likely pass on doing the work himself.
"Feel free to search," he told the man. "That would be awesome if we found the author of this note. I've been working and berry picking, so not much time for research."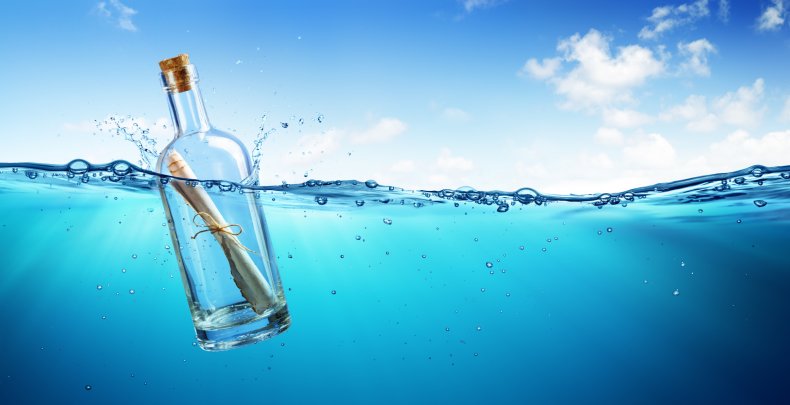 This is at least the second report in the last month of a message in a bottle found.
In mid-July, news outlets reported that a 9-year-old boy found a message in a bottle on a South Australia beach. The letter inside was written by Paul Gilmore, then 13, in November 1969.
Jyah Elliott reportedly found Gilmore's message while fishing with his father at Talia Beach in South Australia's Eyre Peninsula. The boy wrote a reply to the letter, which he sent to the address provided, but after realizing that in the past 50 years, Gilmore had likely moved, the Elliott family turned to Facebook to continue their search for Gilmore.
ABC was sort of able to track down Paul Gilmore. At the time the news outlet reached out, Gilmore was on a cruise in the Baltic.
"It's amazing, absolutely incredible," Gilmore's sister Annie Crossland told ABC. "He'll be chuffed to bits."
Crossland told reportedly told ABC that she remembers Gilmore writing letters and putting them in bottles. At that time, the family was journeying from the UK to Australia, where they lived until 1973, before they moved back to England.