Alaska Mayor Defends Use of Holocaust Imagery by Mandate Protesters
The mayor of Alaska's largest city on Wednesday voiced support for individuals who attended an assembly meeting to protest a proposed mask mandate while wearing yellow Star of David imagery.
Dave Bronson, the mayor of Anchorage, spoke out against the proposed mandate during an earlier assembly meeting on Tuesday, according to the Anchorage Daily News. As discussions about the proposal continued Wednesday, Bronson acknowledged the many individuals who were seen throughout the evening wearing the yellow Stars of David.
"There was a formal message that came out within Jewish culture about that, and the message was 'never again.' That's an ethos, and that's what that star really means, is, 'We will not forget, this will never happen again,'" Bronson said during the Wednesday meeting. "And I think us borrowing that from them is actually a credit to them."
The use of Holocaust imagery by people protesting restrictions put in place due to the ongoing coronavirus pandemic has become common in recent months, with some comparing vaccine or mask requirements to Nazi Germany while incorporating images such as the yellow Star of David and the swastika.
The Anti-Defamation League (ADL) has spoken out against what it said was an "exploitation" of the yellow Star of David amid mask and vaccine protests. Last month, the ADL's Central Pacific region office issued a statement about the recent use of the imagery in Northern California, where the league said protesters were "appropriating Holocaust imagery in a bizarre and inappropriate attempt to equate public health measures with the atrocities of the Holocaust."
By putting yellow Stars of David on their clothing, the protesters were "falsely equat[ing] themselves with Jewish victims of the Nazis," according to the ADL.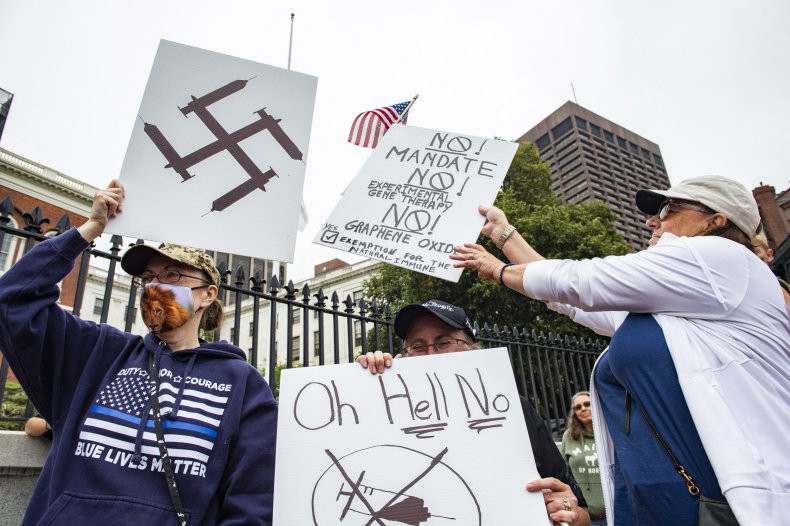 "It cannot be stated enough—comparing vaccine mandates to that practice is deeply offensive and unacceptable," the organization's statement read.
Miri Cypers, the regional director of ADL Pacific Northwest, told Newsweek on Thursday the ADL was "continuing to find these kinds of comparisons extremely painful and offensive."
"It's hard to believe that elected officials continue to use analogies comparing the Holocaust with COVID restrictions," Cypers said. "And Mayor Bronson's comments at last night's hearings were shocking and very offensive to the Jewish community. We're hearing from a lot of community members and community leaders who are similarly shocked and disturbed."
ADL Pacific Northwest later released a statement calling upon Bronson to issue an apology for his Wednesday comments:
"During these challenging times of rising antisemitism, elected officials continue to deepen the pain through ignorant Holocaust analogies to COVID-19 health guidelines. Last night, Anchorage Mayor Bronson defended the misappropriation of the Yellow Star of David to advance a political point of 'freedom' and said that the imagery is 'actually a credit to' Jews.

"This statement is disturbing and offensive. The yellow Star of David was used to not only stigmatize and humiliate Jews, but also segregate and control them during the Holocaust. We refuse to allow our elected leaders to engage in the gross misappropriation of the systematic murder of six million Jews – this rhetoric and behavior have no place in our society.

"We urge Mayor Bronson to issue an immediate apology and welcome a dialogue to educate him on the history of the Holocaust and contemporary antisemitism."
Before Bronson commented in support of the protesters wearing yellow Stars of David on Wednesday, Assemblyman Forrest Dunbar addressed his fellow assembly members and others who attended the meeting to say he had received several messages about protesters who had been spotted donning such imagery at previous assembly meetings. One of the individuals who reached out to Dunbar to voice his concern about the use of the imagery was Dunbar's rabbi, he said.
Dunbar's rabbi said it was "heart-wrenching" to see the imagery "mimicking" his ancestors, according to a letter Dunbar read aloud during Wednesday's meeting.
"'I believe it is a Constitutional right to protest for your values, but I request that you do not use symbols that diminish the 6 million Jews who were murdered during the Holocaust and the survivors who would like their children to never know the nightmare they endured,'" Dunbar recited from his rabbi's message.
Alaska does not currently have a mask mandate in place, although state health officials recommend people wear them in public when social distancing is difficult to maintain.
The assembly members did not vote on the proposed mask mandate Wednesday evening but were expected to do so in the coming days, according to the Anchorage Daily News.
Updated 9/30 at 7:17 p.m. ET: This article has been updated to include a statement from ADL Pacific Northwest.