Green Groups Sue Trump Admin Over Alaska Road They Say Would Destroy Arctic
Conservation groups are taking legal action against plans to build an industrial road through the Northwest Alaska wilderness, saying the project threatens Arctic land, water and wildlife.
Nine groups have teamed up to challenge the approval of a right-of-way permit for the 211-mile road, which would provide private mining companies access through the Northwest Alaska wilderness to the Ambler Mining District in the Brooks Range.
The coalition, Trustees for Alaska, said in a statement that the green groups had filed the lawsuit in the U.S. District Court in Alaska against the July 23 decision made by the Bureau of Land Management (BLM).
Environmentalists say permission for the road was granted following lobbying from federal and state agencies, even though the road would pollute the region's land and water.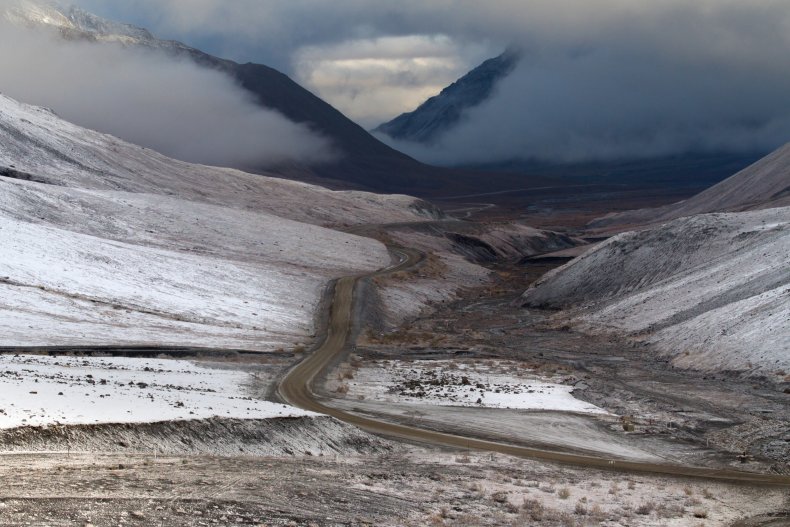 "We remain committed to defending the Brooks Range, and preventing this destructive, unwanted, and unnecessary road from cutting through the heart of one of the largest intact ecosystems remaining in North America," Solaris Gillispie, the clean water and mining manager for the Northern Alaska Environmental Center, one of the plaintiffs, said in a statement.
"The harm this project would cause to the lives and livelihoods of those who depend on the clean water, wild foods, cultural, spiritual and recreational opportunities this place provides would be irreparable."
The proposed gravel road would link Alaska's road system north of Fairbanks to the Ambler Mining District. Companies hope to use the road to access deposits of copper and other metals and then truck the ore out.
Environmentalists say that by traversing the Gates of the Arctic National Park and Preserve, the road would go through one of the longest wildlife migration paths in the world and 3,000 streams and rivers, as well as interrupting traditional Alaska Native ways of life.
"The agencies don't have enough information to be issuing these permits in the first place," said Bridget Psarianos, an attorney representing the plaintiffs, which includes the Alaska Wildlife Alliance and the Center for Biological Diversity.
"And this environmental review process should never have even been allowed to move forward," Psarianos added.
After the BLM issued the permit for the road, which is estimated to cost around $1 billion, Dana Pruhs, who chairs the Alaska Industrial Development and Export Authority (AIDEA)— a state public corporation that applied for the permit—said developing the mining district would boost the state's economy and jobs.
"This long-sought development of the road and mining district represents tremendous potential for economic growth, diversification, and job opportunities for Alaskans, along with revenue expected to the state and local governments for decades," Pruhs said in July. Newsweek has contacted AIDEA for comment on the lawsuit.
BLM, the Department of the Interior, the National Park Service, the Army Corps of Engineers and the U.S Coast Guard are named as defendants in the lawsuit.