Alaska Mom Chases off Huge Bear That Tried to Attack Son: 'I Stared Him Right in the Eyes and Maniac Growled'
A mom in Alaska who chased off a bear after it tried to attack her son outside their home claimed she stared the predator "right in the eyes" and growled at it before it ran away.
Before she came face-to-face with the bear, Shannon Caton, from Haines in the northern area of Alaska's Panhandle, had sent her sixth grader son Walther Jim outside to lock their car in case a bear tried to break in, KTOO reported.
When Jim got outside, he noticed a bear looking at him from around 10 feet away, he told the outlet.
"I jumped, and I tried to open the door. And then it started to run after me," said Jim. KTOO reported the bear was large.
Jim got inside the house and told his mom there was a bear "right there," Caton said. "Literally like, you know, nibbling his fingertips. I was like, 'no way.' I opened the door and then he was trying to come in."
The bear swiped at her, so Caton "stared him right in the eyes and maniac growled and screamed." Caton lunged at the bear to try to get it to back away, slammed the door and grabbed her shotgun.
"My dog chased him a little bit but he wasn't backing down. I just unloaded for four rounds of the 12-gauge buckshot," she said.
Caton and her son were right to scream and get inside their home, as this is what the Alaska Department of Fish and Game advises people when encountering a bear.
Caton said it was the most aggressive bear she had seen in the area in the six years she has lived there.
It was not clear what type of bear approached Jim, but an image published by KHNS-Haines showed an animal with a dark coat standing by some bikes and trees. Brown (or grizzly), black, and polar bears live in Alaska.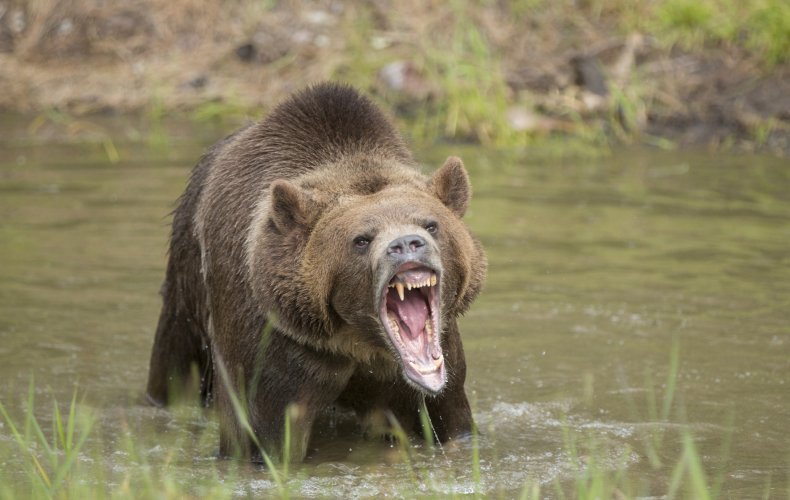 Caton and her son are not alone in having problems with bears. Between October 27 and November 2 alone the Haines Borough Police Department was called to deal with 17 incidents involving the animals. The situation is so bad that Haines Borough officials have asked residents to report if a bear has damaged their property so they can prepare for next year's encounters now, KHNS FM radio station reported last week.
This year, non-hunters have killed 23 brown bears in Haines and nearby Skagway, and 12 in Juneau around 100 miles south of Haines, according to the Alaska Department of Fish and Game.
Caton told KTOO she believes the bears do not have enough food. To prevent future run-ins with bears, she said she now sends her dog out before anyone can leave the house.