Alaska Republican Party Endorses Murkowski Challenger Kelly Tshibaka in Senate Race
Leaders of the Alaska Republican Party endorsed Kelly Tshibaka on Saturday in her race against Senator Lisa Murskowski of Alaska, giving its support to an outsider candidate who encouraged former President Donald Trump's baseless claims of election fraud.
The Alaska Republican State Central Committee confirmed Tshibaka's endorsement to Newsweek, saying it passed in a 58-17 vote.
In a statement to Newsweek, Tshibaka said she's "determined to defend Alaska from the continued onslaught of the radical Biden administration."
"We need a senator who will stand with Alaskans and not cosy up to the Washington D.C. insiders, a senator who has earned the trust of the people and strives to keep it every day," she wrote. "It is time for conservative leaders, with courage and common sense, to rise together across the nation. I am honored to be endorsed as that candidate for Alaska."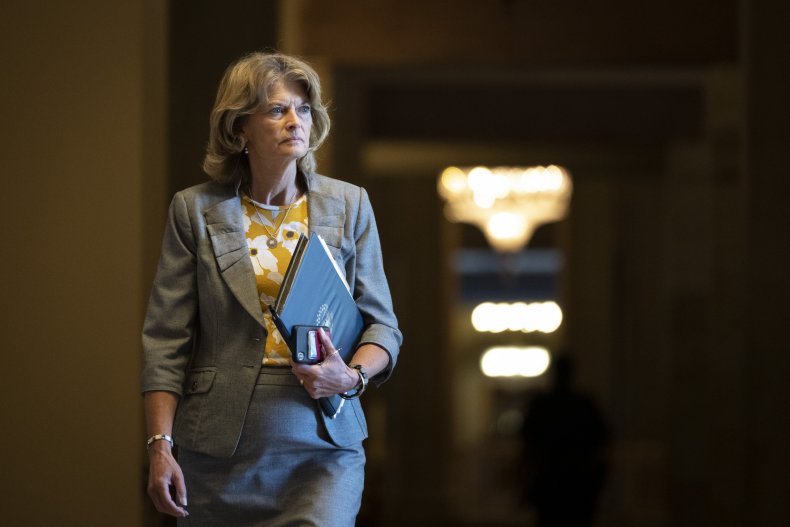 The move follows former President Donald Trump's endorsement of Tshibaka last month, which came after he vowed to oust the senator who voted with Democrats to convict at his impeachment trial.
In March, the Alaska Republican party censured Murkowski for criticizing Trump and supporting Deb Haaland as interior secretary. At the time, the state party urged the incumbent senator not to identify as a Republican candidate in the 2022 election.
However, the National Republican Senatorial Committee has endorsed Murkowski, a moderate senator who has represented Alaska since 2002.
The endorsement of Tshibaka highlights the worsening intra-party battle between the Trump wing and the establishment wing seeking to end his grip on the party. "Lisa Murkowski is bad for Alaska," Trump said in a statement last month. "Murkowski has got to go!"
Murkowski is the only Republican senator of the seven who voted to convict Trump to face re-election next year.
"After listening to the trial this past week, I have reached the conclusion that President Trump's actions were an impeachable offense and his course of conduct amounts to incitement of insurrection as set out in the Article of Impeachment," she said in a statement announcing her vote.
In a statement to Newsweek, Murkowski said: "I have and will continue to fight for Alaskan values in the US Senate. Alaskan voters will decide who represents them in DC and I work every day to earn their support." A spokesperson for the senator noted on Saturday that she has yet to officially launch a 2022 campaign.
Tshibaka recently resigned as commissioner of the Alaska Department of Administration to run for the Senate. She has aligned herself with Trump and promoted his false 2020 voter fraud theory in an effort to court his loyal base. Her campaign has also hired Trump's former campaign spokesperson Tim Murtaugh, as well as his advisers Bill Stepien and Justin Clark.
Newsweek reached out to Murkowski for comment. This story will be updated with any response.