Alaska Volcanoes Go Offline after 'Severe' Telecoms Interruption
Nine volcanoes in Alaska have gone offline after a "severe interruption to a regional telecommunication link", according to officials. This means the Alaska Volcano Observatory (AVO) cannot monitor seismic activity to ensure activity is at its normal, background state.
The AVO issued a statement on March 16 to say the problem stems from King Salmon, the small outpost community just to the west of Katmai National Park and Preserve, which covers over 6,000 square miles and is home to the active, six-mile wide stratovolcano, Mount Katmai.
"A severe interruption to a regional telecommunication link in King Salmon has resulted in the loss of data flow from seismic stations at nine volcanoes in the Katmai region and northern Alaska Peninsula over the past weeks," the statement said. "As a result, AVO can no longer seismically monitor the volcanoes listed below. Thus, we are unable to assess whether these volcanoes are at their normal background state, or to quickly confirm or dismiss reports of activity at these volcanoes."
Alaska is home to over 130 volcanoes and volcanic fields. The nine volcanoes impacted are Griggs, Katmai, Mageik, Martin, Novarupta, Snowy Mountain, Trident, Ugashik-Peulik and Ukinrek Maars.
Novarupta was responsible for the largest volcanic eruption in the 20th century. On June 6, 1912, it started erupting, ejecting 15 cubic kilometers of magma, which is around 30 times what was released in the Mount St. Helen's eruption in 1980.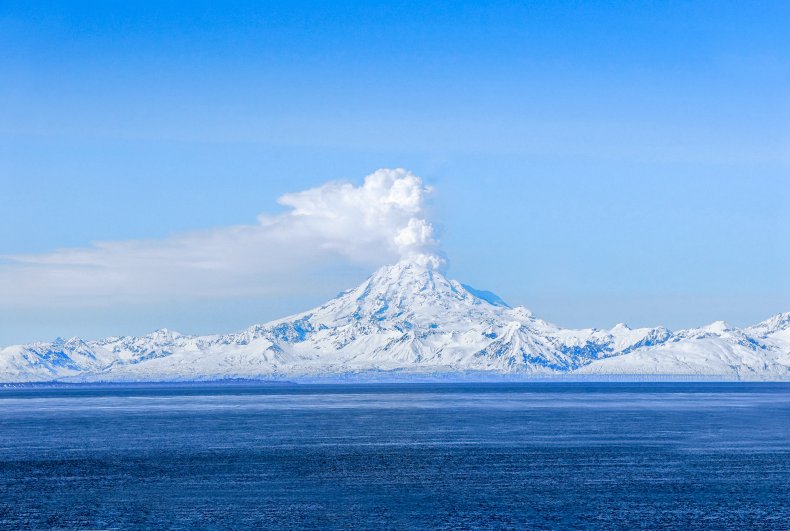 The AVO said that because of the interruption, the alert level and aviation color code of all nine volcanoes had been changed to unassigned. Alert levels are normally either green, yellow, orange or red, depending on the likelihood of an eruption, based on seismic activity. Red means an eruption is imminent, or already underway. The aviation color code relates to risk to aircraft as a result of ash emissions.
There is currently no way to predict when a volcano will erupt. Seismic monitoring helps researchers understand whether there are changes happening within a volcano. If a volcano remains at its normal, background state, it suggests there is little activity going on. If seismic activity picks up, scientists will monitor the situation for any changes.
Volcano monitoring stations are found across the globe, with the U.S. operating five observatories.
Yves Moussallam, Assistant Professor of Earth and Environmental Sciences at Columbia University, told Newsweek that it is fairly unusual to have such a large-scale disruption. "Communication is often lost with specific instruments but not with whole networks," he said.
He said generally, volcanoes are monitored for the safety of populations nearby. "With many volcanoes in Alaska however there are no nearby population centers, the reason they are monitored is mostly because of the major air traffic route between the US and Asia passing above them. Aircrafts with jet engines are particularly at risk because the ash can melts and then quench to glass, clogging the engines."
Einat Lev, Lamont Associate Research Professor at Columbia University, told Newsweek: "Volcanoes are unique among natural hazards in that they often provide precursors to eruptions. Therefore, monitoring volcanoes can provide us with the warning of an upcoming eruption, which will greatly assist with preparedness and response to an eruption."
She said the volcanoes affected had been "green" for some time, meaning they had shown no sign of unrest.
The AVO said the nine volcanoes will be monitored using satellite and lightning data. "There is no estimate of when the telecommunication link will be repaired," the statement said.
This article has been updated to include quotes from Einat Lev.