Alaskans Left 'Starving' While Waiting Months for Food Stamps
Some Alaskan residents are going hungry as they wait for the state to catch up on backlogged food stamps that haven't come since the fall.
Speaking to the Alaska Beacon on Monday, Palmer resident Jessica Clayton described feeling "hungry, frustrated and unheard" after struggling to get in touch with the state Department of Health to get recertified for the Supplemental Nutrition Assistance Program (SNAP), the federal food stamp program.
Since August, the state health department has been dealing with a backlog of SNAP applications and recertifications, the latter of which are required every six months, and thus, the rollout of food stamps has been delayed. Federal law requires the department to provide ongoing SNAP benefits no later than 30 days after the date of application.
But Clayton, the mother of a 10-year-old son, said she hasn't received stamps in months, despite mailing in her physical recertification paperwork at the end of October.
Confused when she didn't receive stamps on December 1, she emailed the department's Division of Public Assistance, saying, "I haven't received my food stamps for December and they are always on time so I'm sure it has something to do with recertification."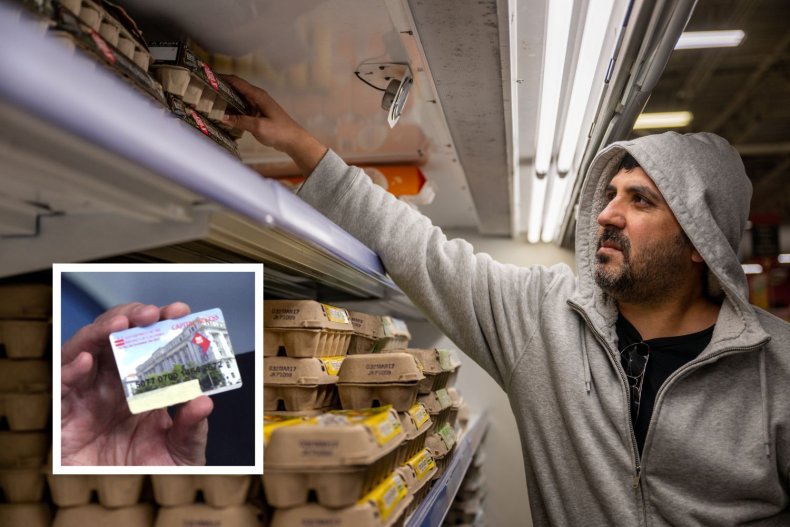 Clayton said it took the state a month to reply to her email, with the January response acknowledging that her paperwork was received November 3.
"We are working as quickly as possible to work through our recertifications. Thank you for your patience," the department told her.
Clayton is one of many Alaskans who have been forced to find other ways to feed themselves and their families as the state scrambles to find a way to address the backlog.
"People are literally starving," Ron Meehan, Food Bank of Alaska's policy and advocacy manager, said this week to the Anchorage Daily News.
Last month, a group of 10 residents announced they were suing the state for failing to provide food stamps within the timeframe required by the law and accused Alaska Health Commissioner Heidi Hedberg of leaving "thousands of Alaskans without critical food assistance in the coldest months of the year."
Hedberg has said the backlog began after the department received 8,000 SNAP certifications that overwhelmed the state's outdated IT system. She also pointed to the pandemic and the end of the state's public health emergency in July for causing the backlog, which she told state legislators in January is closer to 900.
"I know that we are toward the end of January, and the division is still working through October, which is not acceptable for those Alaskans who are in need and are entitled to benefits," she told the state Senate Health and Social Services Committee last month.
Clayton, who said she's had to rely on food banks as well as family and friends who hunt and fish, said she's been especially frustrated that the state hasn't given her any timeline as to how long she'll have to wait before food stamps will begin arriving in the mail again.
"At least tell me there's a light at the end of my tunnel somewhere," she said.
"None of us feel important enough and we don't know what to do. We don't even know why this is happening. Like we don't even know why we're still waiting," Clayton added.
Hedberg has said that the department is looking to improve communications to Alaskans about the backlog as well as hire more programmers who can update the eligibility information system. Once the backlog is cleared, she wants the department to lengthen the recertification period to every 12 months so that officials can avoid having to regularly deal with an onslaught of filings.
Newsweek reached out to Hedberg for comment.