Albany County GOP Office in Laramie, Wyoming, Set on Fire in Possible Act of Vandalism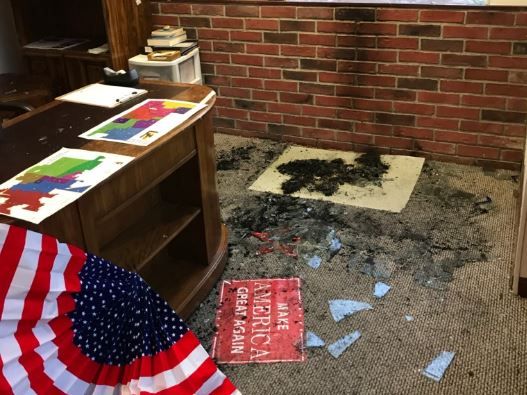 The Albany County GOP woke up Thursday morning to news they largely thought was reserved for cities located half a country away—their office in Laramie County, Wyoming, had been set on fire in what they believe to be an act of vandalism.
Chairman Ben McKay told Newsweek that it was their good fortune that someone happened to be taking money out at the bank across the street around 3:15 a.m. GMT and saw the fire burning. While he wasn't certain how long it had been before the fire started, McKay didn't expect it was long, because if it was, the whole building would have gone up in flames.
The Laramie Police Department hadn't commented on the motive behind the fire, but McKay said he had no doubt that the fire was an intentional act. Based on the window being broken and the fire being set to multiple pieces of furniture, he believed it was meant to send a message about supporting Republican candidates.
"It's unfortunate that people believe that's how you should push an agenda and try to scare people away from participating in our civil society," McKay told Newsweek.
Newsweek subscription offers >
He added that America is unique in that its citizens are able to peacefully advocate for what they believe in, which he feels was violated when the office was set on fire. McKay called America "the light that shines on the rest of the world" promoting the idea of civil democracy, that people can have disagreements but still come together and peacefully live in the same country."
Newsweek reached out to the Laramie Police Department but did not receive a response in time for publication.
The furniture and carpets were damaged, but McKay said he didn't think the structure was harmed in the fire. While grateful the building didn't burn down, McKay said he was most thankful that the person who lives above the office on the second floor wasn't injured because the fire had the potential to take a tragic turn.
He explained that, in his opinion, setting the office on fire wasn't just a crime against the Republican Party or against the ideas they support, but that lives were put at risk, making the action not only reckless but extremely dangerous.
Newsweek subscription offers >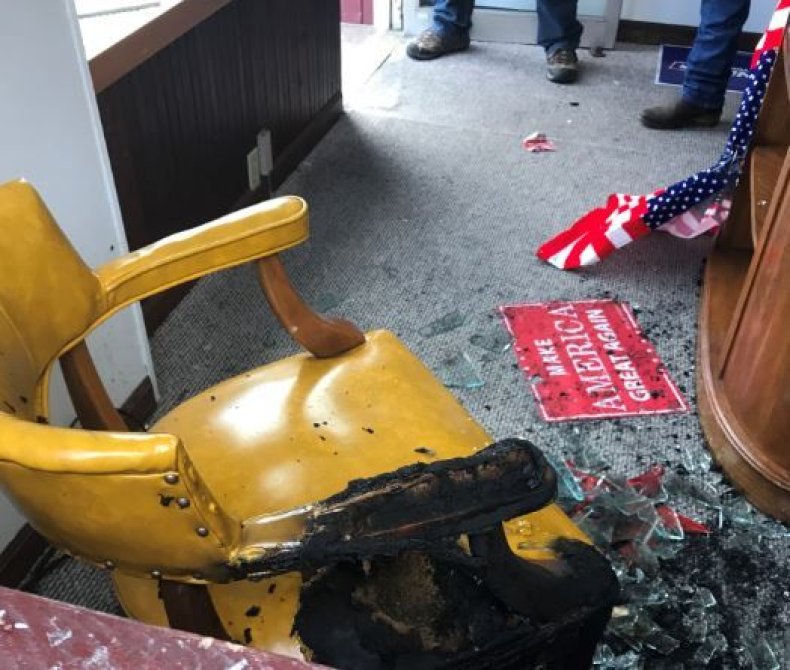 "Even if lives had not been put at risk, this isn't how we're supposed to have civil discourse. We're supposed to discuss our ideas and put them forth to the public so they can decide what direction they want their state or their nation to go in," McKay said.
The investigation has largely been left in the hands of the fire and police departments, and McKay said he believed there are security cameras in the area but was not sure if any of them were pointed at their building.
In the meantime, the Albany County GOP is working to devise a plan as to what will happen in the interim before they can move back into the office. Along with the office being in a prime location, McKay said returning to the same space will be a symbolic act.
"We want to send the message that violent intimidation should not silence free speech in promoting your political beliefs and candidates in this country," McKay told Newsweek. "These type of tactics don't work in America."
As of Thursday morning, the Albany County GOP had no monetary estimate of the damage sustained to the building and McKay explained they'll still work to promote the candidates that they strongly support.
In October 2016, a GOP office in Hillsborough, North Carolina, was firebombed, CNN reported. The words "Nazi Republicans leave town or else" and a swastika were spray-painted on an adjacent building. The issue isn't just confined to the Republican Party, either. In August, the Democratic National Committee's headquarters in Washington, D.C., was evacuated after it received a bomb threat.
Albany County GOP Office in Laramie, Wyoming, Set on Fire in Possible Act of Vandalism | U.S.