Who Was Alberta Jones? Murder of Louisville's First Black Female Prosecutor Remains Unsolved
Following the grand jury's verdict on the killing of Breonna Taylor, a fresh wave of protests are taking place across the U.S.—including in her hometown of Louisville, Kentucky.
The court charged one police officer involved in the fatal shooting with wanton endangerment for the shots fired into other apartments, but no charges were brought directly relating to Taylor's death.
Images of the protests in Louisville are circulating online, but one shared on Twitter is particularly poignant. Behind the military vehicles amid the protests is the River City Bank building, on which a photo of Alberta Jones is displayed.
"What makes this pic even more incredible is that photo hanging on the building is of Alberta Jones, first black woman prosecutor in Louisville. She was murdered and her killers were never brought to justice.... the ancestors are watching," said Elizabeth Jones on Twitter.
Who was Alberta Jones?
Alberta Jones was a civil rights activist and the first woman to become a prosecutor in Louisville, Kentucky. Jones had graduated third in her class from the University of Louisville and fourth in her class from Howard University School of Law, before returning to Kentucky—where she became one of the first Black women to pass the state bar exam.
A member of the NAACP and the Louisville Urban League, Jones helped integrate the University of Louisville and taught Black people how to vote. She also worked as a lawyer for Muhammad Ali and negotiated the contract for his first fight.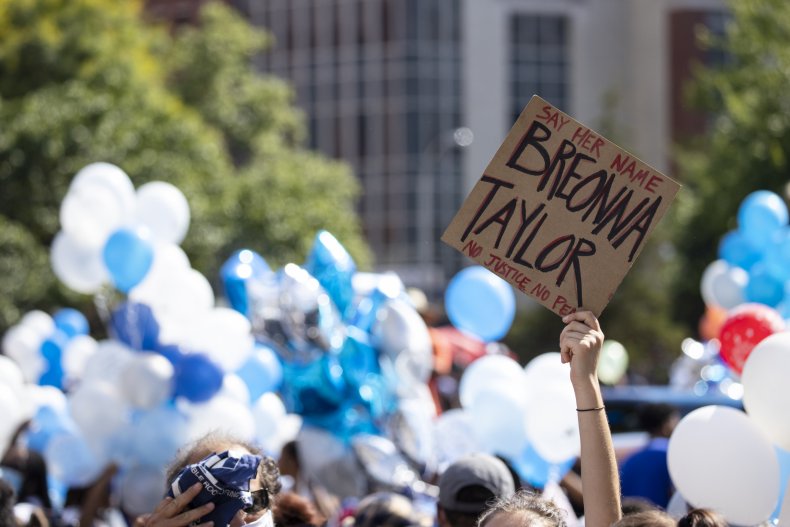 When Jones became the first female prosecutor in Louisville in 1965, she told the Louisville Courier-Journal that people would tell her, "You've got two strikes against you. You're a woman and you're a Negro," to which she responded: "Yeah, but I've got one strike left, and I've seen people get home runs when all they've got left is one strike."
As a prosecutor, Jones focused on domestic violence cases—but only a few months later, she was killed. On August 5, 1965, Alberta Jones was pulled out of her car, beaten unconscious, and thrown into the Ohio River where she drowned, aged 34. Her case is still open and nobody has ever been charged with her death.
On the night of her death, Jones' mother said that her daughter had gone to meet a friend to discuss a lawsuit, but Jones never returned home. Witnesses later reported seeing a body tossed in the river by three men, but nobody was charged.
In 2008, the FBI matched a fingerprint that was found inside Jones' car to a man was 17 at the time but the police decided not to pursue the case, due to a loss of evidence and the death of investigators and witnesses, they said.
However, Lee Remington, an associate professor of political science at Bellarmine University and prelaw program director, investigated Jones' murder herself. She found out that the detectives that the police had said were dead were still alive and requested that the Louisville Metro Police Department reopen the investigation, which they did, though the case remains unsolved.
Remington also raised the $8,000 needed to create the banner of Alberta Jones which hangs on the River City Bank building, overlooking the Louisville protests in the wake of the decision that resulted in no charges being brought against the police officers involved in Breonna Taylor's death.
Alberta Jones