Alberto Lucio Named As Marine, 20, Killed Helping Crashed SUV on Interstate
Alberto Lucio has been named as the U.S. Marine struck and killed while assisting a driver and a passenger in a crashed SUV on an Interstate near Camp Pendleton, California.
Lance Cpl. Lucio, a military policeman stationed at a base nearby, was helping the pair whose vehicle was in traffic lanes along the southside of I-5 in the area of Las Pulgas Road, the California Highway Patrol (CHP) and county Medical Examiner's Office said.
The Ford Edge had lost control and crashed, with its lights not working.
While the Marine was helping the two people in the crashed Ford, an international box truck crashed into the marine and the SUV, the CHP said. Lucio died at the scene.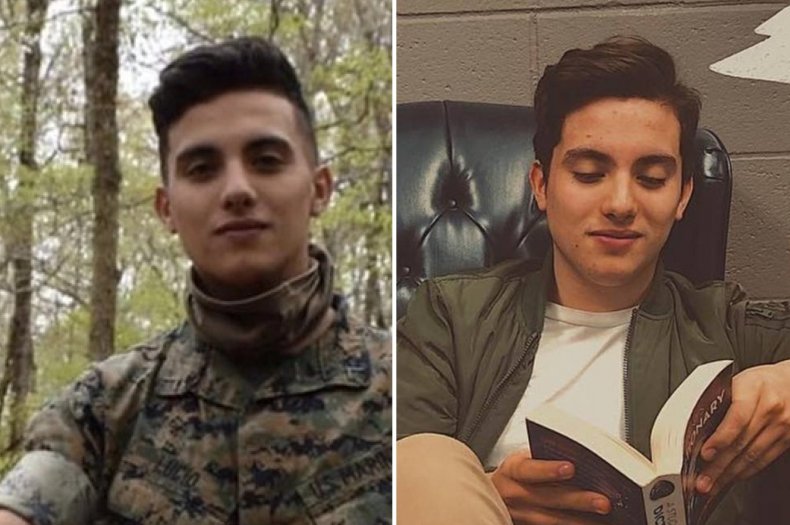 Inside the crashed SUV was the driver, 36-year-old Darryl Sheffey, and a 31-year-old woman. The CHP said both of them were taken to Scripps Memorial Hospital in La Jolla with serious injuries. No other injuries were reported.
Sheffey will be booked into jail on suspicion of multiple felony charges, once he is released from the hospital, California Highway Patrol Sgt. Nicole Pacheco told the San Diego Union-Tribune. The official did not provide anymore detail on the felony charges.
Lucio "was trying to do the right thing, he was trying to help somebody in need," a statement from the CHP said. "Unfortunately, the freeway traffic was still moving at the time and the box van came and collided into the vehicle."
The serviceman, from Smithville, Tennessee, was a military policeman with USMC Security and Emergency Services Battalion. He had military awards including a National Defense Service Medal and Global War on Terrorism Medal.
"Our deepest condolences are with the Marine's family, friends and unit service members," a Camp Pendleton spokesperson said in a news release on Monday.
"Lance Corporal Lucio performed a noble and selfless act by stopping on Interstate 5 to provide critical aid to a person in need," said Col. John Black, commanding officer of the Camp Pendleton-based battalion.
"Lance Corporal Lucio gave his life in the service of others. His actions epitomized servant leadership and personified the very best in our emergency-services personnel."
California Highway Patrol has been contacted for additional comment.