Where Did Alberto Make Landfall? Storm Hits Laguna Beach, Florida
Subtropical depression Alberto may not have turned into the season's first hurricane, but it brought strong winds and heavy rain to parts of the United States this week. The storm has already caused flooding and power outages in some areas across the South and was moving north toward the Great Lakes Tuesday.
The storm made landfall late Monday afternoon in Laguna Beach, Florida, Weather Channel meteorologist Stephanie Abrams told Newsweek.
"The winds at landfall were 45 mph, making it a low-end tropical storm. The highest wind gust was reported on St. George Island, Florida, at 59 mph," she said.
A public advisory regarding Alberto, released Tuesday morning, said the storm was making its way through central Alabama and was headed north at a rate of 12 mph, a speed the National Hurricane Center predicted would increase. Wind speeds were around 30 mph Tuesday but were expected to become weaker over the following days.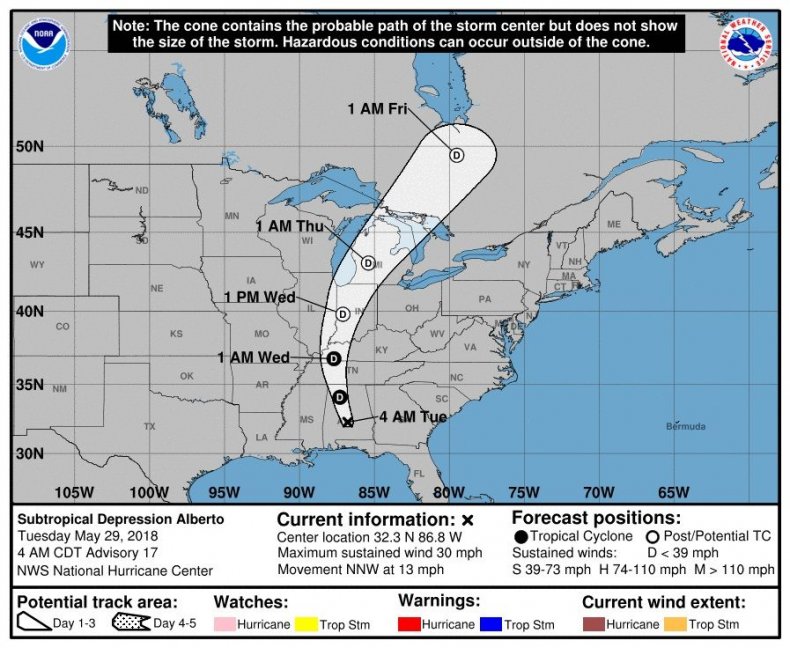 Flash flood watches were issued for some parts of Alabama, Georgia, Tennessee and Kentucky, and other possible effects of the storm included inches of rain and possible tornadoes in some areas.
"Alberto is now a subtropical depression as it continues to lose its strength and rains out over the Tennessee Valley," Abrams told Newsweek. "As it races towards the Midwest late week, it will bring rain with some locally heavy downpours and breezier conditions."
When the storm hit Laguna Beach, its effects were also felt in Panama City—roughly 20 miles away. There, nearly 2 inches of rain fell, while some 3 inches fell in other areas, the Panama City News Herald reported.
As of Tuesday, just three days before the official start of hurricane season, no other storms were brewing in the Gulf or the Atlantic, according to maps from the National Oceanic and Atmospheric Administration (NOAA).
NOAA officials predicted last week that there was a 75 percent chance that the 2018 hurricane season would be equal to or above average. That means anywhere from 10 to 16 named storms, or storms with sustained winds of 39 mph.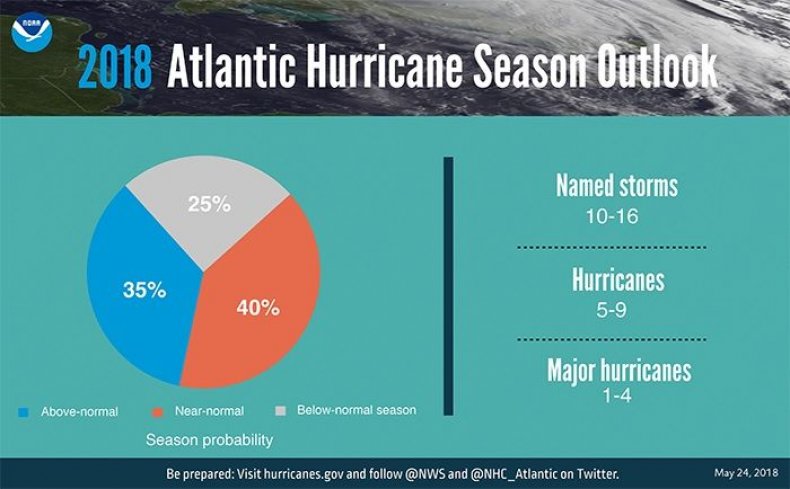 Additionally, NOAA predicted there would be anywhere from five to nine hurricanes and one to four major hurricanes before the season's end in November.
NOAA and the Weather Prediction Center were updating forecasts as necessary to keep the public informed about where the storm was going and what the immediate threats were. Residents should, as always, avoid roadways covered in water and follow the guidelines given by local authorities.