Alberto Update: New Storm Brings Heavy Rains, Flooding Across Much of the United States
Though Alberto was just a subtropical depression at best, that hasn't stopped the storm from dropping up to a foot of rain in some places and causing dangerous flooding. The weather pattern was making its way through the Great Lakes region Thursday, bringing heavy rain and some thunderstorms.
The storm made landfall in Laguna Beach, Florida, Monday afternoon and continued its journey north into the upper regions of the United States. On Tuesday, there were flash flood watches issued for parts of Alabama, Georgia, Tennessee and Kentucky, where tornadoes were also a risk.
Before Alberto made it to the Great Lakes, it caused damage up and down the eastern part of the country. Ellicott City, Maryland, which is an area that is prone to flooding, saw devastating floods in which Sergeant Eddison Hermond of the National Guard was swept away by the fast moving waters. South of Ellicott, in Albemarle County, Virginia, a search was underway for a couple who was swept away by flood waters Wednesday night, WVIR reported.
A TV anchor and a photographer were both killed when a tree fell on their car in North Carolina. Also in North Carolina, record amounts of rain contributed to a landslide that killed two people when their home was destroyed, ABC News reported. By Thursday, what was left of Alberto was crossing the Great Lakes region.
Though Alberto had passed, a second storm system was active Thursday in the lower Ohio and upper Tennessee valleys where severe weather and flash floods were possible due to the heavy rain. The storm was also causing rainy and dreary conditions along the mid-Atlantic region where flash flooding would become more likely, according to the Weather Prediction Center.
The new system of severe weather in the southeastern part of the country remained cause for concern for some residents: Flood warnings and flash flood watches were still in effect for the Baltimore and Washington, D.C., areas of the country. Scattered thunderstorms and strong wind gusts along with hail were in the forecast for parts of Indiana, while Kentucky was hit with severe thunderstorms, prompting flash flood warnings.
The weather was expected to continue moving north and the Weather Prediction Center issued excessive rainfall forecasts for the next three days. Nearly half of the country was expected to see some wet weather at some point over the weekend. Rain was expected to arrive over much of the southeast region of the country as well as the mid-Atlantic region, both of which felt the impacts of Alberto.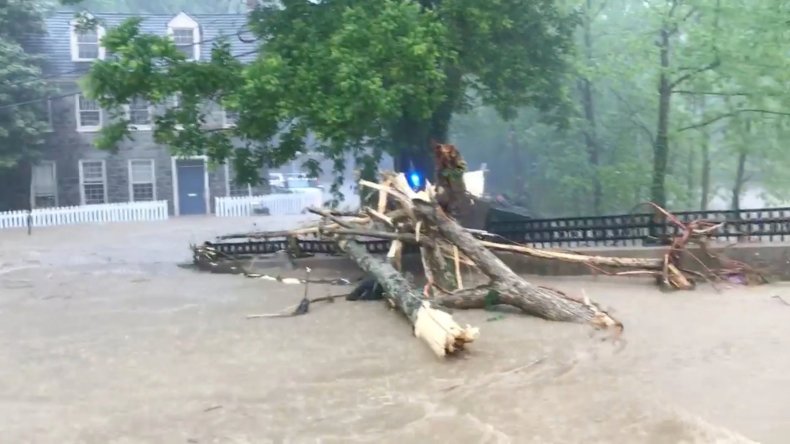 SaveSave