Album Review: U2's Bland 'Songs of Innocence' Is So Much Less Provocative Than Its Release Stunt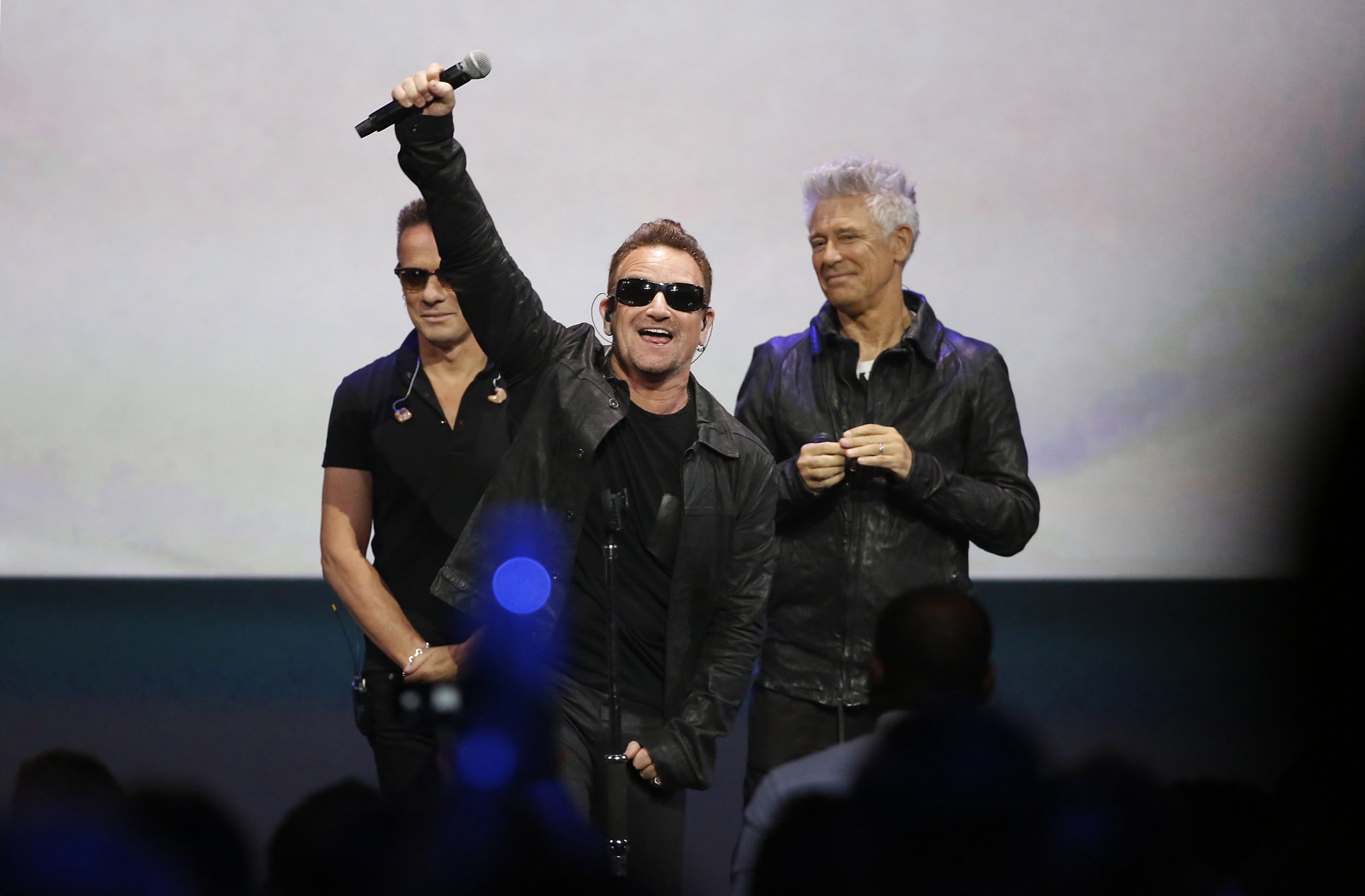 Once—long ago, but not so long that you can't faintly remember—U2 kept two steps ahead of the curve.
On the band's best works, from way back in the mid-'80s and then on into the glitzy '90s, Bono and Co. showed a curious knack for predicting but never trailing behind popular music trends. 1984's The Unforgettable Fire and 1987's The Joshua Tree, the two records that catapulted a local success story into international superstars, set a template for the earnest, swelling pop of the early 2000s, from Coldplay and Snow Patrol to Keane and beyond. Sure, Rattle and Hum was goofy and overwrought, but its obsessively rockist Americana predicted the grunge-era search for authenticity once '80s pop had ran its course.
Then they tore it all down and began again: Irony. Electronica. Gigantic lemons. With Achtung Baby and its high-concept tour, U2 laid the groundwork for bold reinventions and dance-y excursions by subsequent global acts. You can imagine Radiohead cribbing notes from the bold, inscrutable Zooropa while crafting its own Kid A—and it's hard not to sense traces of Zoo TV in Arcade Fire's recentReflektor tour.
And then—well, then what? Then U2 sailed happily on into its elder statesman phase. Record-breaking tours and an iconic iPod commercial secured its household-name status among a generation not yet born circa Achtung Baby, but the records took longer to arrive and inevitably disappointed when they did. The five-and-a-half-year gap between No Line on the Horizon and now has been the band's longest ever—but those delays, they would be worth it, wouldn't they? The band had recorded with various producers but scrapped the material, unsatisfied. Top talent, like the enigmatic Danger Mouse, were recruited. Then, Tuesday's surprise, Apple-hosted release marked the most extravagant album rollout of U2's career (or, as Apple CEO Tim Cook would have it, "of all time").
The stunt was a massive bid for an act that has openly admitted it's caught "on the verge of irrelevance." Which is why Songs of Innocence is so disheartening once you brush aside the theatrics of it all. Far from reclaiming U2's long-dwindling innovator status, this is the sound of a once-great band struggling mightily not to be left behind.
Bono has described it as the band's "most personal" album to date, and so there is a marked emphasis on the pull of the now-distant past: songs about Dublin childhood ("Cedarwood Road") and the singer's long-deceased mother ("Iris [Hold Me Close])," odes to the Ramones ("The Miracle [of Joey Ramone]") and, apparently, the Clash ("This Is Where You Can Reach Me Now"). But musically, much of the record bears the hallmarks of today's chart-toppers.
The drifting "Every Breaking Wave," for instance, and the grating, almost suffocatingly overstuffed opener "The Miracle (of Joey Ramone)" reflect the rise of big-budget, emotionally charged pop groups like Imagine Dragons and OneRepublic. The latter song, with its blaring chorus and "Oh-woah-oh!" vocals, is ostensibly a tribute to the late punk rocker, but it sounds nothing at all likes its namesake. The Edge, who has notably manipulated distortion pedals to fierce, misshapen ends on songs like "The Fly" and "Gone," here sounds as if he plucked power chords through a child's toy amplifier, then handed the tapes over to Max Martin for mixing. Elsewhere, the military-minded "This Is Where You Can Reach Me Now" takes cues from Sandinista!-era Clash, trailing off into the sort of lite-disco backbeat that Arcade Fire managed with more conviction on last year's Reflektor.
Sure, U2 has flirted with pure pop before, but with a grasp of subtlety and open space that's alarmingly absent on Songs of Innocence. That's clear from the opening instant: "The Miracle" is enough to make the yawning drifts of "Where the Streets Have No Name" and "Zooropa" seem immeasurably modest. That's not a fluke: Innocence's production thrives on a brand of overcompression and maximalism that gallops straight over the songs themselves. On "California (There Is No End to Love)," the group manages a majestic ode to the Sunset State, then bookends it with a Beach Boys-y "Santa Barbara" chant that resembles a zombie Brian Wilson gone awry in some terrible lab. "Raised by Wolves" offers up an intriguing Otis Redding nod of a piano lick, then ruins it with a swashing, breath-y synth loop that's so awful you wonder why Adam Clayton or someone didn't quit in protest. (The track, about a 1970s car bomb attack in Dublin, would be intriguing if not for this and its clumsy yelp of a chorus.) The kindest thing you can say about the following song, "Cedarwood Road," is that its faux-rock riffage is not quite so embarrassing as No Line's "Get On Your Boots."
Still, it's not redeemless. U2 records tend to drift toward the finish (you listen to "Elvis Presley and America" lately?), but this one picks up. The Swedish pop singer Lykke Li takes the mic on closer "The Troubles," and it results in an eerie mélange of swelling strings and perseverance that finally finds U2 engaging with its contemporaries in graceful fashion. "I have a will for survival / So you can hurt me, then hurt me some more," Bono sings with the most restraint he displays all record.
"Sleep Like a Baby Tonight" is perhaps the best thing on here, packing a nimble synth line with some of Bono's darker lyrics ("Tomorrow dawns like someone else's suicide") and the strangest falsetto cameo in decades. (Not coincidentally, it's one of the only songs Danger Mouse had to himself, without co-producer credits: There's a sharper, almost minimalistic result.) There is also "Iris (Hold Me Close)," a solid, U2-by-the-numbers tribute to Bono's late mother Iris, though he has saluted her previously, and more movingly, on "I Will Follow" and "Lemon." This one closes with a trite refrain ("Free yourself / To be yourself / If only you could see yourself") that falls limp in the last 30 seconds.
For an album that harks back repeatedly to U2's youth, Songs of Innocence suggests little of the urgency of those early records. Maybe the rollout was meant to simulate that effect, or maybe it was another grab at one-upping the band's contemporaries, on the trail of surprise releases by Beyoncé and Radiohead. But Beyoncé and In Rainbows were as creatively charged as the stunts that unleashed them. Not this one, which makes it all the more maddening that this, of all U2 albums ever, has been masterminded onto the laptops of millions of law-abiding adults who never asked for it. Fine, sure, auto-load Achtung Baby onto every iPhone sold forever—I'll support that. But the U2 of 1991-93 was far too busy satirizing mass marketing and media oversaturation for that. Now the band is reveling in it.
Back then, U2 led the way. Songs of Innocence is the sound of a band fumbling to play catch-up. Or, you know, running so very hard to stand still.