Albuquerque Mayor Re-Sends Trump Campaign Bill for Rally, Alleges $211K Payment 'Overdue'
The Mayor of Albuquerque, New Mexico says a second attempt is being made at collecting an "overdue" bill from the campaign of President Donald Trump.
The bill, totaling $211,175.94, was reportedly sent for the second time to Donald Trump For President, Inc. this week after originally being sent in October. A spokesperson for Albuquerque Mayor Tim Keller told The Hill on Monday that Trump's unpaid bill is "being treated like every other bill owed to the city" and the invoice is being sent again because it is now "overdue."
Trump visited Albuquerque on September 16 and held a rally before spending the night in the city. The office of Keller claims the Trump campaign used resources during that time and incurred expenses that remain unpaid as of Tuesday.
"The President's campaign stop in the Albuquerque area cost the taxpayers hundreds of thousands of dollars, including over 1,500 hours of police overtime that was required by the campaign," said Keller in a statement made at the time the bill was first sent. "We are asking the Trump campaign to pay our taxpayers back for the costs from his campaign stop."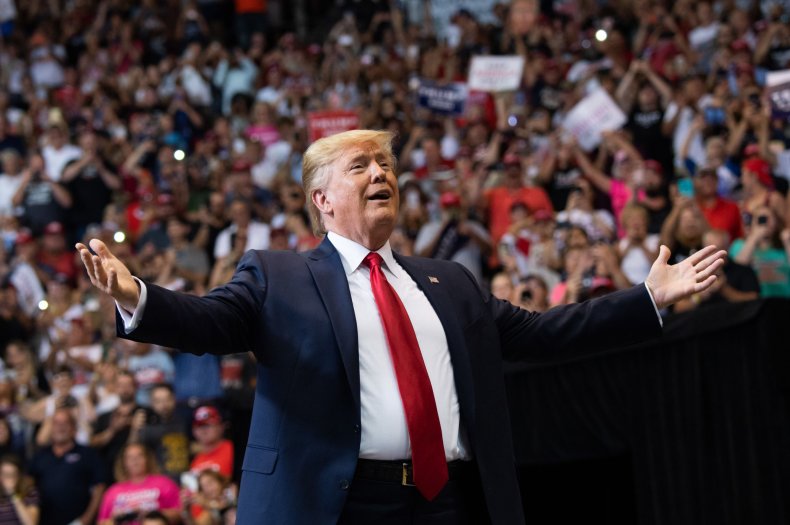 Michael Glassner, Chief Operating Officer at Donald Trump for President, Inc., told The Hill that billing should be handled through the U.S. Secret Service rather than the campaign. The city disputes Glassner's assertion and say the expenses should not be passed on to taxpayers because the visit was based around a rally intended to bolster the president's re-election campaign.
Cities typically do not charge presidents or dignitaries for costs incurred during official visits that do not serve as campaign stops.
Albuquerque says the campaign owes them $132,831 in paid time off for city employees forced to vacate workspaces during Trump's visit, $7,102 for barricades used during the visit and $71,242 in costs associated with assistance provided by the Albuquerque Police Department.
"The cost to the taxpayer was created by the President's campaign," a spokesperson for the Mayor told The Hill. "Taxpayers are on the hook for the thousands of hours of police overtime and other costs incurred, and we are asking the Trump campaign to pay them back."
Trump filed for re-election on his first day in office and has held rallies throughout his presidency, resuming the campaign-style events shortly after he was elected in 2016 and continuing them after his inauguration. There does not appear to be any reasoning that would suggest the rallies serve a legitimate government purpose outside of campaigning.
At least 12 other cities have reportedly billed the Trump campaign for unpaid expenses and the total amount still owed by the campaign is said to be roughly $1.7 million.