Alcohol Consumption: U.S. States with Highest and Lowest Levels of Excessive Drinking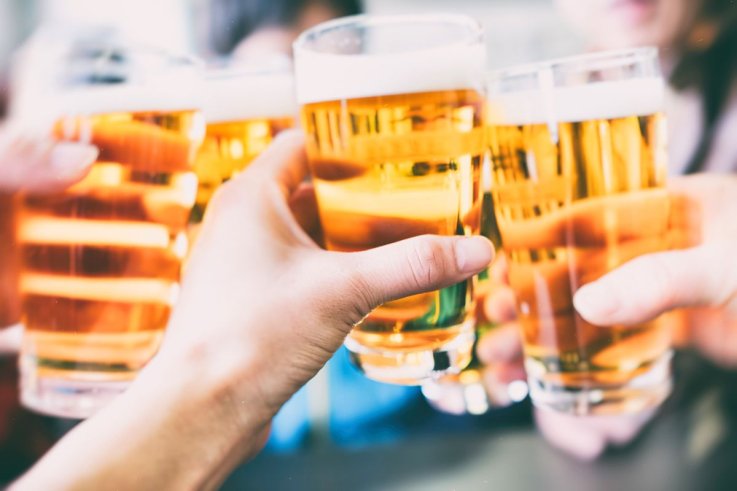 A recent study alarmed the world's drinkers. Where many national guidelines suggest that one or two beers a day is a reasonable amount to drink, the Global Burden of Diseases study from the University of Washington warned that the only safe amount of alcohol is none at all.
"Alcohol use is a leading risk factor for global disease burden and causes substantial health loss," the report read. "We found that the risk of all-cause mortality, and of cancers specifically, rises with increasing levels of consumption, and the level of consumption that minimises health loss is zero."
Plenty of Americans should be worried. According to the United Health Foundation's annual report, Excessive Drinking in the United States in 2018, 19 percent of adults reported drinking to excess in the past 30 days. That number is down from 19.8 percent in 2012, but up from 17.6 percent in 2015.
Included in this one-in-five excessive drinking statistic are binge-drinking—defined as four or more drinks on one occasion for women, or five or more drinks on one occasion for men—and chronic drinking—eight drinks or more per week for women, or 15 or more a week for men.
More than 23 percent of men reported they had recently drunk to excess, compared with 14 percent of women. Young people were far more likely to have drunk a lot recently—25 percent of those aged between 18 and 44, compared with seven percent of those aged 65 and over.
Binge drinking was also divided along race and class lines, with Hawaiian and Pacific Islanders drinking the most, and Asians drinking the least. The research found that the more highly paid and educated a person was, the more likely it was that they would drink to excess.
The report shows that binge drinking also depends on geography. In the hardest drinking region, almost a third of respondents admitted recently drinking to excess. In the most sober state, known for its religious abstinence, that figure was closer to one in ten.
Using data from the report, we've ranked the U.S. states, plus the District of Columbia, by the percentage of the population that drinks to excess, from least to most.