Aldi, Kroger, and Albertsons have been ranked the best supermarkets in the U.S. in terms of efforts to reduce single use plastic in their stores, with Meijer, Wakefern, and H-E-B being named the worst, according to a Greenpeace report.
Of the 20 supermarkets listed in the report, the environmental group listed Aldi number one for their efforts, including not selling plastic forks and only providing single use plastic bags if purchased by a customer, as well as having a comprehensive and transparent plastic reduction plan.
According to the "Packaging Away the Planet" report, Kroger was named the second-best supermarket and was praised for being the only top-five retailer to commit to banning single-use plastic checkout bags, albeit not until 2025, as well as joining a refill and reuse initiative nationwide.
Albertsons was named the third best for its commitment to decrease plastic usage, including working towards reducing single-use plastics and plastic waste in seafood procurement, although has yet to declare any specific targets with regards to plastic usage reduction.
However, none of the 20 supermarkets profiled in the report, including the top three, received a passing grade of 40 points out of 100 from Greenpeace when assessed on four categories: policy, reduction innovation and initiatives and transparency. Aldi's top score of 34.6 fell just short of a passing grade.
"Grocery retailers across the country sell obscene amounts of products in throwaway plastics every single day, yet none of them are acting with the urgency needed to address the pollution crisis they're causing," Greenpeace Plastics Campaigner David Pinsky said in a statement. "Not only do these companies have the resources to reimagine their stores with refill and reuse systems, they can use their buying power to pressure consumer goods companies like Nestlé, Coca-Cola, and Unilever to act as well.
"The question is whether retailers will take responsibility for this mess, and act," Pinksy added.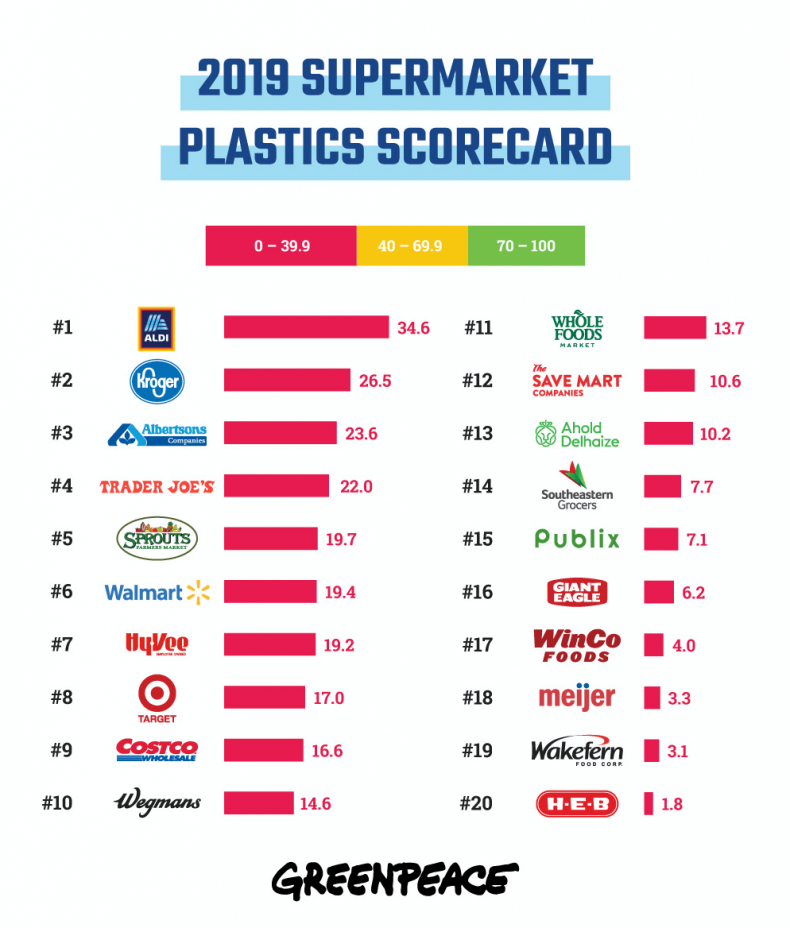 Elsewhere, Texas-based chain H-E-B were ranked bottom by Greenpeace, with Midwest supermarket Meijer and Wakefern, the largest retailer-owned cooperative in the U.S., ranked 18th and 19th respectively. Greenpeace said these companies are in the bottom three because they have "zero comprehensive public commitments to meaningfully tackle their role in the plastic pollution crisis."
H-E-B's leadership was criticized by Greenpeace for appearing to have "zero indication" of the plastic pollution crisis and accused the company of being "stuck in the 1990s" with its reduction plans. The company was also condemned for reintroducing single use plastic bags at several of its stores.
Wakefern was also criticized in the report for "doing next to nothing to take responsibility for its role in the plastic pollution crisis," including not having a comprehensive public policy or announcing any commitments to reduce its plastic footprint. Meijer were also criticized for having no indication they are working towards reduction in single use plastic.
"It's not enough for a retailer to eliminate plastic straws or make small changes to produce bags and walk away from this issue," said Pinsky. "Retailers must develop comprehensive public policies to eliminate single-use plastics, and remain transparent with customers as they implement those plans."
Greenpeace added in the report: "One of the key places where billions of people interact with plastic on a daily basis is their local supermarket. As grocery retailers worldwide start to address their plastic footprints, it is time for U.S. retailers—including behemoths like Walmart, Kroger, Costco, Albertsons Cos. and Ahold Delhaize—to take demonstrable action to markedly and immediately reduce their plastic footprints.
"This is a wake-up call. This is the moment for retailers to envision their future. Will U.S. retailers lead in developing innovative alternatives to wasteful single-use packaging, or continue to make current and future generations pay the price for their complacency?"
Responding to the report, a spokesperson for H-E-B told Newsweek: "H-E-B does not participate in surveys, which we believe is responsible for our low score.
"However, as a two-time winner of the state's highest environmental excellence award, and the developer of what we believe to be the nation's most environmentally progressive LEED Gold grocery store, we have a longstanding and measurable commitment to environmental sustainability at H-E-B."
Wakefern or Meijer did not immediately respond to a request for comment.
This article has been updated with comment from H-E-B.