Aldi is Selling Rancho La Gloria Margarita Wine: Where Else to Buy, Flavors and Prices
Aldi is selling bottles of margarita wine for a twist on lockdown cocktails. In both classic and strawberry flavors, the wine is made to simply pour over ice, for an instant margarita-inspired drink.
Instagram user Aldi.MadeMeDoIt, who posts about hidden Aldi gems and deals, posted a photo of the margarita wine with the caption: "Next up on our Quarantined Aldi Alcohol Journey. A wine-based margarita, yes fricken wine!!!
"I will admit I keep skipping this because well no tequila. This is on the list for this week!!! Has anyone tried this yet? How was it? Is it a hidden Aldi gem?"
The margarita wines spotted in Aldi are made by Rancho La Gloria Wine Cocktails and come in either classic or strawberry, and are 13.9 percent ABV.
While there is no tequila in the wine, it is made from agave, which is also used to make tequila. The margarita wine is made with 100 percent blue weber agave and real lime juice, which is pretty close to classic margarita ingredients.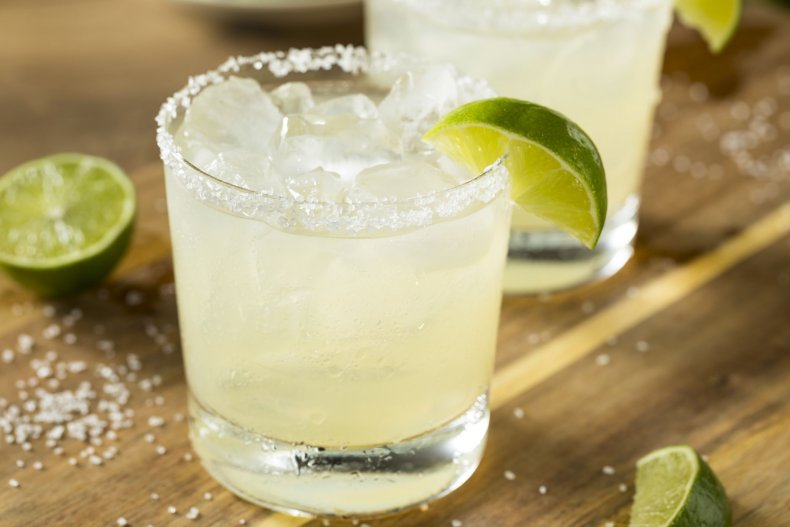 Rancho La Gloria describes the margarita wine as: "A subtle twist on this classic cocktail. The smooth agave wine sets a perfect base for aromas of lime and lemon-curd meringue with a smooth sorbet finish of candied-orange peel."
The cocktail wine already has fans, with Instagram users commenting on the post with their reviews and recommendations. One fan said: "I have both flavors, they are good on the rocks but better blended, strawberry for the win! Strong flavor but not overpowering of alcohol, very sweet if you don't use ice."
Other Instagram users commented with their takes on the wine, with some recommending using it to make frozen margaritas, or mixing it with Sprite.
As well as the strawberry flavor spotted in Aldi (which seems to be the favorite among Instagram users), the margarita wine also comes in a mango variety. Plus, the wine also comes in cans and even a keg, for post-lockdown parties.
The wine sells for $12.99 a bottle at Aldi, according to the Instagram post, but the wine also sells at grocery stores like H-E-B, Publix, Kroger and World Market. People have reported buying the wine for as little as $6.99, but prices could vary by location.
One Instagram user also commented on the post that the margarita wine sells in smaller bottles for $3.99 at 99 Cents Only Stores.
The Aldi fan account on Instagram has also spotted fun, unusual varieties of alcohol recently, like mango-flavored Moscato, watermelon and pineapple wine, a raspberry Bellini, pineapple mimosa, and Irish cream in mint chocolate, caramel and pumpkin spice.