Alec Baldwin Gives Trump a Spelling Lesson, Says He'll Play President in 'Impeachment Hearings'
Alec Baldwin laughed off President Donald Trump's Twitter tirade against him on Wednesday, tweeting that he wants to continue his impersonation of the blustery business mogul during the "Good Stuff," suggesting that there are "impeachment hearings" and a "resignation speech" looming.
Baldwin's rebuke is the latest installment in what has been a long-running fued between the president and his impersonator on Saturday Night Live. On Wednesday, Trump lashed out at the actor after Baldwin was quoted as saying that his acclaimed impersonation is "agony" and "terrible" to perform.
In a tweet replete with misspellings, Trump countered that it was "agony" to watch.
"Alex Baldwin, whose dieing mediocre career was saved by his impersonation of me on SNL, now says playing DJT was agony for him," Trump originally tweeted. "Alex, it was also agony for those who were forced to watch. You were terrible. Bring back Darrell Hammond, much funnier and a far greater talent!"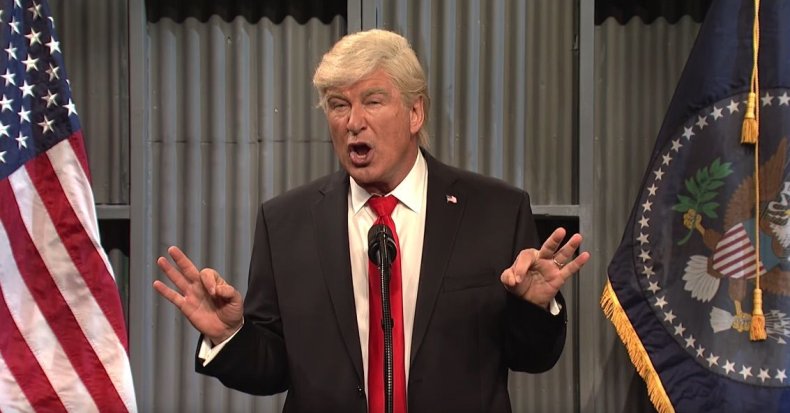 It's not the first time the president, who appeared on SNL during the 2016 election, has taken issue with the man playing him. He's previously called the show's sketches "unwatchable" and said Baldwin's impersonation doesn't "get him."
But the performance is beloved by Hollywood, and Baldwin earned an Emmy Award in 2017 for his portrayal. Some critics have also argued that it added new life to the decades-old Saturday Night Live, with the sketch show's cold opens often shooting to the top of Trending Videos on YouTube and other platforms.
It has also reinvigorated Baldwin's career. The actor capitalized on the popularity of the portrayal with a book titled, You Can't Spell America Without Me: The Really Tremendous Inside Story of My Fantastic First Year as President Donald J. Trump (A So-Called Parody).