Alec Baldwin Accused of Hiring 'Insufficient' Number of Crew on 'Rust' Set 'to Save Money'
The head electrician for the movie Rust filed a lawsuit Tuesday in Los Angeles accusing a number of people involved with the production of negligence. Among those named in the complaint are the film's star and producer Alec Baldwin, armorer Hannah Gutierrez-Reed and assistant director Dave Halls.
On October 21, cinematographer Halyna Hutchins was fatally shot after Baldwin fired a prop gun that contained a live round. An investigation is ongoing into the incident.
Plaintiff Serge Svetnoy said in his complaint that the defendants "breached their duties" by not providing "reasonable care and diligence for the safety of Rust cast and crew."
The suit further accused the defendants of trying "to save money by hiring an insufficient number of crew members to safely handle the props and firearms."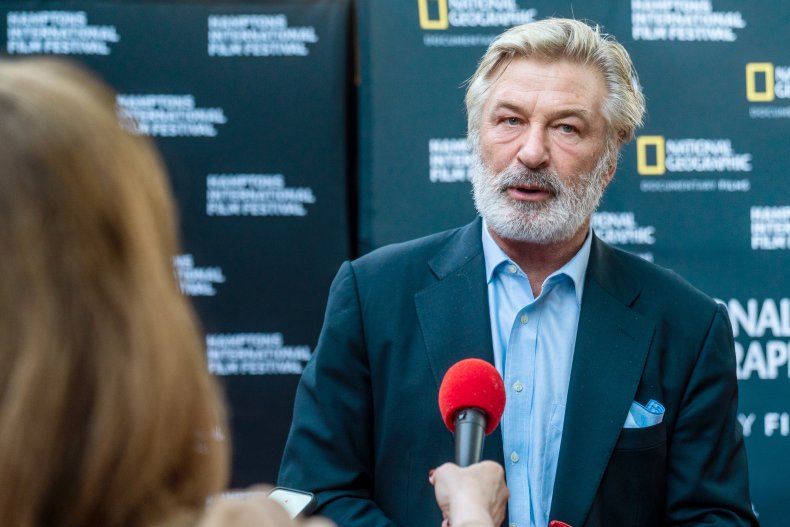 "This incident was caused by the negligent acts and omission of Defendants, and each of them, as well as their agents, principals, and employers," Svetnoy's complaint said. "Simply put, there was no reason for a live bullet to be placed in that .45 Colt revolver to be present anywhere on the Rust set, and the presence of a bullet in a revolver posed a lethal threat to everyone in its vicinity."
Halls, Rust's assistant director, admitted to police that he did not properly check the prop gun before declaring it a "cold" gun and giving it to Baldwin before the tragic shooting. Meanwhile, Gutierrez-Reed, who was in charge of ensuring the safety of weapons on the set, told a detective that she had checked dummy rounds and ensured they were not "hot," according to an affidavit.
Svetnoy was not only on the set during the shooting, he said he narrowly avoided being struck by the bullet himself, according to his suit. The complaint also said the events of the day "will haunt Plaintiff forever."
Along with accusing Baldwin of negligence in his role as a producer, Svetnoy also said that the actor had the duty to double-check the weapon himself to make sure it didn't contain live ammunition. The suit also said the particular scene they were rehearsing when the round was fired did not call for Baldwin to pull the gun's trigger. Rather, he was just supposed to point the gun in the direction of the camera, according to Svetnoy.
The suit alleged that the defendants had engaged in "despicable conduct committed in willful, wanton, reckless, conscious, deliberate, aggravated, outrageous and reprehensible disregard for the interests, rights and safety of the cast and crew of Rust."
Newsweek contacted Svetnoy for comment but did not hear back in time for publication.