Alec Baldwin Comparisons Deemed 'False Equivalency' Amid McConaughey Speech
Alec Baldwin's name has begun trending on social media, in the wake of Matthew McConaughey's impassioned speech about the school shooting in his hometown of Uvalde, Texas.
The Texan actor delivered a rousing address on gun control from the White House on Tuesday, calling for Congress to "reach a higher ground." His speech won widespread praise, although the Oscar winner was criticized by some for using his platform as a Hollywood star to discuss politics and for appearing in movies that "glorify" guns.
The debate around Hollywood and guns led to renewed discussion of Baldwin and the fatal shooting on the set of his movie Rust—but some social media users said it was wrong to compare the death of Halyna Hutchins to the Uvalde massacre, in which 19 children and two teachers were killed on May 24.
Hutchins, the film's cinematographer, died on October 21 last year, after a prop gun that Baldwin was holding discharged. Baldwin, who was a producer of Rust as well as its star, has been a vocal advocate of gun reform and has been targeted by many conservatives since the incident.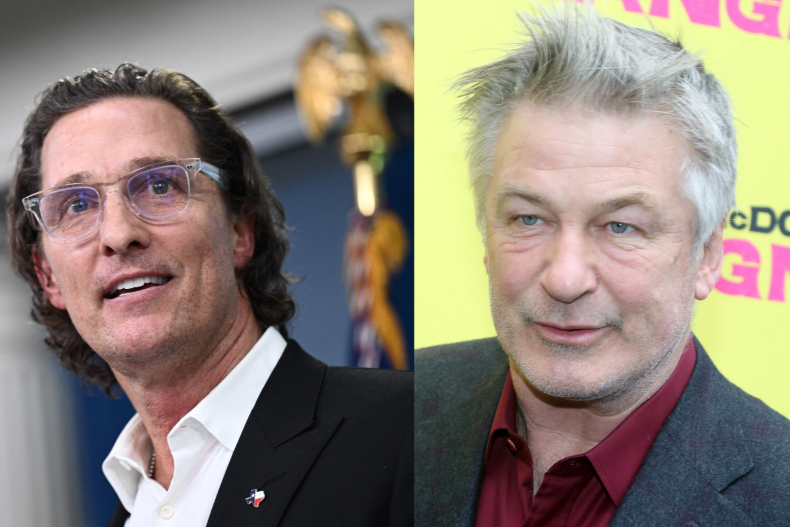 "Still waiting for Matthew McConaughey to say one thing about his colleague Alec Baldwin," tweeted pro-Trump activist Jack Posobiec on June 7.
Another wrote: "Maybe Matthew McConaughey can have a little sit down with his friend Alec Baldwin next and talk about his magic gun that fires itself."
A tweet from a user who described himself as a 47-year-old retired police officer read: "Hollywood celebrities should stay the f*** out of the gun control debate... Especially Alec Baldwin." The post had close to 4,000 likes early on Wednesday.
Other social media users expressed frustration at Baldwin's name being brought into the discussion, however, pointing to the "false equivalency" between deaths on movie sets and mass shootings at schools.
One tweet read: "Alec Baldwin killed a co-worker accidentally on the set. There have been 3 accidental gun deaths on movie & TV sets in the last 35 years. 311,000 students have experienced gun violence in school since Columbine in 1998, 24 years ago. This is the definition of false equivalency."
Another wrote: "The deflection to Alec Baldwin after the revered passionate speech by Texan gun owner Matthew McConaughey speaks volumes. Desperation from the deplorables."
A third Twitter user posted: "Alec Baldwin, who had a tragic gun accident on a movie set, has nothing to do with Matthew McConaughey's plea for gun laws and restrictions in America to prevent the slaughter of innocent school children. How shallow and mindless do you have to be not to get that?"
During his speech at the White House, McConaughey said: "I'm here today in the hopes of applying what energy, reason and passion that I have into trying to turn this moment into a reality.
"Because as I said, this moment is different. We are in a window of opportunity right now that we have not been in before, a window where it seems like real change—real change can happen."