Alec Baldwin Back As Trump On 'Saturday Night Live' To Mock POTUS For School Shooting Comment
In a move unlikely to impress President Donald Trump, Alec Baldwin has reprised his role as POTUS on Saturday Night Live to mourn the departure of White House communications director Hope Hicks and his comments on gun control.
Mocking Trump's comments following the February 14 Florida school shooting that saw the president claim he would have run into the school unarmed, Baldwin's Trump went one better and said he'd run into North Korea without a weapon.
"I'd be running so fast the guy with the gun wouldn't even know what hit him… bing bing ding ding dang he's finished," Baldwin said.
"So the schools are safe now, but I wouldn't stop there 'cos I'm on a roll I just keep running and running. I'd rung to North Korea, again completely unarmed, and find little rocket man, ping pong pang, ping ping poon," he added.
Baldwin's revision of his Trump character comes just one day after the president criticized the actor for his impersonation.
"Alec Baldwin, whose dying mediocre career was saved by his terrible impersonation of me on SNL, now says playing me was agony," Trump tweeted on Friday.
"Alec, it was agony for those who were forced to watch. Bring back Darrell Hammond, funnier and a far greater talent!" he added.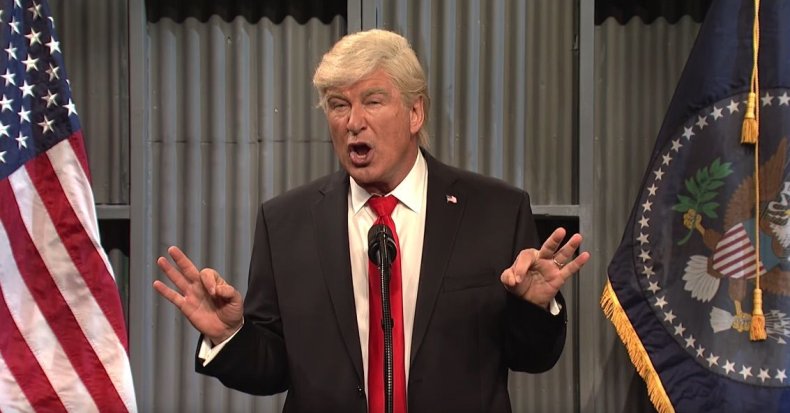 Not heeding his words in any way shape or form, Baldwin once again took on the role of Trump, addressing the departure of Hicks this week, which came one day after she gave testimony before the House Intelligence Committee but that White House insiders insisted was not related to the committee.
"She's like a daughter to me. So smart, so hot," Baldwin's Trump said of Hicks, who was played in the episode by Cecily Strong, who gave her own farewell on the show.
"Some people dance in our lives and quickly go. But they always leave footprints on our hearts, and fingerprints on Russian documents," she said.