Alec Baldwin on How Fatherhood Helped Him Tap Into His Character in 'The Public'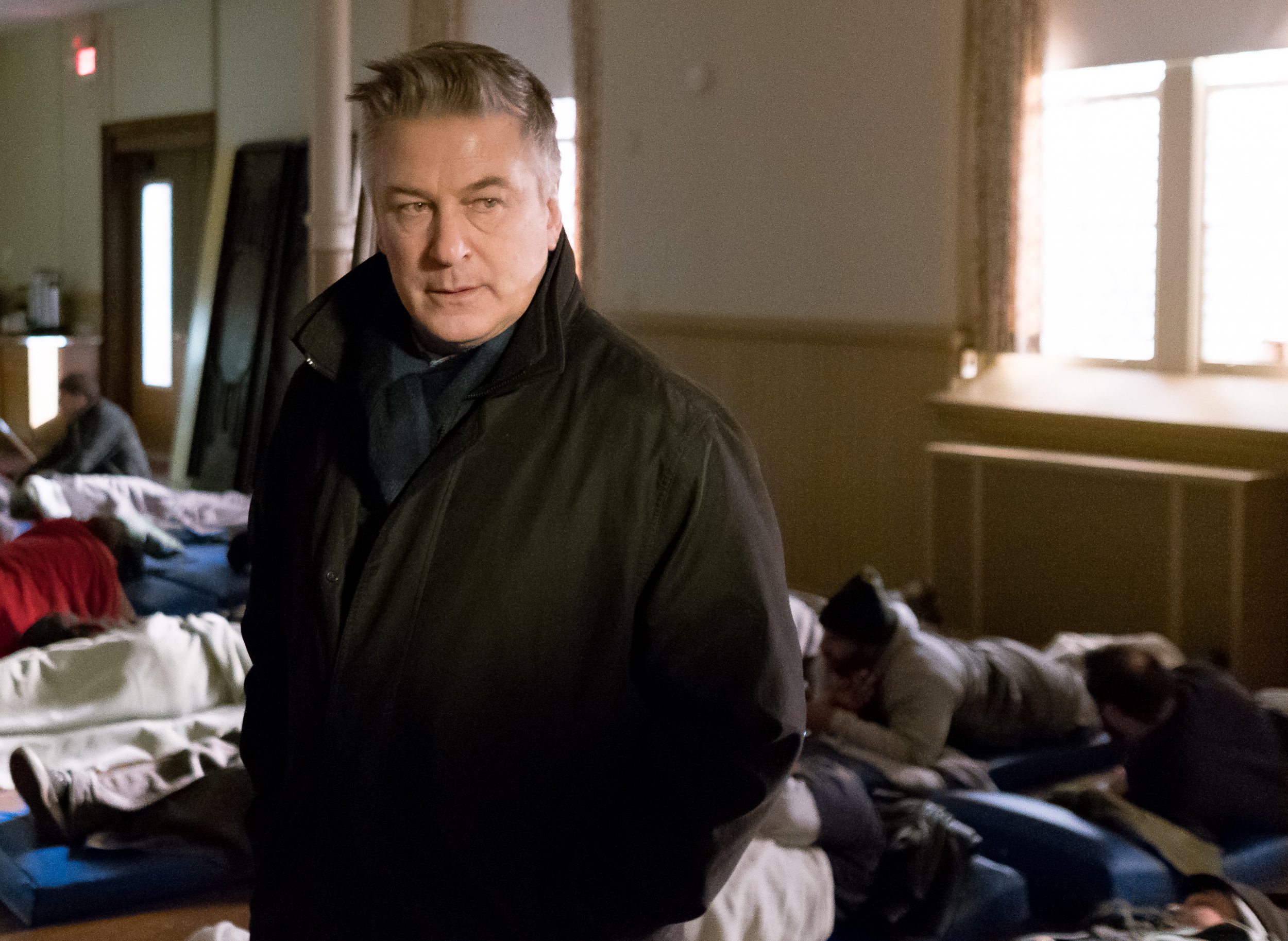 Emilio Estevez's new film The Public begins when a homeless man dies in front of a public library. The shelters in Cinncinati are filled to capacity as bitter cold freezes the city, sparking a debate about whether the public library should house those without homes when temperatures become unbearable. The film is packed with A-list celebrities, including Alec Baldwin, who was attracted to the film's message: Is it the public's duty to take care of the underprivileged?
The Public, out Friday, stars Estevez and Baldwin, who plays Detective Bill Ramstead, alongside Hollywood elites Taylor Schilling, Gabrielle Union, Michael Kenneth Williams, Jeffrey Wright, Jena Malone and Christian Slater. The movie follows librarian Stuart Goodson (Estevez) after a group of homeless men hold a peaceful demonstration in the public library in which he works. A standoff between the homeless and the police follows.
The law is simple: No one is allowed to stay in the library overnight, no matter how cold it might be, but things are murkier when it comes to Detective Bill Ramstead. His son, played by Nik Pajic, is a homeless drug addict. Baldwin was able to tap into the dichotomy his character faces—being someone who is supposed to uphold the law but also understands the struggle of the outlaws—based on his own experience as a father of five.
"I think probably the most painful thing I could think of...is you give your child nearly everything and they still turn out very troubled and self-destructive. That must hurt like hell," Baldwin, 61, told Newsweek. "I've got three little sons. I'm 61 years old on Wednesday, and I've got a 5-year-old, a 3-year-old, a 2-year-old and a 10-month-old. I got remarried, I have a lot of kids and I have my older daughter as well, my daughter Ireland. I think about what a great mom my wife is, and I think about how my kids are being raised with a lot of opportunities and a lot of comforts.
"They're very well taken cared for and provided for, but that doesn't guarantee anything. So my character, a cop who probably has a certain code that would raise his kids a certain way, [has a] son [who] turns out the opposite...I know that from my character's little tributary of a storyline there, it's very painful for him, but it creates the empathy that allows him to drive through the rest of the story," Baldwin continued.
The Public also addresses the global warming epidemic and mental illness. Estevez's exploration of both is still timely, as those issues are only worsening.
Baldwin said that people "can't expect our society to function any longer" if action to improve its faults aren't taken—and that is the message being pushed in The Public.
"There's a lot of things we need to do which, ultimately, I believe, are very reasonable financially," he said. "It's not like we're gonna bring the country to its knees and the economy's gonna come grinding to a halt. The great Ameican economic machine is not gonna cease up."
The Public hits theaters Friday.