Alec Baldwin Shooting: Director's Affidavit Details Five Key Moments on Set
An affidavit released on Sunday has detailed the moments before Alec Baldwin fired a prop gun on the set of movie Rust, killing cinematographer Halyna Hutchins.
The affidavit quotes the movie's director, Joel Souza, who was also wounded in the shooting in New Mexico.
The document was filed by the Santa Fe County Sheriff's Office and obtained by The New York Times and Associated Press. It discusses five key moments that occurred on set ahead of the incident on Thursday afternoon.
'Cold Gun'
The assistant director, or AD, shouted "cold gun" on set, meaning the prop gun Baldwin had been handed was safe to use and did not contain any live ammunition.
Souza explained that the guns used on set were usually checked by the armorer, Hannah Gutierrez-Reed, before being checked again by Dave Halls, the assistant director.
Lunch Break
Souza said the crew took a lunch break and left the set by shuttle. He added that he was "not sure if the firearm was checked again" before being used in the scene being filmed at the Bonanza Creek Ranch.
Pointing a Gun at the Camera
The documents state that Baldwin was sitting in a church pew practicing the scene they were about to film.
The scene required Baldwin to point a revolver at the camera lens and Souza said he was standing beside Hutchins "viewing the camera angle" when the cinematographer stumbled backward. Souza then noticed that he himself was bleeding from his shoulder.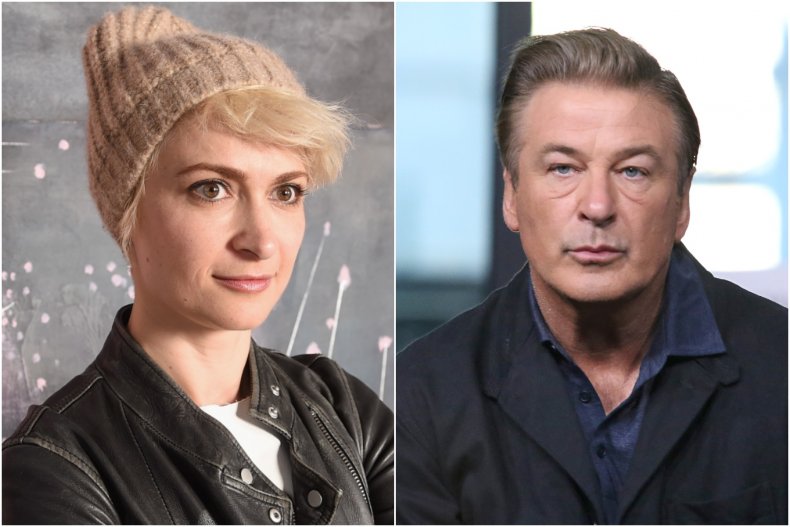 An account from Detective Joel Cano in the affidavit reads: "Joel [Souza] stated that they had Alec sitting in a pew in a church building setting, and he was practicing a cross draw. Joel said he was looking over the shoulder of [Hutchins], when he heard what sounded like a whip and then loud pop."
Hutchins Was Shot in the Chest Area
Cameraman Reid Russell told investigators that Hutchins, 42, said she had been injured.
Russell also "remembered Joel having blood on his person, and Ms. Hutchins speaking and saying she couldn't feel her legs."
The affidavit added: "Joel then vaguely remembers [Hutchins] complaining about her stomach and grabbing her midsection. Joel also said [Hutchins] began to stumble backwards and she was assisted to the ground."
Baldwin Tried to Ensure Gun Safety
According to the affidavit, Baldwin had been "very careful" with the weapon and Russell said he had made sure a child wasn't near him when discharging the gun.
No charges have been filed and the investigation is ongoing.
After the incident, Baldwin released a statement via Twitter, expressing his grief and shock.
"There are no words to convey my shock and sadness regarding the tragic accident that took the life of Halyna Hutchins, a wife, mother and deeply admired colleague of ours. I'm fully cooperating with the police investigation to address how this tragedy occurred and I am in touch with her husband, offering my support to him and his family. My heart is broken for her husband, their son, and all who knew and loved Halyna."