Alec Baldwin Mistaken for a 'Hobo' As He Films New Movie
Alec Baldwin has been mistaken for a homeless person while shooting a movie in the U.K.
Residents of Alton, a town in Hampshire, southeast England, have described their surprise at seeing the Hollywood star out and about in the area.
One resident, Caroline Benham, told The Times that she saw the A-lister in a supermarket but mistook him for a "hobo."
Murat Mencoglu, the owner of a fast-food outlet, told the newspaper he "couldn't believe [his] eyes" when he saw the 30 Rock star strolling through the town.
The 63-year-old is working on his first acting job since the shooting on the set of his movie Rust in October, which led to the death of cinematographer Halyna Hutchins.
A gun that Baldwin was handling discharged on the New Mexico set on October 21, 2021. The actor later denied in an ABC News interview that he had pulled the trigger.
The investigation into Hutchins' death continues. Baldwin recently handed his phone to police and maintains that he was not aware the gun contained any live ammunition
Baldwin has said it feels "strange" to be back at work for the first time since the shooting.
Baldwin confirmed on Instagram that he was working on a project in the south of England. According to Metro, the movie is a thriller called 97 Minutes.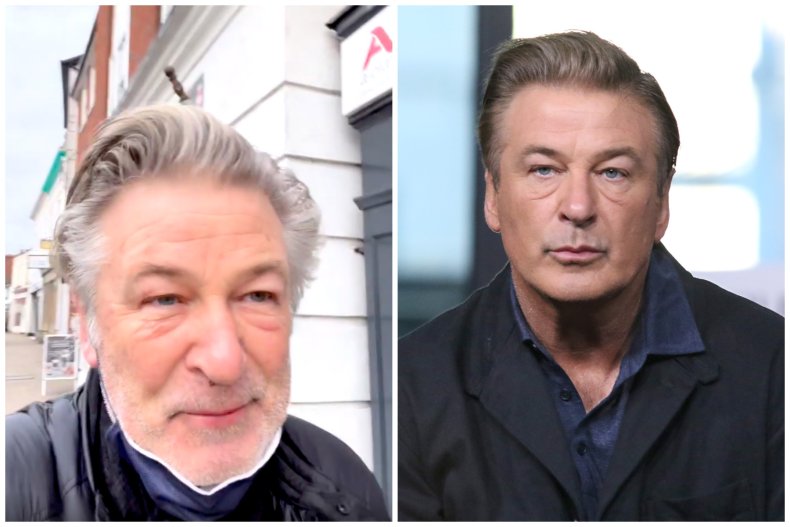 "We had our first day today, which is always tricky," the actor said in an Instagram video posted on Monday.
"I don't work as much as I used to. I said this before, maybe, but you go to work and you forget what you're supposed to do. I just was like, 'Oh God, what do you do? What is acting, or any of this nonsense that I've ended up doing?'"
"It's strange to go back to work," he continued. "I haven't worked since October 21 of last year, when this horrible thing happened on the set of this film, and we had the accidental death of our cinematographer Halyna Hutchins. I still find that hard to say."
The actor added that he misses his family while working in the U.K.
"I miss my kids, I miss my [8-year-old daughter] Carmen. She's so funny. I miss them all. I miss every one of them. I'm so blessed that all my kids are so unique. I guess everybody who has a lot of kids feels that way. You can't get over how different they are," he said.
Baldwin has six young children with his wife Hilaria. (He is also father to Ireland Baldwin, 26, from his previous marriage to Kim Basinger.)
"I'm going to be here for a few more days and then who knows what the future will bring," Baldwin said. "I hope good things. But I get to go home and see all my little people and one big person. Well, she's not every big. In fact, she's not big at all. She's kind of tiny, but I like her."