Alec Baldwin 'Partly Responsible' for 'Rust' Shooting, Halyna Hutchins' Father Says
The father of Halyna Hutchins, the cinematographer who was killed on the set of the movie Rust, has said that Alec Baldwin is "partly responsible" for his daughter's death.
Anatoly Androsovych, 61, has given an interview after his 42-year-old daughter died in Santa Fe, New Mexico, in October on the set of the Western when a prop gun being used by Baldwin was fired.
"I can't understand the behavior of Alec," Androsovych told British tabloid The Sun.
"Why did he sweep out his tweets when it became clear the shooting was on rehearsal?"
Baldwin deleted his Twitter account earlier in December, just days after his explosive ABC interview about the tragedy in which he insisted that he did not pull the trigger of the firearm.
"And why did he fire the shot during the preparations? The revolver is the type of gun which doesn't shoot before the trigger is pressed and Alec is partially guilty for causing that shot," Androsovych continued.
"It is clear to me Baldwin fired the shot from his hand so it's hard for me to understand how he cannot be held partly responsible for my daughter's death."
Androsovych also questioned if Hutchin's 9-year-old son Andros will "ever fully recover."
"Andros is slowly getting back to life, but this is huge blow for all of us," he said.
Baldwin has said he did not pull the trigger on the prop gun that fired on the set of the film and explained that the firearm went off when he cocked it.
Speaking to ABC News' George Stephanopoulos, the 63-year-old detailed that he he was discussing the action of cocking a gun in a scene with Hutchins, and then demonstrated with the prop firearm.
"I'm holding the gun where she told me to hold it," he said, before explaining how he pulled back and later released the hammer of the gun.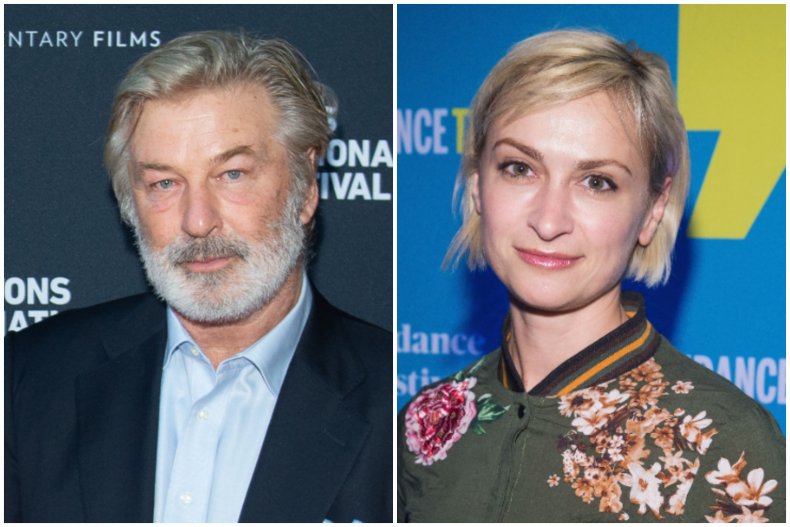 "I said to her, 'In this scene, I'm going to cock the gun, do you want to see that,'" Baldwin continued. He confirmed Hutchins told him to cock the gun.
"I let go of the hammer and the gun goes off. I never pulled the trigger," he said.
Baldwin added that he "would never point a gun at anyone and pull a trigger at them."
Last week, police in New Mexico filed a search warrant and affidavit in the Santa Fe Magistrate Court, seeking access to Baldwin's phone as the investigation into the shooting death of Hutchins continues.