A civil suit targeting Alec Baldwin and producers of Rust should be thrown out because they didn't intentionally load live ammunition into the prop gun that killed the film's cinematographer, a lawyer for the movie star argued in a court filing Monday.
The filing comes two months after Mamie Mitchell, Rust's script supervisor, sued Baldwin in California Superior Court accusing of him acting recklessly with the six-shooter-style revolver on the New Mexico set of the indie Western film.
The lawsuit accuses Baldwin of playing "Russian Roulette" with the weapon when he discharged it, killing cinematographer Halyna Hutchins and wounding director Joel Souza. Baldwin has maintained the shooting was an accident. The filing from Baldwin's lawyer points out that Mitchell's lawsuit concedes that the prop gun was never "intended" by anyone on the set to be loaded.
"'Russian Roulette,' however, is intentionally firing a gun that is known to be loaded with a single live round – not failing to double-check a gun that has been announced to be 'cold,'" lawyers for Baldwin said in their filings, obtained by Deadline. "It is completely illogical for Plaintiff to contend defendant Mr. Baldwin received a prop gun that everyone including Plaintiff and defendant Mr. Baldwin expected to be 'cold,' while at the same time stating that Mr. Baldwin's conduct was intentional in accidentally firing a live round."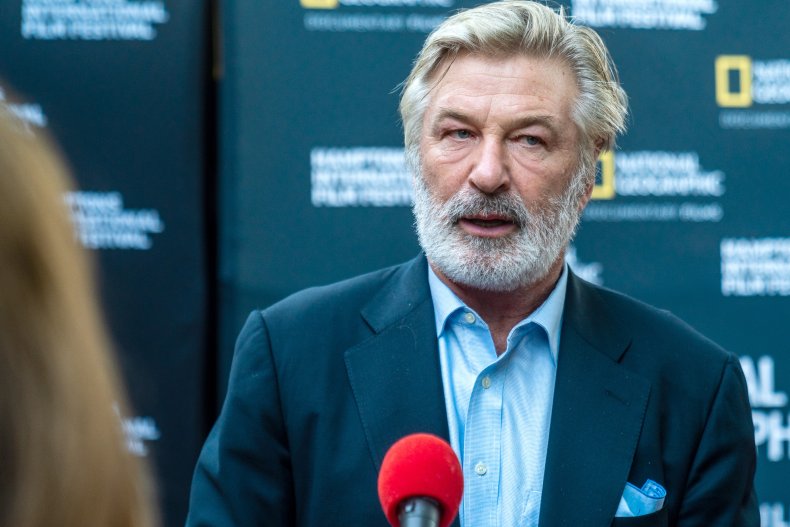 Baldwin's attorney, Aaron Dyer of the firm Pillsbury Winthrop Shaw Pittman LLP, asked Judge Michael E. Whitaker to dismiss the case because Mitchell doesn't have "any legal right to any monetary recovery in this Court."
The lawsuit seeks damages for assault, intentional infliction of emotional distress, and deliberate infliction of harm under New Mexico's workers compensation law. But Baldwin and his fellow producers "are generally immune from such claims," Dyer argued in the filing.
Mitchell is represented by Gloria Allred, a high-profile attorney. In a statement to Newsweek, Allred said defendants in the case "are trying to avoid explaining their conduct before a judge and a jury in a court of law."
"We intend to vigorously oppose their demurrer, and we believe that we should be allowed to proceed," she said.
Santa Fe area law enforcement hasn't brought charges against Baldwin over the shooting. Baldwin has cooperated with the investigation, agreeing earlier this month to hand over his cellphone to investigators. Dyer has insisted the search of his phone won't yield anything useful to the investigation.
Meanwhile, the shooting continues to be the subject of litigation. Hannah Gutierrez-Reed, the armorer for the film, filed a civil lawsuit in January against the company that allegedly supplied the live rounds that were used by Baldwin in the firearm.