Alec Baldwin Requested Larger Gun Before Fatal Shooting on 'Rust' Movie Set, Police Say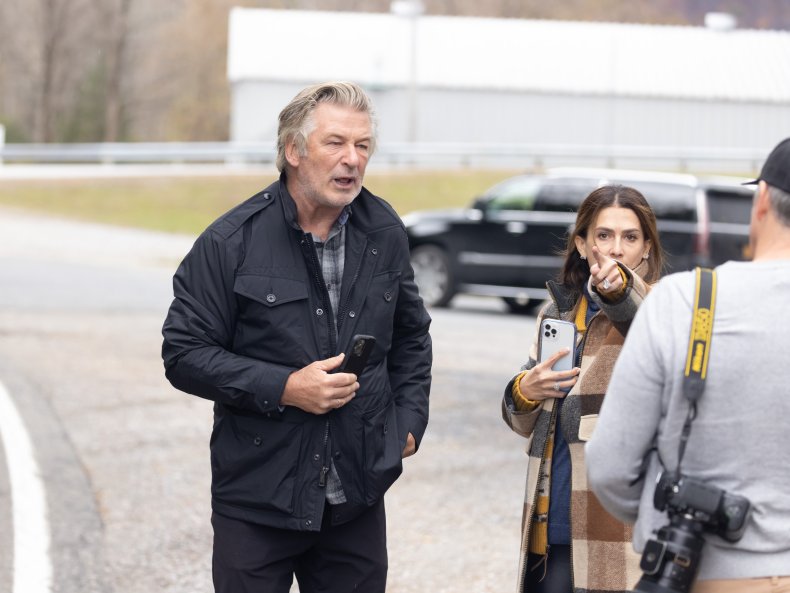 Actor Alec Baldwin "requested a bigger gun" before the incident that left cinematographer Halyna Hutchins dead and director Joel Souza injured on the set of the movie Rust in October, police said.
An investigation of the deadly shooting recently revealed that Baldwin had discussed his choice of weapon with Rust armorer Hannah Gutierrez-Reed via email, according to an affidavit from Detective Alexandria Hancock, which was included in a search warrant issued to acquire Baldwin's cell phone on Thursday.
"Alec said since they were in rehearsal, he assumed he had an empty gun, therefore when he shot the gun, Haylena [sic] was right in front of him," Hancock wrote. "Alec described the gun to be a 'period' Colt. He said there were emails transferred back and forth between Hannah and him where she showed him different styles of guns."
"He said he requested a bigger gun, and she also showed him different styles of knives for the production," added Hancock. "Alec was shown a Colt with a brown handle, and a cherry handle, and he ultimately chose the one with the brown handle."
The search warrant seeks the seizure of Baldwin's phone and a subsequent full "forensic download" to acquire all contacts, text messages, social media accounts and data from the device, including possible deleted data. The warrant also seeks GPS data related to the phone.
Hancock said she was "instructed to acquire a warrant" after asking Baldwin and his attorney for the phone. The detective was provided a phone number that she assumed belonged to Baldwin since she had been contacted "numerous times through phone calls and text messages" by the actor using the number. She said that she believes his phone may contain evidence of "the commission of a crime(s)."
"We are confident that the evidence will show that Mr. Baldwin is not responsible civilly or criminally for what occurred on October 21, and he continues to cooperate with authorities," Baldwin's civil attorney Aaron Dyer said in a statement to Newsweek. "We proactively requested that the authorities obtain a warrant so that we could take steps to protect Mr. Baldwin's family and personal information that is clearly unrelated to the investigation."
"A phone contains a person's entire life, and personal information needs to be protected," added Dyer. "While they evaluate the phone information, we hope that the authorities continue to focus on how the live rounds got on the set in the first place."
Baldwin insisted that he "didn't pull the trigger" during an ABC News interview with George Stephanopoulos earlier this month. Instead, he said that he pulled back the hammer of the gun and that the weapon fired on its own when he released the hammer.
Lisa Torraco, attorney for Rust assistant director Dave Halls, appeared to back up Baldwin's statement in an interview that aired on ABC's Good Morning America around the same time.
"Dave has told me since the very first day I met him that Alec did not pull that trigger," Torraco said. "His finger was never in the trigger guard."
The fact that Baldwin was holding the gun while it discharged is not in dispute. Moments after the gun fired, 42-year-old Hutchins slumped to the floor. She later died of her injuries after being airlifted to a hospital. Souza, 48, was taken to a different hospital and has since recovered.
Update (12/16, 9:40 p.m.): This article has been updated to include a statement from Alec Baldwin's attorney Aaron Dyer.