Alec Baldwin Shares Post Defending Working Conditions on 'Rust' Set
Alec Baldwin has posted a message from a Rust crew member, describing reports about "chaotic" working conditions on the film set as "bulls***."
On October 21, the Western's star and producer Baldwin discharged a gun on the New Mexico set, unaware that the firearm contained live rounds. Cinematographer Halyna Hutchins was fatally shot and director Joel Souza was injured.
In the days that followed, reports emerged that members of the camera crew had resigned over safety and financial issues hours before the shooting.
As a police investigation continues, Rust costume designer Terese Magpale Davis posted on Facebook to defend the film's producers and hit out at claims that conditions on the set were substandard.
Baldwin shared her lengthy post on his Instagram account in seven screenshots on Tuesday, alongside the caption: "Read this."
"I'm so sick of this narrative," the costume designer's post began. "I worked on this movie. The story being spun of us being overworked and surrounded by unsafe, chaotic conditions is bulls***.
"We never worked more than a 12.5 hour shoot day. That was once. Most days were under 12. The day Halyna died we had come off of a 12 hour turnaround after an 11 hour shoot day. We had (including camera) gotten off by 6:30PM. We had just had a 56 hour weekend right before that. No one was too tired to do their jobs.
"This is all provable by daily time sheets."
She then took aim at the camera crew members who had walked off the set, calling them "jerks" as she wrote: "They tried to renegotiate their contracts halfway through the show and hold the producers over a barrel by walking out.
"They literally said they deserve more money and NICER hotels than the rest of the crew because they were BETTER than the rest of the crew. These guys are not heroes. They only cared about themselves."
Praising the team at the helm of the movie, which included Baldwin, Davis wrote: "These producers who supposedly don't care about their crew have worked tirelessly alongside us. They were some of the most approachable and warm producers I've ever worked with. Concerns were heard and addressed.
"Even these camera jerks were being heard and they were given what they asked for many times until it became too much. Some of these producers waived their entire fees to make sure we could make this movie and pay for things like hotels for everyone who asked."
According to a search warrant affidavit, Baldwin was handed the gun by assistant director David Halls, who shouted "Cold gun," indicating that it contained no live rounds.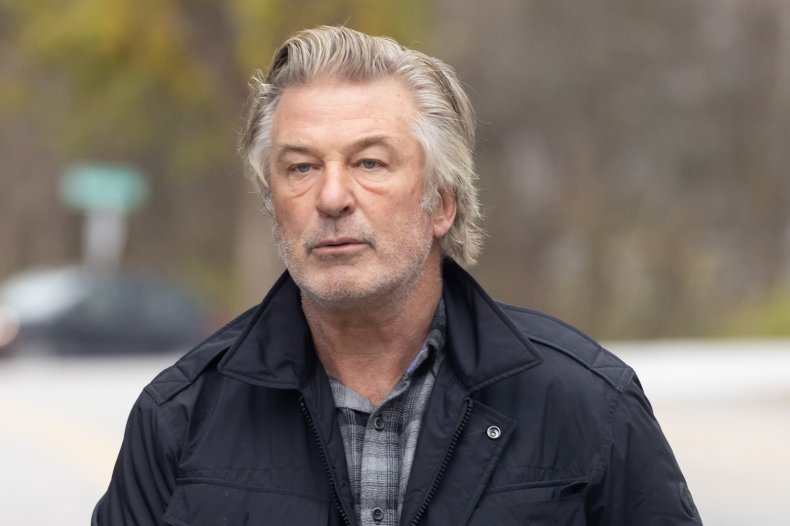 Rust armorer Hannah Gutierrez-Reed, who was responsible for the guns on the set, said last week through her attorneys that she had "no idea" how live ammunition got onto the set, and claimed she had "fought" for further training.
In her Facebook post, Davis defended Gutierrez-Reed, writing that she had "apprenticed to a well known armorer and had been in the same position on the same type of movie a few months before.
"Was she the most experienced person? No. Were her qualifications typical for a [low-budget film]? Yes. You can say what you want about even [these movies] needing qualified people and [I] will agree. But how do you suppose anyone will get that experience? We all had a first and second job at one point or another."
As for claims about guns previously misfiring on the set, Davis went on: "The misfires were accidental discharges, which are more common than you think. Yes, there is a difference. And the guns were checked immediately afterwards and the discharges were announced on set and apologized for (I was right there).
"We had several safety meetings. Sometimes multiple per day. Our AD never seemed flippant about safety. He may have in other shows, but he wasn't like that in ours."
Davis added that on the day of the shooting, Halls "was stressed because the camera crew walked out on us."
On Saturday Baldwin spoke on camera for the first time about the shooting, telling members of the media who had been following him in Manchester, Vermont, that Hutchins was "my friend."
"We were a very, very well-oiled crew, shooting a film together and then this horrible event happened," said Baldwin, as his wife, Hilaria Baldwin, filmed the interaction.
"I have been told multiple times, 'Don't make any comments about the ongoing investigation', and I can't," he added, before asking the group: "What other questions do you have other than that?"
"We are eagerly waiting for the sheriff's department to tell us what the investigation has yielded," added Baldwin, who said he "couldn't answer" a question about whether he would work on another film set that uses firearms.
The 30 Rock star said: "I do know that an ongoing effort to limit the use of firearms on set is something I am extremely interested in.
"How many bullets have gone off on film sets and TV shows in the last 75 years? This is America. Billions? And nearly all of it without incident.
"We have to realize when it does go wrong… some new measures have to take place. It's urgent that you understand I'm not an expert in this field.
"So, whatever other people decide is the best way to go in terms of protecting people's safety on film sets, I'm all in favor of and I will cooperate with that in any way that I can."
Production on Rust has been halted and Baldwin expressed doubts on Saturday that the Western would ever be completed.