Alec Baldwin Urged to Keep Low Profile to Avoid 'Hurting Himself in Unimaginable Ways'
Alec Baldwin is being urged to keep a low profile by crisis management experts who say he risks damaging his image in the aftermath of the Halyna Hutchins shooting.
The actor is said to be devastated following the cinematographer's death on the set of their movie Rust on October 21.
Baldwin discharged a gun on the New Mexico set, unaware that the firearm contained live rounds. Hutchins, 42, was killed and director Joel Souza was injured.
The production's safety protocols have been widely scrutinized since the shooting and the police investigation is continuing.
Amid a media frenzy, Baldwin has spoken to the press and shared a lengthy post on social media written by Rust's costume designer Terese Magpale Davis. Her post defended the film's producers, who include Baldwin, and hit out at claims that conditions on set were not up to scratch.
He also spoke to members of the media who had been following him in Manchester, Vermont, last week.
"I have been told multiple times, 'Don't make any comments about the ongoing investigation', and I can't," he told them, adding: "What other questions do you have other than that?"
He later added: "Do me a favor, my kids are in the car crying," before his wife Hilaria Baldwin interjected: "Because you guys are following them, and they know."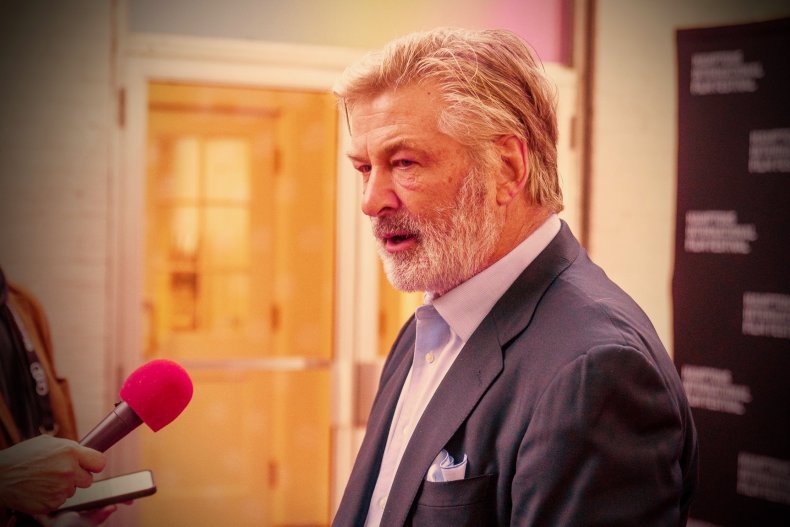 Crisis PR experts have now said that the actor and his influencer wife should stay off social media and away from the press.
"Alec should stay away from the media and make sure he's doing whatever he can behind the scenes—away from the cameras—to help the [Hutchins] family and let the investigation reveal what it will," crisis and PR expert Eric Schiffer told Newsweek.
Schiffer, chairman of Reputation Management Consultants, added that the actor had shown a "horrifying lack of self-control through chaotic and bizarrely impulsive behavior at a time that requires discipline and remorse."
He went on: "He shouldn't be pulling over on a busy highway, giving an interview that comes across as a traveling circus-like antic during a time that requires maturity and remorse.
"Alec broke the essential rules of managing a crisis: don't do any further damage. He is hurting himself in unimaginable ways, especially when the public right now is wondering why he ever allowed this to happen."
Evan Nierman, founder of the crisis management and PR firm Red Banyan, has said Baldwin "needs to be very cautious and controlled."
He told TwinCities.com: "He even needs to make sure he's not photographed out having dinner with friends, or laughing at a joke, or even seen smiling. It would be easy for someone to take a photo or video of him and spin it and attack him. If you're a mega-celebrity, one of the ways you take away opportunities for people to do that is to stay out of the public eye."
Newsweek has contacted Baldwin's representatives for comment.