Alejandro Aranda Is 'Grateful' to Be Added to Lollapalooza Lineup, Following Success of 'Tonight' Release
He may be known as American Idol's most recent runner-up, but Alejandro Aranda has already shattered expectations for reality talent show finalists and is making a name for himself.
On the coattails of his newest single "Tonight," representatives of the Chicago-based music festival Lollapalooza announced Friday it would add Aranda–as Scarypoolparty–to the lineup.
"It's an honor to play at Lollapalooza," Aranda told Newsweek. "I feel super excited to be sharing music on such an important stage. Just gotta say I'm grateful for the opportunity."
The festival takes place August 1–4 and includes performances by Ariana Grande, Childish Gambino, Kacey Musgraves and many more. For a full list of performers, click here.
Aranda's performance will take place Saturday, August 3, along with headliners Twenty One Pilots and J Balvin.
If you're not going to be in the Chicago area during the first week of August, don't fret. Tickets for Aranda's national tour are on sale for cities such as San Francisco, Brooklyn and Nashville.
For tickets, click here.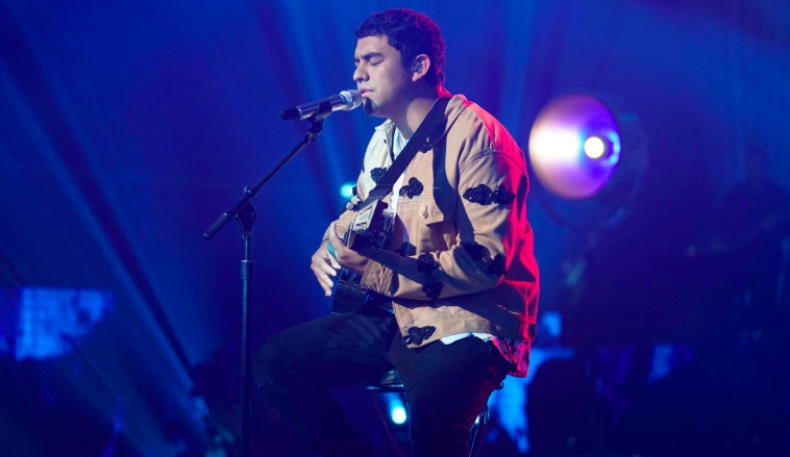 Concert dates and locations below:
October
Thursday, 10 – Berkeley, CA
Friday, 11 – Sacramento, CA
Sunday, 13 – Portland, OR
Monday, 14 – Seattle, WA
Wednesday, 16 – Salt Lake City, UT
Friday, 18 – Aspen, CO
Saturday, 19 – Boulder, CO
Monday, 21 – Kansas City, MO
Tuesday, 22 – Minneapolis, MN
Wednesday, 23 – Chicago, IL
Friday, 25 – Detroit, MI
Saturday, 26 – Clevland, OH
Monday, 28 – New York, NY
Tuesday, 29 – Philadelphia, PA
Wednesday 30 – Boston, MA
November
Friday, 1 – Baltimore, MD
Sunday, 3 – Charlottesville, VA
Monday, 4 – Raleigh, NC
Tuesday, 5 – Charlotte, NC
Thursday, 7 – Atlanta, GA
Saturday, 9 – Orlando, FL
Sunday, 10 – Ft. Lauderdale, FL
Tuesday, 12 – New Orleans, LA
Wednesday, 13 – Houston, TX
Friday, 15 – Austin, TX
Saturday, 16 – Dallas, TX
Tuesday, 19 – San Diego, CA
Thursday, 21 – Los Angeles, CA
The 24-year-old former dishwasher first gained nationwide attention when his American Idol audition went viral in March. Performing his original song "Out Loud," judges were stunned by his nonchalant manner and out-of-this-world talent.
"That was the greatest–you, my friend, are so talented," judge Lionel Richie said at the time. "I'm so inspired."
"I'm in the presence of greatness," judge Luke Bryan added. "I am so glad that you are here. It was like watching my favorite movie that I did not want to end."
Aranda quickly changed the face of the reality talent show. While his fellow contestants mainly performed covers of mainstream songs, Aranda consistently wowed judges with original compositions. The southern California native's impact was seen during American Idol's season finale last month, when he performed his audition song once again and the audience was singing the lyrics back to him.
"Something unprecedented, four original songs from a contestant on our show," Idol host Ryan Seacrest said during the show's season finale, as the audience chanted "Homie." "I saw something magical, they were singing the song after you...that's gotta be a cool feeling."