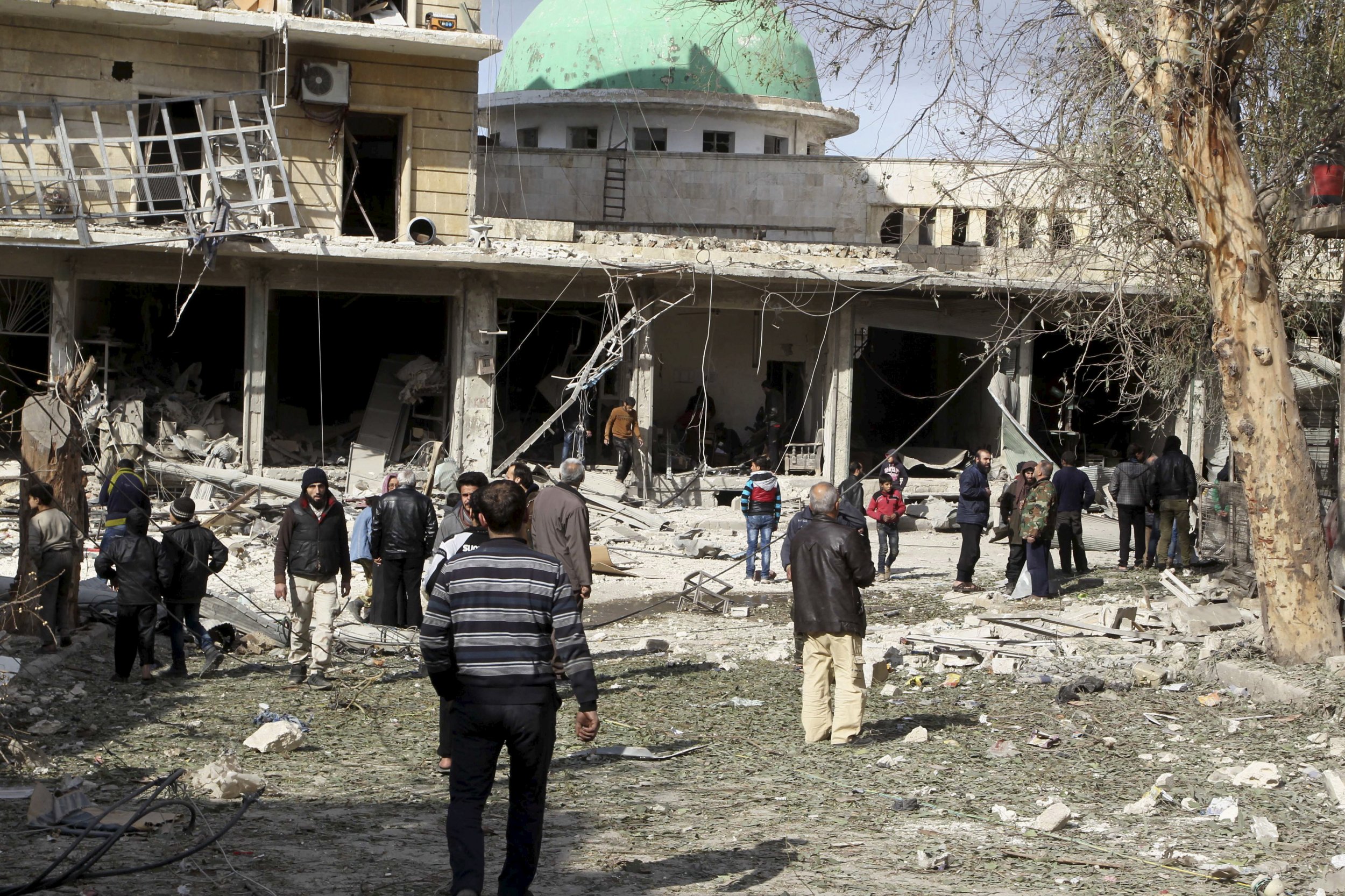 The recent surge in Russian airstrikes in Syria's Aleppo governorate has killed and injured dozens of people and forced a new wave of Syrians to flee their homes. But for some people, life must go on.
Dr. Rami Kalazi, a neurosurgeon in Aleppo, tells Newsweek that the past week has been the single worst time for Aleppo and its countryside since Russian airstrikes began in support of the government of Syrian President Bashar al-Assad in September. As many as 70,000 people have fled Aleppo in the past several days and are making their way north to the Turkish border town of Azaz. The main road between Aleppo to the Turkish border—a lifeline for supplies and medical aid—is completely cut off, now choked by the exodus of fleeing families.
Opposition forces have lost large swathes of Aleppo's northern countryside to government troops and many, including Kalazi, fear that a siege of Aleppo, where around 300,000 people remain, is now imminent.
"The past four days were stressful," Kalazi says in a phone interview. "Two or three massacres every day, at least, 40 or 50 people a day [are being brought to the hospital]." The Syrian Civil Defense, a team of civilian search-and-rescue workers, estimates that over the past five days, the Russian military and Syrian government have launched between 200 and 300 daily airstrikes across the country.
A Human Rights Watch report released on Monday said daily Russian airstrikes have killed at least 37 civilians, including a number of children, since January 26 in 14 attacks across five governorates, including Aleppo. Russia's military is using internationally banned cluster munitions in its attacks, according to the report. Last year, Physicians For Human Rights, a New York–based nonprofit, found that 95 percent of doctors in opposition-held eastern Aleppo have been killed, fled or detained. Kalazi is one of the few who stayed behind.
"The airplanes are all Russian. The Syrian airplanes are few," says Kalazi. "The Syrian airplanes are attacking with bullets and the rockets are from Russian airplanes." He adds that Russian airplanes are louder and result in worse injuries and greater damage to infrastructure.
Shortly before speaking with Newsweek, Kalazi and his remaining colleagues finished an operation on a young man who lost one of his legs from injuries sustained in a Russian bombing. Most of the "massive injuries" he sees are caused by shrapnel from buildings or other bombed infrastructure and they are often "injuries we've never seen in books."
"We've seen livers, spleens, intestines, lungs," says Kalazi. "One splinter could damage everything in their body."
Last week, Kalazi sent his wife, an internist, and son, who recently turned 1, to the safety of Idlib City, around 40 miles southeast of Aleppo. He is concerned that a siege of Aleppo means he'll be separated from his family for much longer. The uncertainty is made worse by the rumors that his hospital is the target of a planned attack in a few days, he says.
"Frankly, it is horrible. It's hard to imagine that I'm here and my family are in another place," he says. "I'm afraid but we'll be patient."
Widney Brown, director of programs at Physicians for Human Rights, said the organization is "deeply concerned" about the risk of a siege in Aleppo, "especially knowing what happens to cities when they're besieged in Syria." Earlier this year, the world was alerted to the plight of Madaya, the besieged western Syrian town where residents were starving to death and forced to eat leaves, cats and dogs. While the U.N. managed to deliver a crucial supply convoy to alleviate some of the suffering, the siege has not been lifted.
"The Syrian government strategy has been to encircle and besiege places rather than fight in urban areas," says Brown. "When the siege sets in, there's the issue of access to water, food, medical supplies. It's actually quite a barbaric way to wage a war."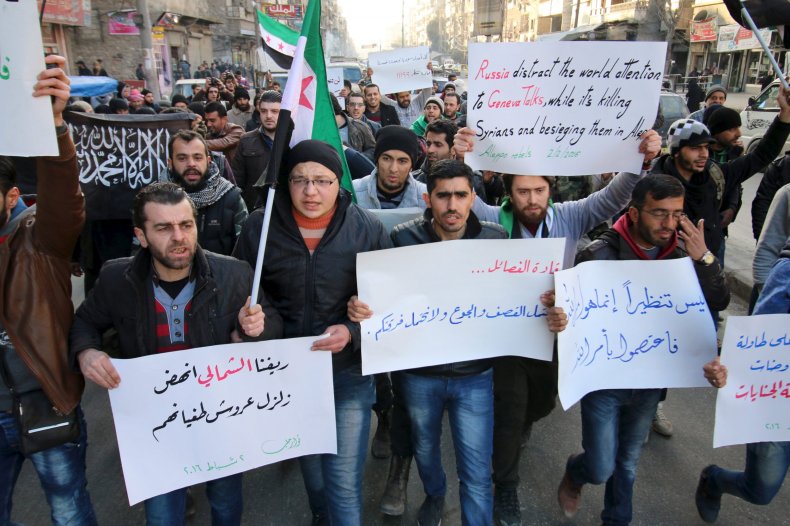 There's also growing frustration that the U.N. hasn't "figured out how to get supplies into all these different besieged areas," says Brown.
"If [Aleppo] ends up completely surrounded, it could be catastrophic," says Brown.
Kalazi says his hospital has enough supplies for emergency cases but struggles to treat chronic illnesses like cancer. Brown has spoken with doctors in Aleppo who say they can keep hospitals open for two months if the city is besieged, although she thinks that estimate is "optimistic."
The exodus of doctors from Aleppo also means that many are treating injuries vastly outside their specialty and training. Some doctors in the few large remaining hospitals use Skype from intensive care units to connect with doctors in Europe who walk them through procedures they might be unfamiliar with. Brown says Skype has been used in this way for vascular surgeries (there are no vascular surgeons left in Aleppo) and by an oral surgeon who had to treat severe facial injuries.
Asked what he would say to the U.N., which recently suspended a new round of peace talks between the Syrian government and opposition groups until later this month, Kalazi said, "Me and my colleagues will tell them that you are not doing your duty, you are not honest."
"Every day, you say that Bashar al-Assad is making war crimes, but you are making nothing. You see that the Syrian regime and Russian planes are attacking innocent people every day, but you are doing nothing," he says. "You always say we have human rights and values and we are seeing the opposite."
International aid organizations including Doctors Without Borders-Médecins Sans Frontières (MSF) and Mercy Corps are continuing to provide emergency shelter, supplies and food to the tens of thousands of people making their way from Aleppo toward Turkey. There's less support for the doctors left behind in the city, who are trying to stay alive and treat patients in the face of incessant bombing and an unknown future.
"The [doctors] that remain, most of them seem to be saying that as long as the people of Aleppo need us, we will not leave. If their families are not already out, they're trying to get their families out," says Brown. "They recognize that if they leave, people are going to die."