Chief medical officers in England, Scotland, Wales and Northern Ireland say they have reviewed all the evidence and there is a steady decreasing of cases.
Level 4 means that restrictions are maintained and that virus transmission is high and/or increasing. Level 3 means the virus remains in general circulation but transmission levels are lower.
In a joint statement, the medical officers said: "The UK's chief medical officers said: "There has been a steady decrease in cases we have seen in all four nations, and this continues.
"It does not mean that the pandemic is over. The virus is still in general circulation, and localised outbreaks are likely to occur.
"We have made progress against the virus thanks to the efforts of the public and we need the public to continue to follow the guidelines carefully to ensure this progress continues."
What it does suggest that an easing in restrictions, with non-essential shops opening and people allowed to travel more freely, is not causing a significant increase in case numbers.
Health Secretary Matt Hancock welcomed the move and said it was "a big moment for the country, and a real testament to the British people's determination to beat this virus.
"The government's plan is working. Infection rates are rapidly falling, we have protected the NHS and, thanks to the hard work of millions in our health and social care services, we are getting the country back on her feet."
The Department for Health and Social Care has said that this does not mean that the virus is over.
"The virus is still in general circulation, and localised outbreaks are likely to occur," it said in a statement.
"You must continue to wash your hands and keep 2m distance."
This debate around the two-meter social distancing guidelines is ongoing, with many - including those in the hospitality industry - calling for it to be reduced to one meter and that the risk would not be significantly higher.
The five alert levels of coronavirus in the U.K.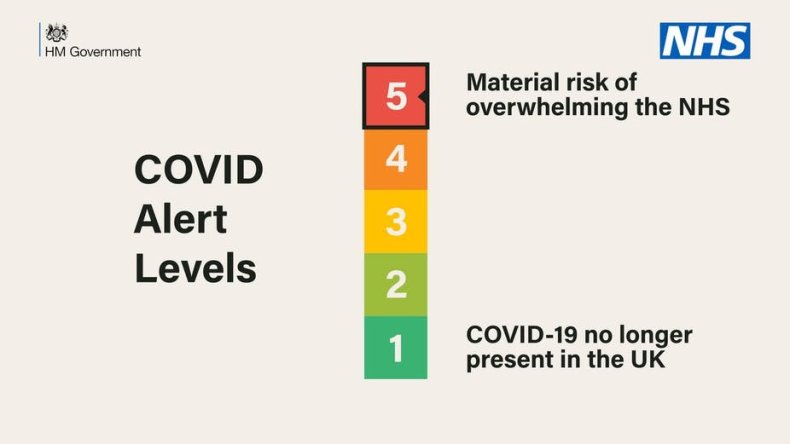 Level 1 Covid-19 is not known to be present in the U.K.
Level 2 Covid-19 is present in the U.K., but the number of cases and transmission is low
Level 3 A Covid-19 epidemic is in general circulation
Level 4 A Covid-19 epidemic is in general circulation; transmission is high or rising exponentially
Level 5 As level 4 and there is a material risk of healthcare services being overwhelmed
Others, including England's Chief Medical Officer Chris Whitty, believe that maintaining this two-meter distance is important in ensuring there is no second spike in COVID-19 cases.
The move of alert level from four to three is rumored to give the government a green-light to reduce social distancing measures, though there is already a review into this underway.
Pubs, restaurants and other hospitality venues still might be able to open as early as July 4 without any spike in infections, with the difference between one-meter and two-meters being seen by many as the difference between them surviving or going into liquidation.