'No Regrets is a Very Hard Question': Alex Acosta Defends Jeffrey Epstein Plea Deal
President Donald Trump's labor secretary took to the stage on Wednesday to defend his decision to negotiate a secretive 2007 plea deal with lawyers for Jeffrey Epstein, a billionaire accused of sex trafficking minors.

"I'm pleased that the New York prosecution is going forward with these charges against Jeffrey Epstein," said Department of Labor Secretary Alexander Acosta at the start of his press conference. "They brought these charges based on new evidence...and this is a very very good thing. His acts are despicable and New York prosecution offers an opportunity to more fully bring Epstein to justice."
Over a decade ago, when Acosta was serving as the U.S. attorney in Miami, Florida, he oversaw a non-prosecution plea deal for Epstein, who had been accused of unlawful sex with minors and prostitution, but ended up pleading guilty to two counts of soliciting prostitution from a minor.
"We did what we did because Epstein needed to go to jail," said Acosta.
Epstein was sentenced to 13 months in prison, where he was allowed to spend 12 hours a day outside of the facility on "work release." He was also made to register as a sex offender. The victims of the case were not notified that a plea deal was being made, and believed the case was going ahead during the negotiations.
When asked if he regretted the agreement, Acosta commented that "no regrets is a very hard question."
"As you watch these victim interviews it was very obvious they feel this was not a sufficient outcome," he continued. "You always look back and say 'what if'. What I can say is that at the time... this was the view of the office. There is a value to a sure guilty plea because letting him walk would have been absolutely awful."
New allegations from The Daily Beast and journalist Vicky Ward reported that Acosta told the Trump administration during the screening process for his current role that he was asked to cut a deal with Epstein because he was told the financier "belonged to intelligence," and that the issue was above his "pay grade."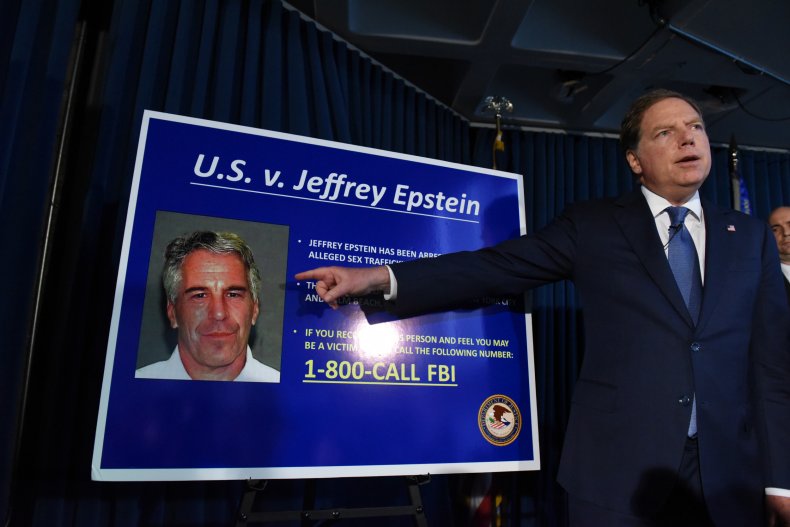 As labor secretary, Acosta attempted to cut funding to a program intended to combat human trafficking abroad by 80 percent and then went to Congress in an attempt to further cut the fund.
President Donald Trump is also connected to Epstein, who spent time at his Mar-a-Lago resort in Southern Florida.
"I've known Jeff for 15 years. Terrific guy," Trump told New York magazine in 2002. "He's a lot of fun to be with. It is even said that he likes beautiful women as much as I do, and many of them are on the younger side." But on Tuesday, the president told reporters from the White House that he was not a fan of Epstein's.
The president said that he did know Epstein but only because "everybody in Palm Beach" did and noted that "I had a falling out with him. I haven't spoken to him in 15 years. I was not a fan of his, that I can tell you."
The president defended Acosta to reporters Tuesday. Acosta, he said, has been "just an excellent Secretary of Labor."
"What happened 12 or 15 years ago... you know, if you go back and look at everybody else's decisions... I would think you'd probably find... they'd wish they did it a different way," he said. A lot of people were involved in the deal, he continued, and said that he feels "very badly" for Acosta.
Multiple reports claim that Acting Chief of Staff Mick Mulvaney has been pushing for Acosta's removal, mostly because he doesn't think the former U.S. attorney has been rolling back labor regulations quickly enough.
"My relationship with the president is outstanding, he's publicly made clear that I have his support, he and I have spoken" commented Acosta on Wednesday. "I keep reading articles about my relationship with Mulvaney, he called me this morning to say our relationship is wonderful and any articles that contradict that are 'B.S.'"