Democrats Demand Answers From Alex Acosta on Jeffrey Epstein Case, Despite Nancy Pelosi's Hesitance
House Democrats want to hear directly from the Trump cabinet official who gave pedophile Jeffrey Epstein a mild plea deal for child sex crimes when he was a South Florida U.S. attorney more than a decade ago.
The House Oversight Committee sent a letter Wednesday to Labor Secretary Alexander Acosta requesting his presence at a July 23 hearing to answer lawmakers' questions. The request appeared to contradict the stance of Speaker of the House Nancy Pelosi, who has publicly poured cold water on the prospect of hauling in the Trump official before Congress.
"The hearing will examine your actions as United States Attorney for the Southern District of Florida in authorizing a non-prosecution agreement for Jeffrey Epstein, as well as the finding by a federal court that you violated the Crime Victims' Rights Act by keeping this non-prosecution agreement secret from the victims of Mr. Epstein's crimes," Oversight Democrats Elijah Cummings, chairman of the committee, and Jamie Raskin,chairman of the Subcommittee on Civil Rights and Civil Liberties, wrote to Acosta.
A federal judge in February found that the secret plea deal offered by Acosta and his team of prosecutors in 2007 charging Epstein with a single state charge of soliciting a minor for prostitution in lieu of federal charges violated the law by not notifying Epstein's accusers. Epstein received an 18-month prison sentence and ultimately served 13 months with the ability to leave daily for work.
On Monday, Epstein was charged with operating a child sex trafficking ring in New York and Florida from 2002 to 2005 that involved "dozens of child girls," the indictment stated.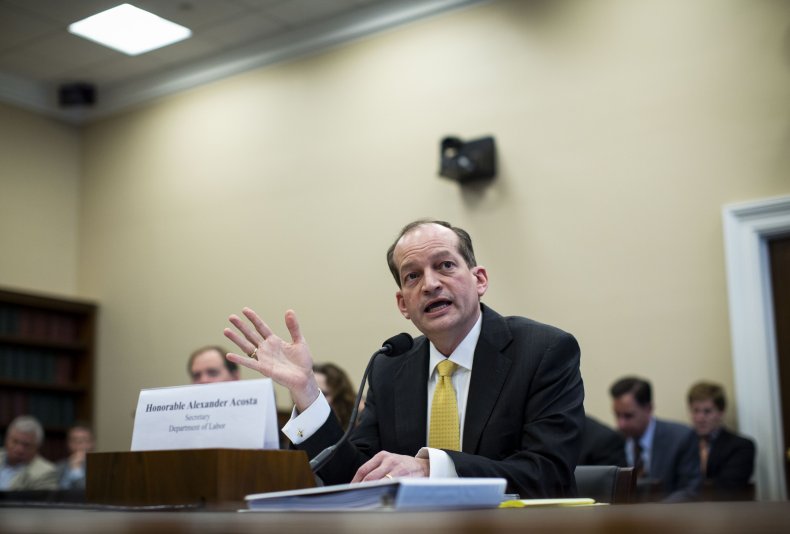 "Your testimony is even more critical now that federal prosecutors in the Southern District of New York unsealed a new indictment earlier this week outlining a host of additional charges against Mr. Epstein, including luring dozens of teenage girls to his homes in New York City and Palm Beach, Florida, and paying them to engage in sexual activity with him," Cummings and Raskin continued.
The Democrats also revealed that they, along with Democrats Jackie Speier, Debbie Wasserman Schultz and Lois Frankel, requested a briefing from the Justice Department division that's been reviewing Acosta's handling of the case as a U.S. attorney.
The decision by the committee to formally request Acosta's appearance came as Pelosi, like many other Democrats, has called for Acosta to resign over his handling of the Epstein case in Florida. On Wednesday, more than 60 House Democrats sent a letter to Trump demanding that he ask for Acosta's resignation.
Still, Pelosi suggested on Tuesday that Congress should not intervene, a position at odds with other top party members.
"It's up to the president, it's his cabinet. We have a great deal of work to do here for the good of the American people and we have to focus on that," Pelosi told reporters when asked whether her chamber should investigate. "The president was aware of this case when he nominated him for the Cabinet. It's so completely inappropriate. And I don't know if they understand fully how personal this is to the young women who were victimized by him."
Trump defended his embattled Labor secretary the same day, telling reporters in the Oval Office that Acosta has been "an excellent secretary of labor" and that he felt "very badly" for him.
Among some colleagues, Pelosi is isolated in her stance that Congress should not become involved. At least two other Democrats, Judiciary Committee Chairman Jerrold Nadler and Democratic Caucus Chair Hakeem Jeffries, suggested it would be appropriate for Congress to investigate.
"It seems reasonable that this is something the Judiciary Committee or Oversight Committee could look into," Jeffries told reporters.
Nadler, speaking on CNN Tuesday evening, said they "will have to consider very carefully opening an investigation."
"We have a lot of things we're investigating now and, among other things, the President's misconduct, the torture of children at the border," he continued. "This will just be added on the list of things we have to investigate."
During a press conference Wednesday afternoon, Acosta further defended how he handled Epstein and expressed satisfaction that New York prosecutors had filed additional charges. He elaborated that securing a guilty plea from Epstein, forcing him to register as a sex offender and having him pay restitution to the victims was too much to gamble in order to pursue federal charges.
Or, as Acosta described it, going to trial would have been "a roll of the dice."
"We believe that we proceeded appropriately," Acosta responded when asked whether he achieved the best possible outcome. "There was value to getting a guilty plea and having him register. Look, no regrets is a very hard question."
The plea deal also prevented the prosecution of potential co-conspirators. Acosta said that "times have changed and coverage of this case has certainly changed," adding that he believed "facts are certainly be overlooked" in current reporting of the decade-old case.
This story was updated to include remarks made by Labor Secretary Alex Acosta during an afternoon news conference and to include a letter sent by dozens of House Democrats to the president requesting that he ask for Acosta's resignation.
Correction 7/11, 11:15 a.m.: An earlier version of this story incorrectly stated Rep. Hakeem Jeffries was the vice chair rather than the chair of the Democratic Caucus.